Stronach 5 sequence to feature two from Laurel Park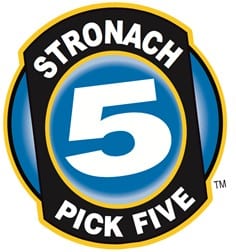 From a Stronach Group release
The Stronach 5, a national wager that returned $51,815 last week to two bettors, will have a $50,000 guaranteed pool Friday and feature three races from Gulfstream Park and two from Laurel Park.
Friday's sequence kicks off at 3:50 ET with a six furlong maiden claimer at Laurel. The sequence also includes a mile turf event at Gulfstream that drew 10.
Friday's Stronach 5 sequence
Leg One – Laurel Park Eighth Race – (13 entries, 6 furlongs) 3:50 ET, 12:50 PT
Leg Two – Gulfstream Park Eighth Race – (15 entries, 5 ½ furlongs) 4:05 ET, 1:05 PT
Leg Three – Laurel Park Ninth Race – (10 entries, 5 ½ furlongs) 4:21 ET, 1:21 PT
Leg Four – Gulfstream Park Ninth Race – (10 entries, one mile turf) 4:36 ET, 1:36 PT
Leg Five – Gulfstream Park 10th Race – (13 entries, 5 ½ furlongs) 5:06 ET, 2:06 PT
The minimum wager on the multi-race, multi-track Stronach 5 is $1. If there are no tickets with five winners, the entire pool will be carried over to the next Friday.
For the Stronach 5, if a change in racing surface is made after the wagering closes, each selection on any ticket will be considered a winning selection. If a betting interest is scratched, that selection will be substituted with the favorite in the win pool when wagering closes.
The Maryland Jockey Club serves as host of the Stronach 5.