Rider Wes Hamilton gunning for Eclipse laurels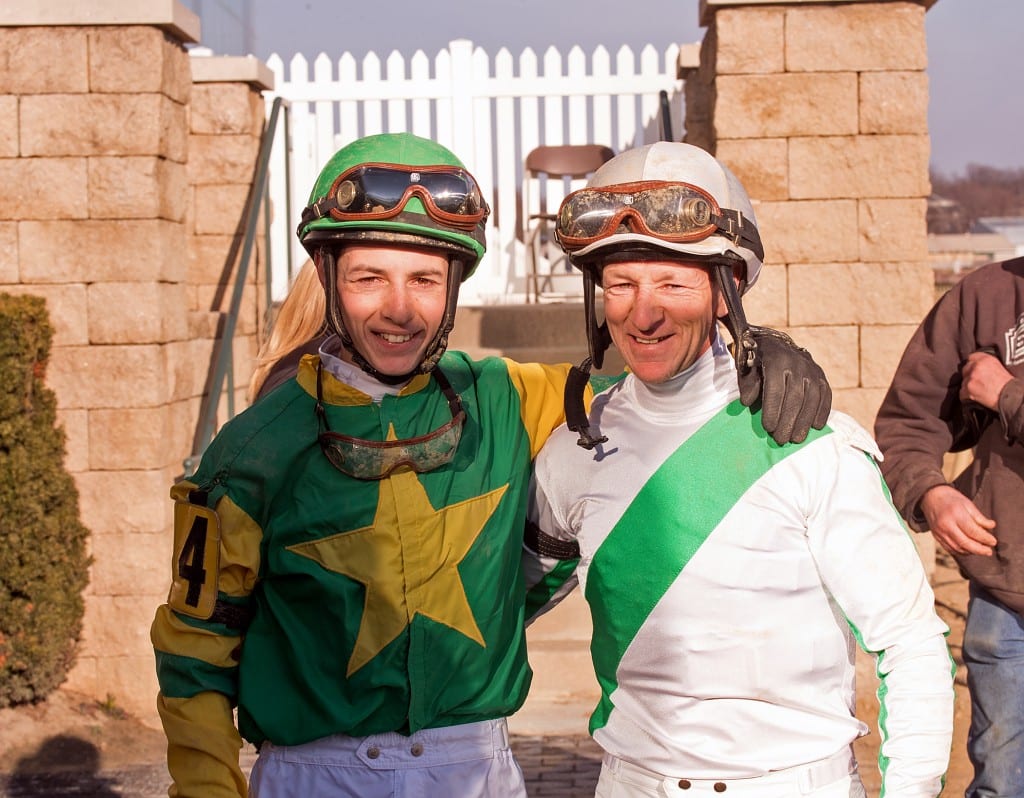 Weston Hamilton receives congratulations from his dad Steve. Photo by Jim McCue, Maryland Jockey Club.
by Ted Black
Over the past four decades the Maryland Jockey Club has been home to a bevy of jockeys who captured the Eclipse Award as champion apprentice, including Hall of Famers Chris McCarron and Kent Desormeaux.
Just since 2000, two more local riders – Ryan Fogelsonger (2002) and Victor Carrasco (2013) – have earned Eclipses as top bug rider.
Laurel Park-based apprentice Weston Hamilton is hoping to become the latest on that list of accomplished riders next month.
Hamilton looks likely to be among the finalists for the prestigious award when that list is announced in a couple of weeks. In a stat pack mailed to voters and up-to-date through December 2, Hamilton led all apprentice riders with 111 victories and was second in earnings with over $3.2 million banked.
He has since added to those numbers and currently owns 116 wins and almost $3.4 million in earnings.
"Winning the Eclipse Award as top apprentice was something that has been a goal of mine since I started riding," said Wes Hamilton, whose father, "Cowboy" Steve Hamilton, was a fixture in the Maryland jocks' rooms while Wes was a young kid. "It's exciting just to think that I could be a finalist and could be there for the Eclipse Awards [in January]. Ever since I started riding, my dad has always told me to work hard, because no matter what you do for a job that's the only way to really get ahead."
The younger Hamilton recorded his first two wins as a professional on December 11, 2017, earning his personal diploma aboard a horse appropriately named I Just Wanna Win, in a race in which he and his father were on horses in adjacent stalls in the starting gate – and came together late in the race, as well.
"When I got my first win aboard I Just Wanna Win, I remember that me and my dad were in the gate right next to each other," Wes Hamilton said. "I was on the four horse, and he had the five horse. We were both sitting toward the back going into the far turn and I was on the inside and he was trying to keep me boxed in. At the top of the stretch I could tell that I still had plenty of horse, and I started shoving and my dad's horse was fading. But I could hear him shout, 'Go get 'em, boy!' as my horse got through along the fence and won. I'll definitely never forget that day!"
While numerous trainers have given the younger Hamilton a leg up, veteran Maryland conditioner Dale Capuano has been among the most prominent and consistent. The duo has combined for seven wins at the current Laurel stand – tied for the fourth-most of any trainer-jock combo thus far.
And Capuano has provided him some of his most important mounts. Hamilton guided Maryland-bred two-year-old Come Sundown to a determined victory in the $75,000 First State Dash Stakes at Delaware Park for the first – and to date only – stakes win of his career. Capuano also trains Timeless Curls, whom Hamilton has steered to four wins and three second-place finishes in eight starts while earning over $127,000.
"I can't say enough about Dale," said Hamilton's agent, Simon Purdy, a former trainer who also previously handled Steve Hamilton's book. "He just puts us on winner after winner."
Hamilton's burgeoning success, Purdy said, is a testament to his willingness to work hard.
"He's out here every single morning at 5:30 working horses for different trainers," the agent said. "We try to go up to Pimlico once or twice a week and take care of those guys up there and we go to Fair Hill once in a while to take care of those guys. His attitude is wonderful. All he wants to do is ride horses."
"My dad always taught me that getting up early and being at the barns every morning is a big part of the job," explained Hamilton, who loses his bug boy status on Dec. 22 "I always make myself available for any trainer looking for someone to gallop a horse. Even if I'm not promised the mount, I still want to get familiar with as many horses as I can. I love riding and I'm always looking to get the most out of every horse whether I'm 40-1 or on the favorite. Anytime you're in the starting gate on a horse, you have a chance to win. That's horse racing."
With Hamilton's bug – and thus, his five-pound weight allowance — expiring in just days, Purdy admits that it's a bit of a nerve-wracking time. But it's nothing that can't be cured with a bit of hard work.
"You don't know what's going to happen [after a rider loses the bug]," Purdy explained. "You've actually got to keep working a little bit harder. You can't just relax."
He added, with a laugh, "This morning I got a bunch of calls for next week, so nobody's dropped us yet."
To that end, Purdy said that Hamilton has two mounts at Aqueduct on Thursday for trainer Gary Capuano and then will head to Penn National for another mount that night.
"We'll start from [Laurel], go up to New York, then over to Penn at night," Purdy said. "We'll get back here probably at midnight, and he'll be here the next morning working horses. That's how dedicated he is."
And that's to say nothing of Hamilton's five scheduled mounts Friday afternoon at Laurel.
"It's exciting," Purdy said of the prospect of Hamilton winning the Eclipse Award. "He tries not to think about it. He just concentrates on riding every day."
Meanwhile, Hamilton tries to keep his head down and his eyes on the prize: working hard, learning, and getting better.
"It still comes down to being in the right place at the right time and making yourself available for anyone who needs you to ride," Hamilton said.