RT's spot plays: Parx December 9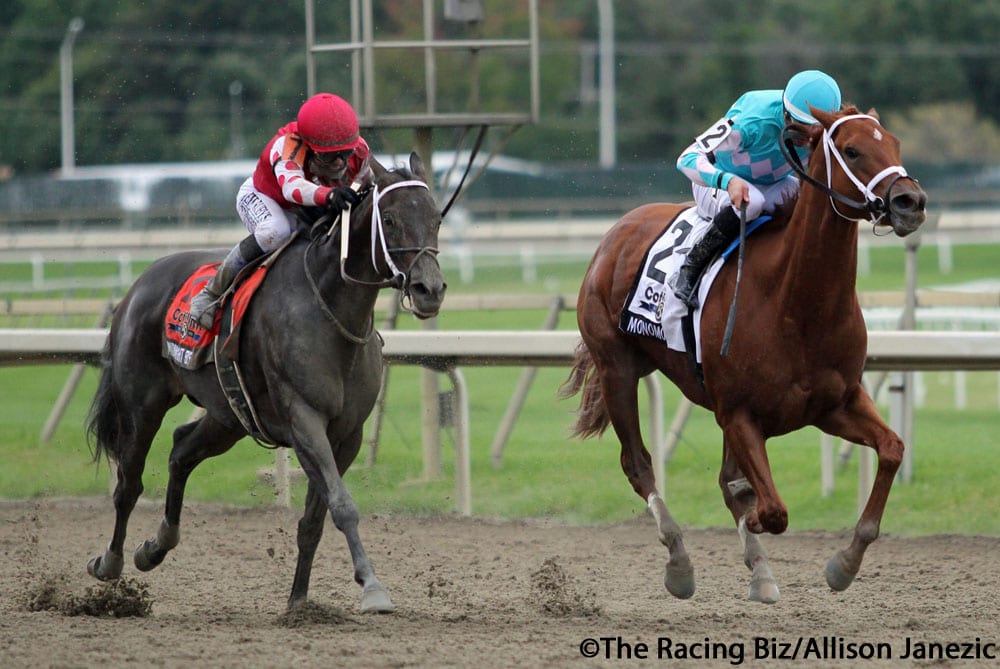 RT will be making occasional spot plays. A veteran handicapper, he loves him some exacta box actions.
by RT
Eagles are a four-point dog today and coming into this row with two straight-up wins. Dallas has won the last four and is 1-7-1 against the spread this year by luckily covering against Detroit in the first game of the season. Philly smoked these guys in Big D last year 37-9, and I have this odd feeling they're going to have a similar result today.
The Black Knights at -6.5 was never in doubt, was it? (Editor's note: Welllll….)
Yesterday: $24 bet, $9.40 won, a net of -$14.60. I do not keep percentages or give excuses. You either win money or lose money.
Another chilly day at Parx Racing, which will have the speed/tracker style prevalent….unless there is a very strong late kicker to consider…
Race 1
3-2-9 should be on the lead with 5 & 7 tracking…
Exacta Box 5-3-7
#5 Rossie Val (6-1): Gelding has won $58K on 11 tries this year and if the track plays the same as Saturday, his tracking style should be in the equation. He ran high 60's and low 70 Beyers in the spring against stiffer competition.
#3 Salt it Here (2-1): Comes out of a key race in mid-November where two of the three horses in front of him won in similar conditions (the third has yet to race). Last six Beyer patterns are down, up, down, up, down and? Should be up today. Trainer/Jockey combo is clipping at 19%. *Note – if this guy wins, put the keys to the tractor on Malibu High in race five.
#7 Student Union (12-1): Stretched out a couple of weeks ago with an abysmal showing and is now turned back in distance. Trainer Catalano, 25% wins for the year, switches to apprentice jock Kevin Carmona, who is off to a hot start – 33% winners.
Race 2
Exacta Box 3-6-10
#2 and #6 will jump out in front this race with #10 and #3 laying up in the garden spot…
#3 Decisively (7-5): Brandywine paid $75K for this guy, and he better start winning. Trainer/Jock combo clipping at 26% wins here. Decisively comes out of a key race where 5 of the 8 have all finished 2nd or better. Sacco puts Sanchez in the irons which is a positive move. Class dropper has a breeze fig of 72, in the Group 2, which is above the 66 par and has a stride length of 23.94 (24.26 avg). Typically Group 1 & 2 horses tend to go on to become stakes winners. Click for more on BreezeFigs.
#10 Shoeless (8-1): Woke up, showed life, and ran out of real estate in last race as beaten favorite… a positive omen for its new trainer and jock.
#6 Flat out Flashy (4-1): Timeform-rated 80 tracker which is the highest of this group. Gelding has been in two state bred open company races and had respectable Beyers. Should improve here as he gets first blinkers and typically gelded horses run well the second race after.
Race 3
Exacta Box 2-5-1a
It's chase the 2 time… #7 and #4 should be sniffin' around early and eventually #1a and #5 should become factors.
#2 Stroll Action (3-1): Three-year-old filly is a class dropper with early zip. I'm tossing the past race, as well as others, due to an off track (check weather before betting this). Reading between the lines, she does not respond well to getting mud in her eyes. Recent Beyers are up, down, up down and now today should be up. A very well known trainer's son showed me how horses Beyers' tend to run in patterns – it's surprisingly accurate. Rodriguez in the irons.
#5 La Vale (4-1): Change of jockey, class drop and stretch out gave her the edge last time out – she nosed out her last rival while stalking the pace. This young lady is 3 for 11 at Parx and has earned $46K here.
#1a Empty House (7-2): Trainer Vazquez was more than likely angry at previous jockey Nunez for riding this filly on the 3 path (from the 9 hole and starting on the turn) the entire trip. So, the switch to Carmona has been made. She has seven in-the-money finishes for $49K in 11 tries at PRX. Look for an improved effort.