In Focus: G3 Charles Town Oaks pick 4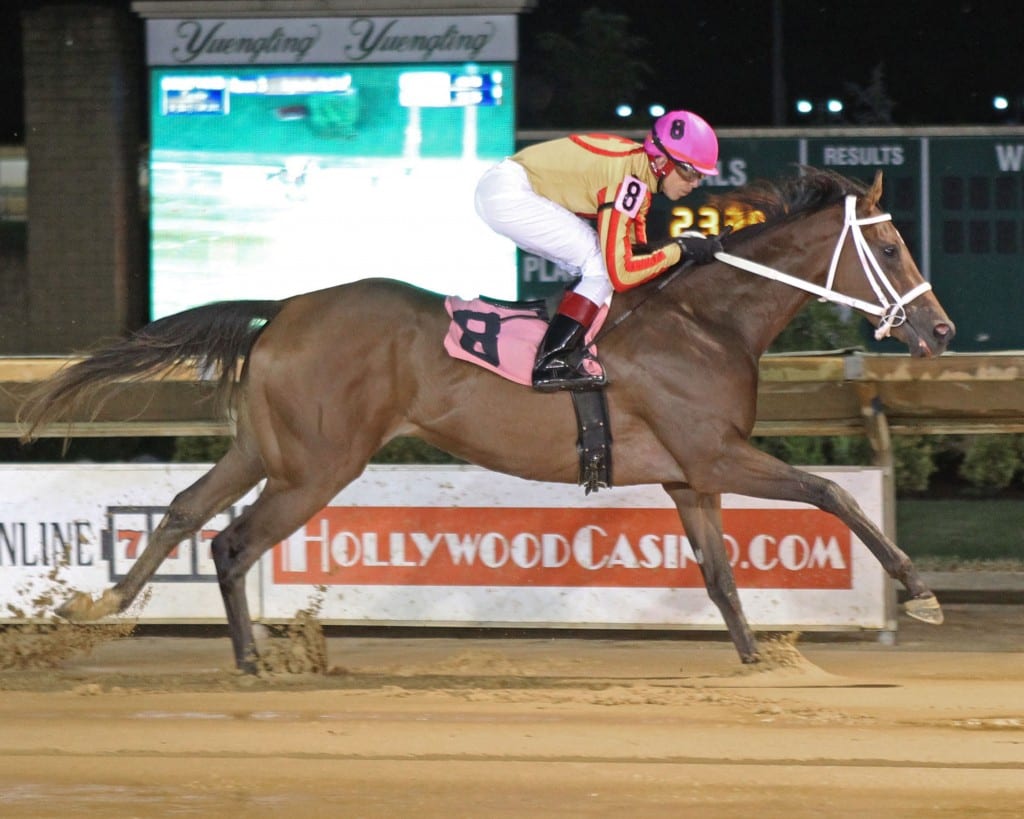 RACHEL'S TURN STAKES
2yo WV-bred fillies, $50,000 purse, 4 1/2 furlongs
#7 Amelia Bedelia (9-2): Away a little slow on debut, pulled clear in the lane. Better start would aid cause here and may have right setup to pass speedy sorts in front. Note that Runco's go-to rider Bocachica lands on #10 here, though Almodovar a nice consolation prize…
#2 Parisian Diva (3-1): Debut romp went a half-second faster than choice in here went on same evening. Showed great early speed in last and figures to be part of the early mix in this contest. Batista up for Stacey Viands.
#10 Battleground Star (5-2): Much the best on debut, besting two others who are here, and Boca takes this ride over #7 here. Debut was 8/4/18, so she's been off seven weeks or so, showing three 3f works in the interim, including a zippy 35 3/5 second move on 9/17…
THE LAST ENCHANTMENT
3yo and up WV-breds, 4 1/2 furlongs, $35,000 purse
#4 Aaron's Tap (9-5): Speed of the speed in this group has four wins at the trip. Only recent subpar effort came in the slop two back but has won three straight at distance on fast main track. Hey, it's that Runco-Boca combo again!
#9 Braxton (6-1): Contreras trainee has never been worse than third in nine tries at the distance — though note lone third place finish came last out against #4 in here. Will sit off the speed and look to make a run. Antonio Lopez up.
#7 Dionysus' Chalice (12-1): Speedster recorded career-best Beyer last out in first try for Grams barn; still has some upside. Oscar Flores up.
#8 Eutaw Street (8-1): Has lost eight straight, finishing second in all four tries this year. Problem is, he's been behind some of these on prior occasions. Hard to bet on anything even remotely reminiscent of the O's after this season. Jose Montano up for David Walters.
PINK RIBBON STAKES
Fillies and mares 3yo and up, $50,000 purse, 7 furlongs
#2 Lake Ponchatrain (2-1): Homefield advantage nothing to sneeze at, and this 6yo mare loves this place to the tune of 10 wins over the strip. Haynes trainee has been first or second in eight of nine this season, including a stakes win here and a couple of runner-up efforts elsewhere. Boca up for Ernest Haynes.
#4 Camille's Comet (15-1): Sure, we're tilting at windmills here, but this speedy Bustin Stones mare ran a big one last out over the strip, has a solid 5:3-1-1 record locally, and is two-for-two at the distance, both here. Yup, all against lesser, but now's the time to take a shot. Ramon Maldonado will ride for Robert Cipriano.
#5 Renaissance Rosie (6-1): Another CT lover (8:5-2-0), she enters on a three-race win streak, the last first off the claim for Gerry Brooks. Has run credibly vs. stakes rivals before and looks to be as good now as she's gonna be. Erin Walker will ride.
#9 My Magician (10-1): 2018 form not quite up to what she delivered in '17 and last out up-the-track effort in the Timonium Distaff on another bullring gives pause. But she's got plenty of back class for trainer Claudio Gonzalez, who wins and wins and wins. Go-to rider Jomar Torres will do the honors.
GRADE 3 CHARLES TOWN OAKS
3yo fillies, $300,000 purse, 7 furlongs
#10 Bronx Beauty (15-1): First-time in a bullring, but the generous price more than makes up for it. Has been keeping sneaky-good company; horse she beat in last two, Dixie Serenade, won a G3 in between. Figures not far off the pace (and note presence or rider Joel Rosario for Anthony Margotta, Jr.).
#9 Sense of Bravery (5-1): Speedster won two straight before running second in G3 at ELP; that day's winner, Champagne Problems, validated that effort with a runner-up try vs. G3 rivals at CD. She figures to be up close early and go as far as she can. Luis Saez up for trainer Brad Cox.
#3 Late Night Pow Wow (12-1): Local runner has dominated WV-bred and other local company, winning in six of seven, with only a 4 1/2-furlong blemish on her record. Can stalk or run into the pace. Won easily in last and runner-up returned to best allowance foes. Fredy Peltroche is up for Javier Contreras.
#4 Take Charge Paula (6-1): G3 winner owns a class edge on her rivals, though recent form has been just OK. Returns from a two month break, and you gotta figure trainer Kiaran McLaughlin and rider Jose Lezcano aren't here to see Harper's Ferry.
Photos of Parisian Diva (top) and Lake Ponchatrain by Coady Photography.