In Focus: De Francis Dash and more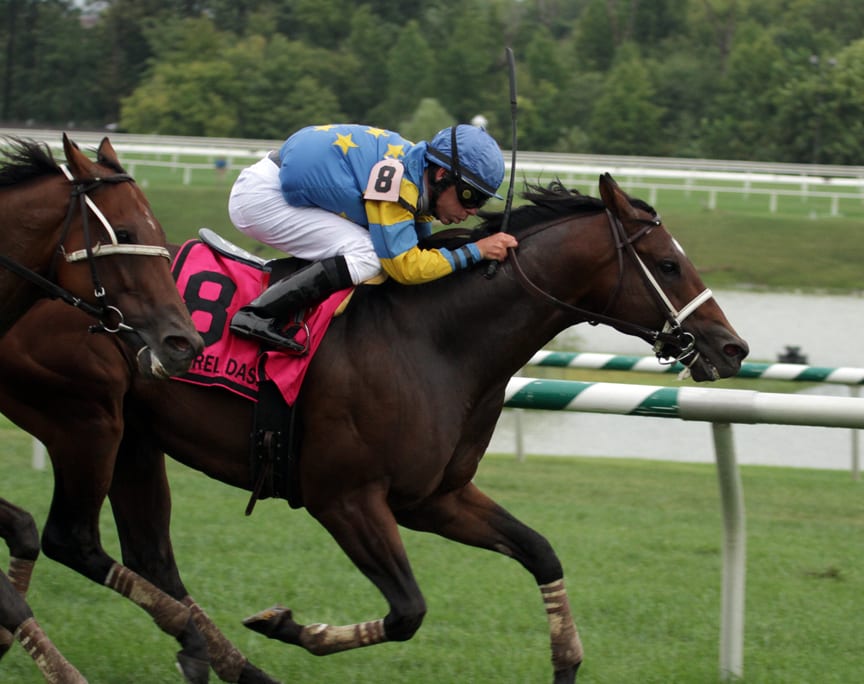 Spring to the Sky won the 2015 Laurel Dash. Photo by Laurie Asseo.
Our In Focus Guide offers the most in-depth analysis and commentary to the MATCH races at Laurel Park on September 22!
RACE 7 – LAUREL DASH
RACE PARTICULARS: Race 7 (3:30pm EDT), $100,000 guaranteed purse for 3yo and up, 6 furlongs (turf)
The MATCH Series three-and-up turf sprint division reaches its conclusion in this event, and while the division winner is already determined, this event could have a major impact on the overall championship.
#6 Oak Bluffs (10-1) has won the division with 22 points; with a win here, he would get to 34 points, equal with the sprinting filly Jessica Krupnick, and he would get the nod on tie breakers. So trainer Mary Eppler has every reason to have him all the way cranked today. One concern: the veteran likes a firm turf course and, after rain on top of rain on top of rain in central Maryland, isn't likely to get quite the firmness he would like.
He'll also have to contend here with the top two finishers from last year's Laurel Dash in winner #2 Snowday (8-1) and runner-up #3 Class and Cash (9-2). The former ran a good one after that in the Belmont Turf Sprint, but his two subsequent stakes tries haven't been much to look at, while the latter has been running exclusively in route races since. That at least means he should be dead fit for this one.
The 2015 winner, who was fifth a year ago, also is here in the form of #4 Spring to the Sky (10-1). The Bruce Brown trainee is working on a 15-race losing streak, though, so he'll need to find his way back to best form under Trevor McCarthy.
Look for horses like #1 Fielder (10-1), Snowday, #5 Axtell (15-1), #7 Tombelaine (9-2), #8 Celebration (30-1), and #11 Clever Triad (6-1) to be on or near the lead early in this one, which could unleash the closers on that long Laurel stretch.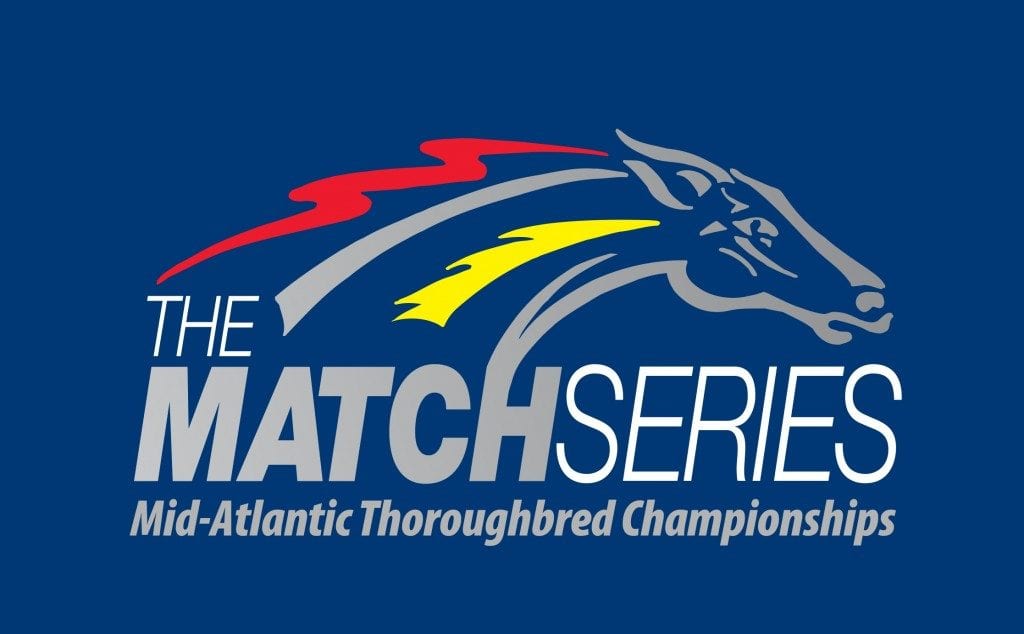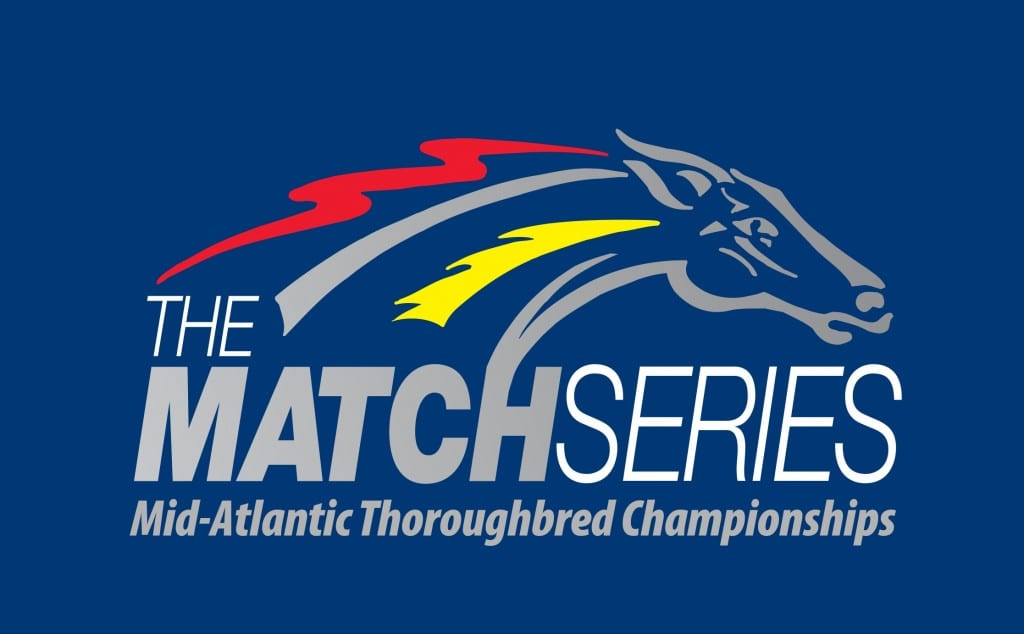 THE PICKS
#9 Dubini (4-1): Been chasing this one for a while, but added half-furlong should play to closer's strong suit… Didn't miss by much with stout rally in PA Gov Cup three back… Best efforts should be more than good enough here, and trainer Kathleen DeMasi does fine off similar breaks… Daniel Centeno is up…
#7 Tombelaine (9-2): Effort last out in the Troy was nothing to write home about, but note it was on soft turf: the runner's two on soft turf were both pretty disastrous… Owns a win at the trip and is one-for-two since getting claimed… Probably won't catch firm turf on Saturday after Ark-like rains, but should be better than soft… Best efforts have come via stalk-and-pounce trip… Victor Carrasco is up…
#1 Fielder (10-1): "Big Daddy" Fielder hit over 300 major league dingers, and it would be a pretty big home run for this guy to win in this spot, but he sure hasn't done much wrong since shift to the grass… Two wins and a second from three tries demonstrate his affinity for the green… Has shown helpful ability to stalk or close… Will need a big one against accomplished rivals here but has some upside…
#4 Spring to the Sky (10-1): Third off a brief freshening for this guy, who has a stake win over the strip and four wins at the trip… Won the 2015 version of this event but now is working on a 15-race losing streak… Ran decently in a pair of SAR events on good turf… Gets Trevor McCarthy in the irons and sporting a fast work since his last…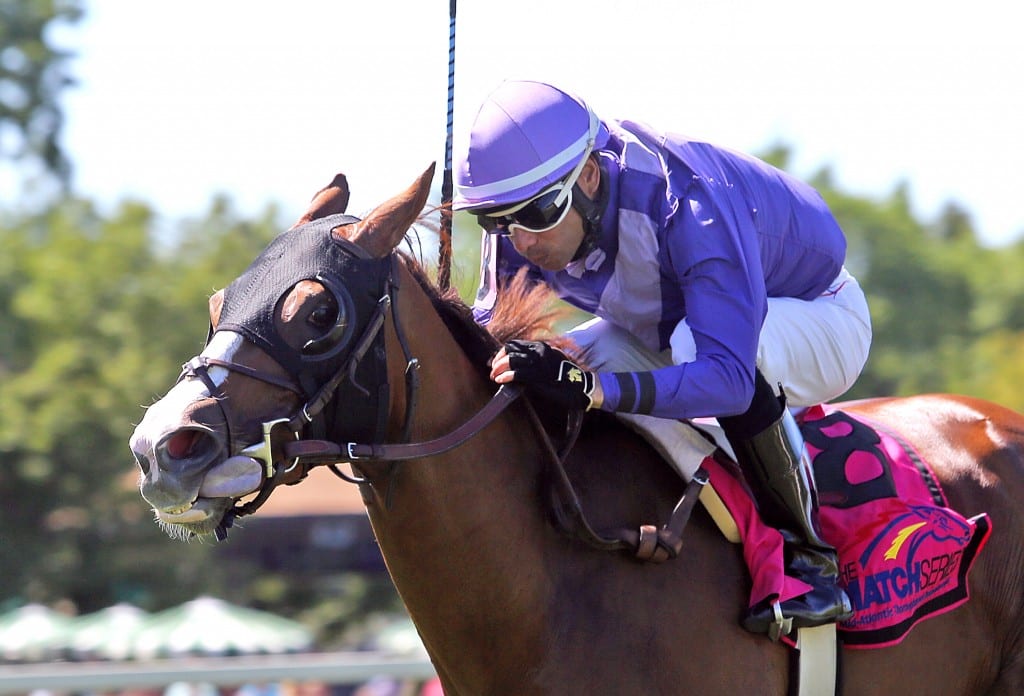 Smiling Causeway won the $100,000 Turf Amazon Stakes at Parx Racing. Photo By Taylor Ejdys/EQUI-PHOTO

Race 9 — SENSIBLE LADY TURF DASH
RACE PARTICULARS: Race 9 (4:30pm EDT), $100,000 guaranteed purse for fillies and mares three-years-old and up, 6 furlongs (turf)
This race runs directly through the horse who will win the MATCH Series filly-and-mare turf sprint division: #10 Smiling Causeway (9-5). With only two starts to date, she would not have run had this race been a week ago when originally scheduled. But when it was postponed, trainer Arnaud Delacour entered her after all. She previously had run up-the-track in the off-the-turf The Very One on Preakness day at Pimlico before posting a dominant score in the Turf Amazon at Parx Racing. Last out, she was a so-so sixth, but that was against the boys in the G3 Turf Monster.
If there's a chink in her armor, it's that she's failed late in both of her six-furlong efforts. But the Arnaud Delacour trainee has been in overall very good form and certainly figures tough in here.
The runner-up in the division will be #8 Daylight Ahead (30-1). It's been a tough year for this Hugh McMahon trainee, whose only prior try at the six furlong trip netted a win in the Jameela in June 2107. But though her two prior tries in MATCH Series races weren't pretty — sixth in The Very One, eighth in the Penn Ladies Dash — this third Series start will get her into bonus money territory. She will finish second in the division, regardless of her performance today.
Speaking of the Jameela, this year's winner is also here. That's #11 Rocky Policy (6-1). That was her most recent start, and she was third in this event a year ago. Four races back in her only MATCH Series start, she closed fast to be second — at 20-1 — in the Penn Ladies Dash. Daniel Centeno will ride the Dale Capuano trainee.
The top three finishers from last year's Sensible Lady are all here, including show horse Rocky Policy. Winner #6 Always Thinking (8-1) hasn't finished better than fourth since while keeping some really tough company. Her last was an off-the-turf version of a minor stake at MTH, so not especially relevant, but prior efforts were OK, though the results weren't great (often with excuses).
As for last year's Sensible Lady runner-up, #4 Fire Key (15-1), who knows what to make of this one? Two races after the Sensible Lady, she won the Autumn Days at AQU with a 97 Beyer, and she began 2018 with a runner-up effort and a 90 Beyer. Her last three — one on soft turf, one on dirt, and one with a trouble line — have been all kinds of disastrous. If she can find her way back to the way she ran late last season or in June of this year, she could outrun her odds.
THE PICKS
#9 Fear No Evil (10-1): Tom Albertrani trainee has been in career-best form of late with two wins in last four… Will be looking to sit off a couple early types and overcome them in the lane… Ran well in a couple of 6f turf sprints at BEL and let's not sweat that last: it was an off-the turf affair, and he's just 1-for-8 on the main track… Horacio Karamanos has the mount…
#10 Smiling Causeway (9-5): Failed late in both career tries at 6f… Can lead or stalk, which should help her get the right trip… Let's not judge that last too harshly, as it came against the boys versus some pretty rugged customers… Look for her to have the lead at some point inside the eighth pole… question is if she can hold it… Feargal Lynch is up…
#7 Compelled (3-1): Has been training forwardly since coming East to trainer Proctor's Fair Hill operation, and take a look at those last three works, especially two-back five-eighths in 59 1/5… Last four races were at 6 1/2 furlongs or beyond… Her prior form suggests she'll be closing late and if she fires, could be tough to hold off… Gary Stevens rides…
#6 Always Thinking (8-1): Defending champ logged perhaps career-best effort that day in only try over the LRL lawn… Closing sort will need a zippy early pace to set up patented late run — say, something like the 44 3/5 of last year en route to blazing 1:07 3/5 final time… Edwin Gonzalez up for Tom Albertrani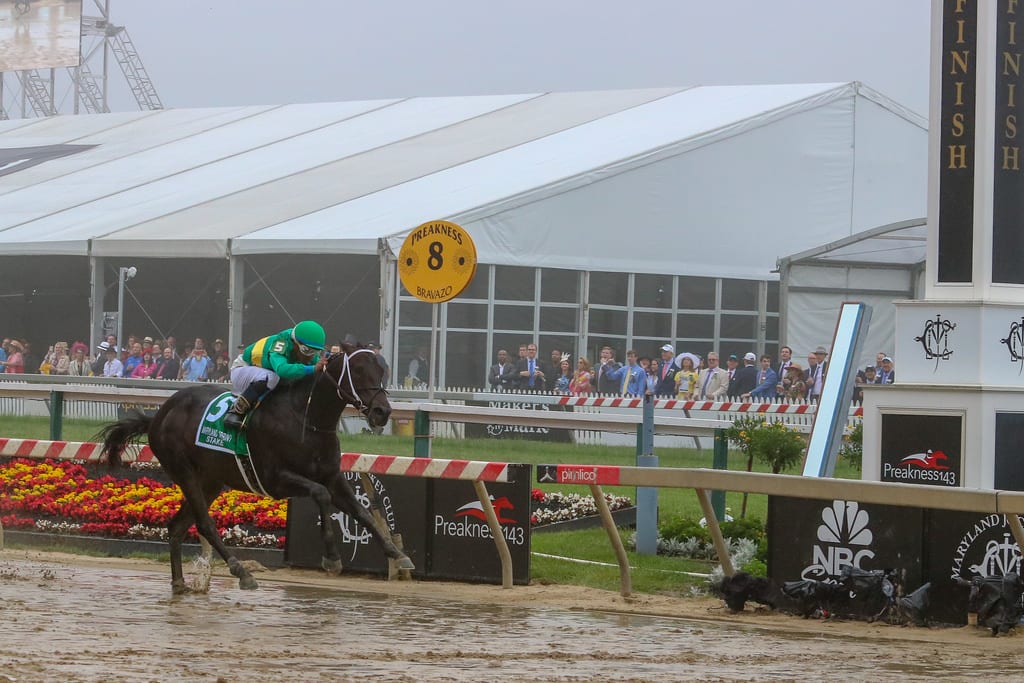 Switzerland won the Maryland Sprint Stakes, part of the MATCH Series. Photo by Dottie Miller.

Race 10 — GRADE 3 FRANK J. DE FRANCIS MEMORIAL DASH
RACE PARTICULARS: Race 10 (5:00pm EDT), $250,000 purse for three-year-olds and up, 6 furlongs
The latest edition of the Grade 3 Frank J. De Francis Memorial Dash has added intrigue: it can have a huge impact on the MATCH Series.
#4 Laki (10-1) and #8 Lewisfield (5-1) have faced off three previous times, and last time out, in the Polynesian, they finished noses apart, Lewisfield first past the post but Laki ultimately placed first after being bumped by his rival. They will finish one-two in the three-and-up dirt sprint division. What's more, a win here would give Laki the division title and the overall championship, while a win for Lewisfield would give him the division title and place him in a dead heat for overall honors.
But neither gets the nod as favorite, that instead going to the very talented #1 Switzerland (5-2). The Steve Asmussen trainee dominated the G3 Maryland Sprint on the Preakness undercard back in May, which gave him four straight wins. He's made just a single start since, however, that a fifth-place finish in the G1 Vanderbilt at Saratoga in July. He seems to be training well enough towards this test, but it's perhaps notable that regular pilot Ricardo Santana, Jr. opted to stay at Churchill Downs today rather than joining this runner.
Switzerland, the 2017 Maryland Sprint winner, is joined here by the 2016 winner. That's #5 Always Sunshine (3-1), a runner who was in terrific form at that time but then went through some doldrums, losing nine of 10 at one point. The Ned Allard trainee has won two straight, however, last out taking the restricted Tale of the Cat with his first 100+ Beyer in over two years. Jevian Toledo is up.
As the man said, pace makes the race, and this contest figures to have plenty of it. Switzerland, Always Sunshine, #8 The Man (8-1), and Lewisfield are all horses that have done their best work on or near the lead. If those horses start knocking heads up front, they could set it up for late runners to make a major impact — like Sweetontheladies, Colonel Sharp, and Laki.
GQ'S DE FRANCIS PICKS 
#2 Sweetontheladies (10-1): In a race with some early types, this Twirling Candy colt figures to come running late… and, oh, by the way, is Gary Stevens named on him? Yup… Has run credibly chasing some of the fastest sprinters in the country, including Imperial Hint two back in the G1 Vanderbilt and four-time graded winner X Y Jet… Should benefit from some class relief…
#7 The Man (8-1): Speedster has lost just twice in 11 tries since coming East and enters off two straight wins, one in the Banjo Picker Sprint at PRX… Outslugged by #5 Always Sunshine three back when running third in the Hockessin, his worst result at the trip… Regular rider Jorge Vargas, Jr. is up…
#3 Colonel Sharp (15-1): Took the Maryland Coalition at TIM nicely last out to continue streak of solid efforts… Pilot J. D. Acosta retains the mount… Figures mid-pack in this group and will try to make a run in the lane… Win would be trainer's first in graded company…
#5 Always Sunshine (3-1): Graded winner seems to have returned to best form in last couple, taking a pair of minor stakes in sharp fashion… Will be involved in the early running and owns six wins at the trip… Wouldn't read much into the absence of regular pilot Frankie Pennington: he has 10 mounts at PRX on Saturday, including in the $1 million PA Derby…