That's a wrap: Timonium meet closes with a flourish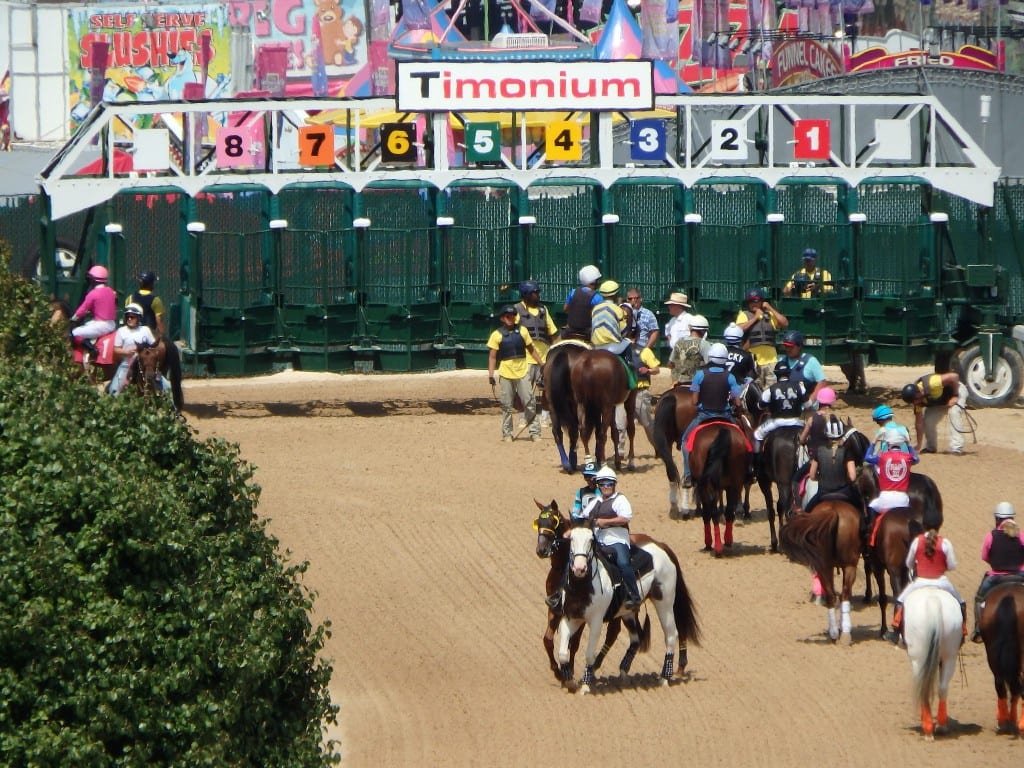 Photo by The Racing Biz.
by Frank Vespe
As the weather in Timonium heated up — and man, it was steamy on Monday's closing day — so, too, did jockey J. D. Acosta and trainer Claudio Gonzalez.
Acosta won twice on Monday, winning the eighth race aboard My Chesa Charm and the season finale on Candy Blu, to cap a six-win weekend at the the Big T. That gave him eight wins for the brief, seven-day stand and his third consecutive Timonium riding title.
Overall, Acosta won with eight of 44 starters during the stand and logged purse earnings of $235,723. That gave him a three-win advantage over three riders — Kevin Gomez, Angel Cruz, and Erin Walker — who finished with five wins each. Those four, plus Jose Montano, all had six figures worth of purse earnings.
Gonzalez scored twice on closing day, and his win with Lady by Choice in the ninth race propelled him to the trainer title by earnings. Gonzalez finished with four wins from 23 starts — he also led the track in starts — and purse earnings of $117,025.
He finished with a $14,000 earnings advantage over Gerald Brooks, who won with five of 21 starters to tie for the lead by wins with Phil Schoenthal. Brooks won three of the meet's first 11 races to grab an early advantage, while Schoenthal (five-for-13 overall) won four times on the last weekend, including twice on closing day, to draw even.
Brooks won the trainer bonus awarded to the trainer with the most points, with points awarded for wins, places, shows, and starters. He was followed by Schoenthal, Kieron Magee (3-for-16), Wayne Potts (4-for-15) and Charlie Frock (2-for-16).
BIG T THIS 'N' THAT
Shimmering Aspen gave the Big T the kind of runner it doesn't often attract when she won the first running of the Timonium Distaff August 25. The well-bred Rodney Jenkins trainee has twice been the favorite in graded stakes, and her class showed when, under regular pilot Victor Carrasco, she spurted clear in the lane to win by a length…
The breakout rider of the meet was Presque Isle-based Erin Walker, who won five times from 22 mounts and is planning to shift her tack to Maryland once Presque Isle closes…
The performance of the meet (non-stakes edition) might well have belonged to nine-year-old Gold Man. Trainer Tim Kreiser sent the Agnes Gold gelding to the Big T September 2 to run in a first-level allowance/optional claiming event, and he responded with a resounding four-length win in a sharp 1:15.91 for 6 1/2 furlongs — even faster than stakes runners had traveled that distance the day before in the Maryland Coalition Stakes…
Four of the 11 jockeys that won at least three races at the meet either started their careers at or are currently based at Charles Town — like Timonium, a bullring track. Those included meet leader J. D. Acosta (8 wins) and Jose Montano, Xavier Perez, and Gerald Almodovar (three wins each)…
Gerald Almodovar won twice on opening day, and his second victory, aboard No Refunds, was the 2,000th win of his career…