Still Having Fun storms to Woody Stephens stunner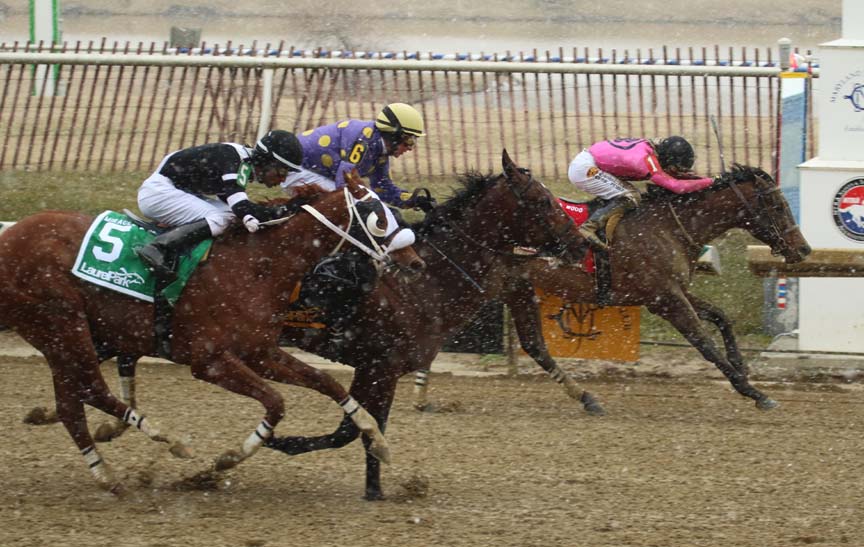 File photo of Still Having Fun winning the Miracle Wood Stakes by Laurie Asseo.
From a NYRA release
Aided by a monstrous pace, Maryland invader Still Having Fun scampered home to take the Grade 2, $400,000 Woody Stephens presented by Mohegan Sun, on Saturday at Belmont Park, giving the bay colt's trainer Tim Keefe his first graded stakes win.
Owned by Gary Barber, Wachtel Stable and Terp Racing, Still Having Fun had shown an affinity for one-turn racing through seven career starts, never finishing worse than second, but his victory still came as a surprise to bettors, who let him go off at odds of 13-1.
The son of Old Fashioned lagged behind the field early, with only one horse beaten entering the turn, as Promises Fulfilled and World of Trouble traded blows through torrid fractions of 21.46 seconds for the opening quarter-mile and 43.68 for the half. The intrepid pacesetters continued their race-long duel as the field turned for home, while jockey Joel Rosario angled Still Having Fun out to the center of the track for clear sailing.
After sitting a perfect trip off the pace, trainer Chad Brown's Engage pounced on the embattled leaders at the eighth pole, but with a full head of steam, Still Having Fun rolled down the crest of the Belmont Park stretch to prevail by 1 ¼ lengths.
"I had a perfect trip because there was a lot of speed in front of me," said Rosario. "He was very comfortable. He was a little far back but I was just waiting until we were turning for home to set him down and ride him. By the eighth pole, I knew I had it. He has such a big stride."
Keefe, who oversees a modest string of horses in Maryland, was elated in the winner's circle following the race, having saddled his first runner in 1992 and getting ever closer to a career milestone.
"Right now it feels great," said the trainer. "I was hoping it would coincide with my 500th win, too, but I'll take it. This is great. I'm just thankful to Gary [Barber] and Adam [Wachtel] for buying into this horse and having the faith to keep him with me, and to Jim Scott and Terp Racing for supporting me with a lot of horses over the years.
"We just always hoped he was a nice horse," he added. "Jimmy gave me some money to go to Timonium like he does every year to buy a horse, and I bought this one. Obviously, he's fulfilled a lot of dreams."
Still Having Fun completed the seven furlongs in 1:21.45 and returned $28 on a $2 win wager. His earnings now stand at $431,703.
Runner-up Engage finished 3 ¼ lengths clear of third-place finisher Promises Fulfilled, who held on by a neck over his sparring partner World of Trouble in fourth.
Beautiful Shot, Givemeaminit, The Tabulator, Strike Power, Pure Shot, Madison's Luna and Aqua Bel Sar completed the order of finish.