Justify the "next one," secures Triple Crown with Belmont win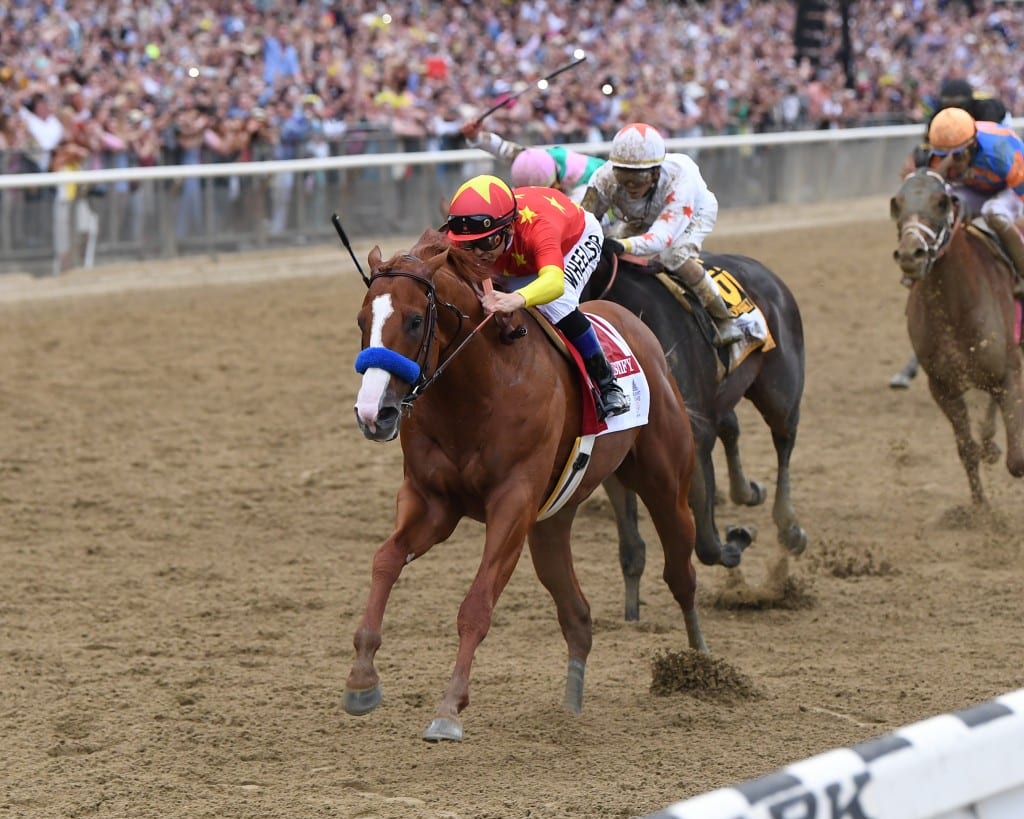 HOW IT HAPPENED
(Photo of Justify winning the Belmont by Chelsea Durand/NYRA.)
Just three years after American Pharoah became The One — the horse to break the 37-year Triple Crown drought — Justify became the, well, Next One. Saturday afternoon, he delivered a decisive 1 3/4-length victory in the Grade 1, $1.5 million Belmont Stakes at Belmont Park to earn his spot in history as the 13th Triple Crown winner.
Under jockey Mike Smith, Justify broke alertly to grab the early advantage from his rail post. Though the opening quarter-mile was a solid one — 23. 37 seconds — Justify quickly secured a clear advantage. His stablemate Restoring Hope, in second, applied no real pressure, and that enabled Justify to grab a breather. His next three quarters went by in modest fractions — 24.74, 25.10, and 24.88.
After a mile had passed, the rest of the field still had work to do, and yet Justify had navigated the mile in a moderate time of 1:38.09. For all that, no runner was closer than Restoring Hope, still second, still two lengths back, and never really a threat to Justify.
As the field rounded the turn and headed for home, Vino Rosso revved up a run that brought him from seventh all the way to second before he ran out of gas. He finished fifth.
Gronkowski made a spirited run, closing from 10th in the early going all the way to second, even without an appreciable pace to run at. But he could get no closer than the final margin of almost two lengths. Hofburg — something of a wise guy horse — fought on for third, another 1 3/4 lengths farther back. Bravazo and Tenfold, Justify's two closest pursuers in the Preakness Stakes at Pimlico three weeks back — both finishing within a length of the winner — could do no better than sixth and fifth, respectively.
Justify completed the course in 2:28.19 for the 12-furlong distance. With the victory, he ran his record to a perfect six-for-six and became the first horse since Seattle Slew in 1977 to win the Triple Crown with an undefeated record.
The victory also enabled trainer Bob Baffert, who conditioned American Pharoah, as well, to become just the second person to train two horses to Triple Crowns. The first, Sunny Jim Fitzsimmons, conditioned Gallant Fox and then his son Omaha to Triple Crowns in 1930 and 1935, respectively.
QUOTABLE
"This horse ran a tremendous race. He's so gifted. He's sent from heaven. He's just amazing." — Jockey Mike Smith

"[This horse] was showing me the same signs [as American Pharoah], he showed me that same brilliance. Superior horse. I mean, he could have won every race on the undercard today. He's just that kind of horse." — Trainer Bob Baffert

"The pace might have been a little slow but this horse [Justify] ran in all three [Triple Crown] races and he won the Triple Crown and went the whole mile and a half today. He showed up and earned it." — Chad Brown, trainer of runner-up Gronkowski

"It was a monster race. It's a great honor to be a part of it. The noise from the crowd out front was shaking this building. It was incredible. It's nice to be a part of something special." — Dale Romans, trainer of seventh-place finisher Free Drop Billy

"It was such a blessing, and just thinking about winning the Triple Crown, and it's just unbelievable. And then seeing him down that stretch, I mean, I was yelling and screaming, I went crazy down that stretch. It was a great blessing." — Kenny Troutt, WinStar Farm, co-owners of Justify
FACTS AND FIGURES
Winner paid: $3.60 – $3.50 – $2.80
Winning time: 2:28.18
Margins: 1 3/4 lengths from Justify back to Gronkowski, another 1 3/4 lengths back to Hofburg in third, and neck farther back to Vino Rosso in fourth
Winner's record: 6-6-0-0, purse earnings of $3,798,000
CONNECTIONS
Trainer: Bob Baffert
Owner: WinStar Farm, China Horse Club International, Starlight Racing, Head of Plains Partners LLC
Breeder: John Gunther
Pedigree: Scat Daddy-Stage Magic, by Ghostzapper, bred in Kentucky
Jockey: Mike Smith
HOW WE 'CAPPED IT
#7 – Tenfold (12-1): Answered questions whether he belonged at this level when third in the  Preakness, less than a length behind Justify yet galloped out strongly carrying 126 for the first time; has the pedigree to get the 1 ½ miles; first Belmont start for conservative but successful owner/breeder whose had plenty of good ones; stalking running style fits The Big Sandy as not many deep closers have won this event; trainer S. Asmussen won with Creator in '16; runner-up Curlin in '06; jocks first Belmont Stakes… a major concern (re: moving too soon)
#4 – Hofburg (9-2): Wise guy horse in KY Derby had a nightmare trip so once again he's the talk of the town to be Triple Crown spoiler; trainer B. Mott knows winning feeling as he saddled Drosselmeyer in '10 Belmont; this is jock I. Ortiz, Jr. "house" who won on Creator in '16; might be forced to lay closer to soft pace than accustomed which could compromise much needed energy late 
#1 – Justify (4-5): Say it ain't so! Been down this road too many times in the past, American Pharoah the exception, the racing gods don't hand out Triple Crowns like candy; not that this colt isn't deserving of the honor but the Preakness was hard on him, can he continue to be at the top of his game in his sixth race in a span of 16 weeks? Pace scenario appears more Derby-like as only Noble Indy will keep him company early, making him earn it… and if he does, then he's truly super
IN YOUR STABLE MAIL
Hofburg was two wide the first turn, four wide the second, and was driven six wide entering the lane. He veered out a couple of paths further when shying away from the whip but fought on to earn the show spot.