"Grateful" Woolcott enjoying ride with Sadler's Joy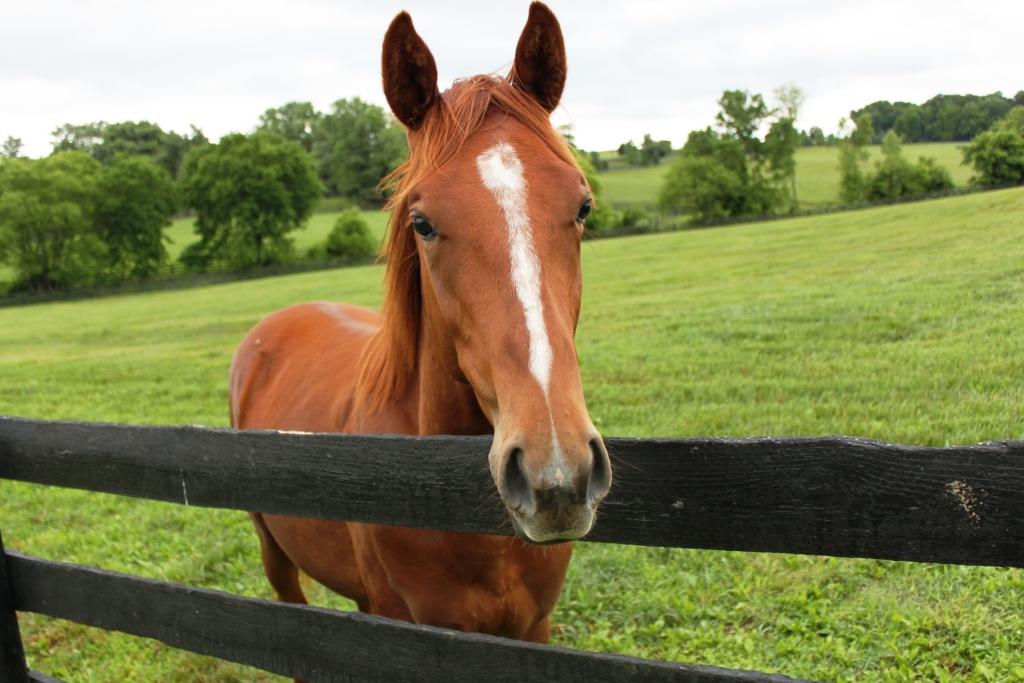 Sadler's Joy at Woodslane.
by Nick Hahn
Four years ago, Sadler's Joy was sharing a sleepy paddock where he was being raised as a snoozing young colt while California Chrome was bidding to end the Triple Crown drought at 36 years.
The yearling was surely unaware that one of his Woodslane Farm compatriots, Tonalist, was in the 2014 Belmont Stakes (G1) starting gate attempting to extend the dry spell to 37 years. Tonalist moved up turning for home and outstrided California Chrome, Medal Count, and front-running Commissioner to earn the victory. California Chrome finished in a dead heat for fourth with Wicked Strong.
Not only was it a big win for Rene and Lauren Woolcott's Woodslane Farm, but it was also a key victory for the Virginia thoroughbred industry. Though Tonalist was bred in Kentucky, he resided at Woodslane, in northern Virginia, for over eighteen months before heading to the racetrack. Virginia horsemen saw clearly a chance to brand Virginia horses and eventually established the new Virginia Certified Residency program, an incentive program that provides awards for horses that spend six consecutive months in Virginia prior to the end of its two-year-old year. It has been successful in filling the barns of thoroughbred horsemen in Virginia.
"To have bred Tonalist and to be a small cog to push forward a program that gives the industry rebirth is pretty awesome," acknowledges Lauren Woolcott.
It may have been satisfying enough to make such an impact for thoroughbred newcomers with two decades of steeplechase success. However, four years later, Renee and Lauren Woolcott are back at Belmont Park, this time as owners of their homebred, Sadler's Joy, in another big spot for their Fauquier County farm, near Warrenton, Virginia.
Sadler's Joy is 8-1 on the morning line of the Grade 1, $1 million Manhattan Stakes and will face a dozen rivals. The field includes favored Beach Patrol (5-2), Robert Bruce (3-1), Hi Happy (7-2) and the familiar face of Virginia-bred One Go All Go (12-1), who has been in the starting gate of Sadler's Joy's last three starts.
"We're thrilled to run against him again," said Woolcott about One Go All Go, the winner of the 2015 Commonwealth Derby (formerly Virginia Derby) at Laurel Park. "He's such as good horse. They're all familiar faces, some really scary ones. The field is extraordinary."
In April's Mac Diarmida Stake (G2) at Gulfstream Park, the duo finished one-two at the wire from two far completely different approaches. One Go All Go grabbed the early lead, while Sadler's Joy, as typical, ran on from last. At the wire, Sadler's Joy was better by three parts of a length.
One Go All Go hasn't won many races — only four in 25 career starts — but has steadily improved with age. Then in April, he won the Elkhorn (G2) at Keeneland in his sole recent start that didn't involve Sadler's Joy.
One Go All Go is a six-year-old horse bred by Albert Coppola, owned by Rodney Paden and trained by Charles Dickey. Chris Landeros gets the mount for the Manhattan.
Sadler's Joy hasn't run shorter than 1 ⅜ miles since finishing a closing third in last year's Manhattan. With wins in the Sword Dancer (G1), Mac Diarmida (G2) and Pan American (G2), Sadler's Joy has checked a lot of boxes towards a possible career as a stallion, which his breeding — he's by Kitten's Joy out of a Dynaformer mare — would suggest is a logical step..Woodslane would like to check one more box, the one next to 1 ¼ miles,, a significant box in North American racing.
"He always breaks well. It takes time to get his big frame going," explained Woolcott. "We're asking him to pick it up earlier and feel that he has that ability. It's an age-old question in racing. Will early effort cost him (later in the race)? I'm confident that he can do both. He finishes with an amazing sprint, even in 21 seconds."
After breaking his maiden at a mile and a half at Belmont Park, Sadler's Joy has allowance wins at a mile and a quarter and mile and three-eighths, along with the three stakes wins, none shorter than a mile and three-eighths.
Last summer, jockey Javier Castellano and Sadler's Joy rallied to the lead in the Grade 2 Bowling Green at Saratoga with a furlong to go before tiring to third. Castellano returns to ride Sadler's Joy for the first time since that race.
Sadler's Joy is sired by Kitten's Joy out of the Dynaformer mare Dynaire and trained by Thomas Albertrani, who may be asking Castellano to be "proactive in anticipation," according to Woolcott.
That's an adjustment she has already made. Woodslane has three yearlings and three weanlings among several broodmares on their grounds, all Virginia-certified looking towards the future.
"I'm grateful just with this opportunity to have the joy of this experience," expressed Woolcott. "I'm really grateful to have a horse like this, our amazing team and a whole lot of luck."
With Tonalist's win in the Belmont Stakes, Woodslane Farm is well aware there is a race after the Manhattan. They just may be looking a bit further ahead.