Supreme Court strikes down sports betting ban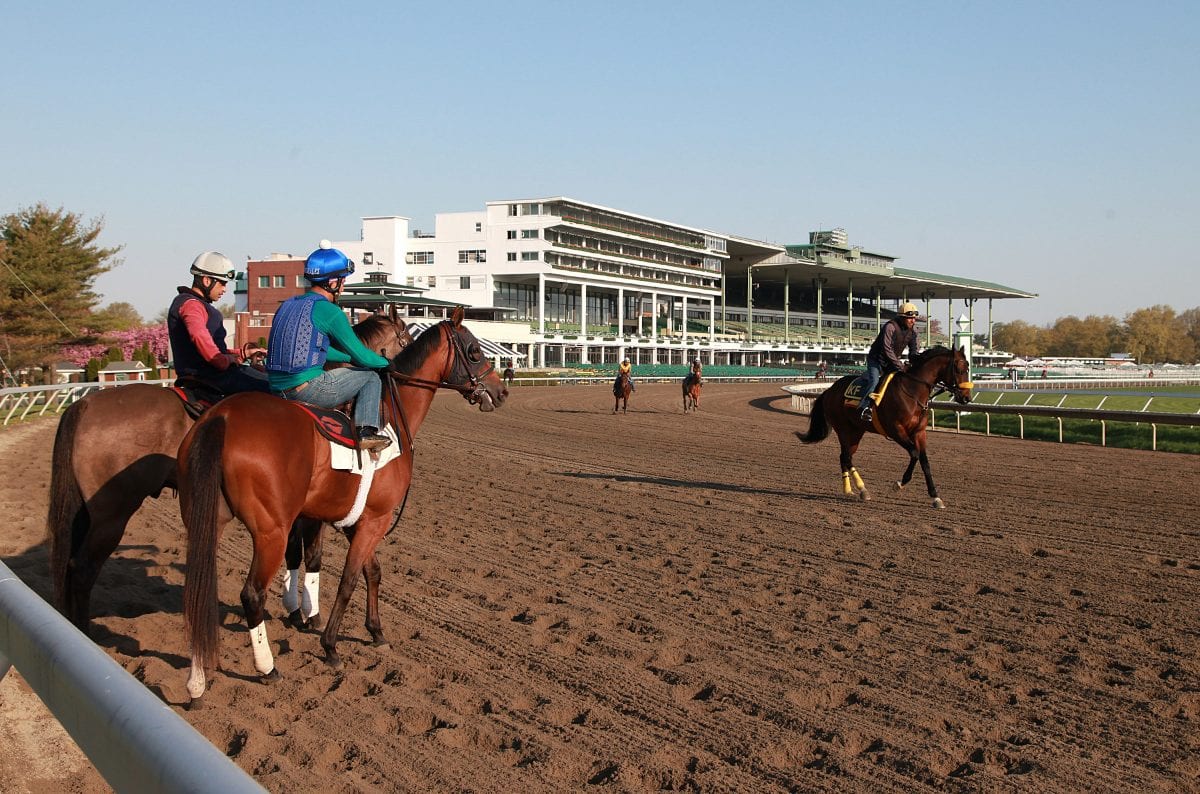 Monmouth Park is poised to take advantage of the ruling. Photo by Bill Denver/EQUI-PHOTO.
by Frank Vespe
The Supreme Court on Monday ruled that the Professional and Amateur Sports Protection Act (PASPA) — the federal law that bars wagering on all professional and amateur except horse and dog racing sports in all but a few states — is unconstitutional.
The ruling puts the states in control of sports betting. It was greeted warmly in some corners of the racing world, and warily in others.
"This is the culmination of the hard-work and dedication of a large group of individuals, all of whom contributed to today's victory and will undoubtedly contribute to our future success," said Dennis Drazin, chairman and CEO of Darby Development LLC, operators of Monmouth Park, in a statement. "We started this fight back in 2012 and are grateful that the Supreme Court has recognized that we've been right all along. We can now shift our focus on commencing sports betting, which will be off and running at Monmouth Park as soon as possible.
Monmouth has played the leading role nationally in fighting to end the federal prohibition on sports betting and, in the racing world, is likely best positioned to take advantage of the ruling.
Justice Samuel Alito, delivering the court's decision, wrote, "Congress can regulate sports gambling directly, but if it elects not to do so, each State is free to act on its own." PASPA, Alito wrote, took a different route, regulating the behavior of state governments, an impermissible overreach.
Justices Ruth Bader Ginsburg and Sonia Sotomayor dissented from the ruling. Ginsburg wrote that in fact, it was the Court itself overreaching, saying the majority was determined "to destroy PASPA rather than salvage the statute."
To ready itself for the ruling it hoped to receive, Monmouth Park has been working to complete an expanded gaming area on the first floor of the Grandstand, adjacent to the already existing William Hill Race and Sports Bar.
In 2011, Garden State voters overwhelmingly approved sports betting and New Jersey subsequently passed the Sports Wagering Act, permitting licensing and regulation of sports gambling. The State was sued based on the now-unconstitutional 1992 federal law, with on-going litigation since.
On June 27, 2017, the United States Supreme Court issued a writ of certiorari to hear the consolidated cases of Murphy, Gov. of NJ, et al. v. NCAA et al. and NJ Thoroughbred Horsemen v. NCAA et al. Oral argument was heard in Washington, D.C. on Dec. 5, with today's ruling officially marking an end to PASPA.
Lawyer Ron Riccio of the law firm of McElroy, Deutsch, Mulvaney and Carpenter, who served as lead counsel for the horsemen's association, credited Drazin with the victory.
"More than anyone else, Dennis had the vision and determination to invest the time, energy, and resources that led to today's decision, which will ensure the security of the Garden State's billion-dollar equine industry," Riccio said.
Not everyone in horse racing shared Monmouth's initial enthusiasm. Alex Waldrop, president and CEO of the National Thoroughbred Racing Association, sounded a cautious note.
"Until today, pari-mutuel wagering on horse racing has been the only legal form of sports wagering available throughout most of the United States at both physical locations and online," he said in a statement. "Now that the U.S. Supreme Court has ruled the Professional and Amateur Sports Protection Act (PASPA) unconstitutional and states are free to regulate sports betting as they see fit, our multi-billion dollar industry must rise to the challenges and seize the opportunities presented by this expansion of sports betting."
Elsewhere in the mid-Atlantic region, Delaware already permits limited sports wagering. Pennsylvania and West Virginia have both recently passed legislation that would allow sports wagering to commence once the federal law was struck down. In Maryland, bills to permit a statewide vote on sports betting did not pass.