VA Gov. Northam signs historical racing law to "reinvigorate" racing industry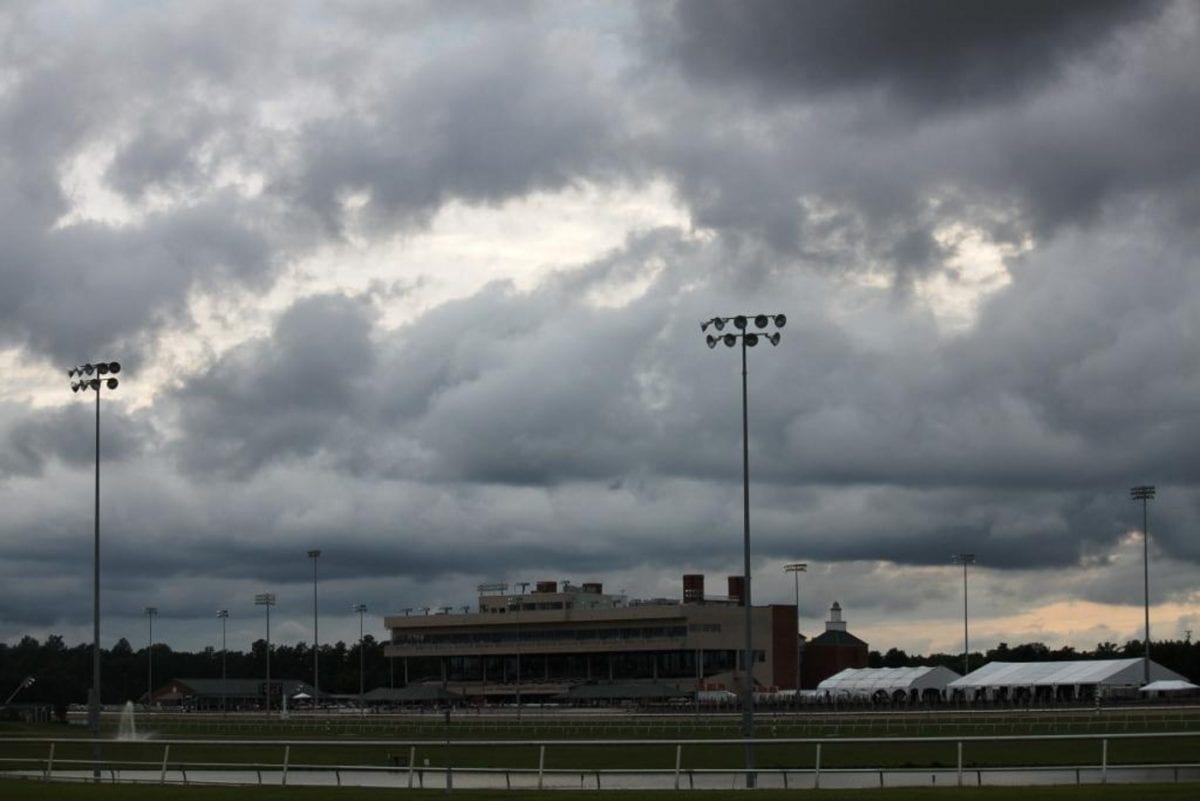 Colonial Downs. Photo by Nick Hahn.
by Frank Vespe
Talk about a case of "better late than never."
Virginia Governor Ralph Northam waited until the very last day, but at last, on Monday, he signed legislation to allow "historical horse racing" machines in the Commonwealth. The law takes effect July 1.
"I was pleased to sign House Bill 1609 into law," Northam wrote in an "executive directive" to the Virginia Racing Commission regarding regulations it must adopt to implement the new law. "I am hopeful that this legislation will reinvigorate the horse industry and allow thoroughbred racing to return to Virginia."
"Everyone is very pleased," agreed Jeb Hannum, executive director of the Virginia Equine Alliance, the umbrella group representing the state's Thoroughbred, harness, and steeplechase horsemen and breeders. "Now we have to roll up our sleeves and really get to work."
Though the delay in signing the bill had given some in the racing community a case of angst, Hannum said there was "not much to read into" it. He pointed Northam had, for example, previously indicated support for the bill.
Historical racing machines, which to users feel essentially like slot machines, use previously contested races to generate the winning numbers. Racing advocates have said they could mean millions more for racing purses – perhaps "$6 million to $10 million more than we could do ourselves" via off-track and advance deposit wagering, according to Debbie Easter of the Virginia Thoroughbred Association, which represents the state's Thoroughbred breeders.
Of perhaps even greater importance: the new law is expected to lead to the reopening of Colonial Downs, the state's lone traditional Thoroughbred race track, which is located between Richmond and Williamsburg in New Kent County. Advocates have said that Colonial could hold a brief live meet as soon as 2019.
Colonial held live racing from 1997 through 2013. But it hasn't raced since, the result of an acrimonious dispute between track owner Jeff Jacobs and the state's horsemen.
The law permits historical racing machines to be placed at Colonial and at off-track wagering facilities (OTBs) in the state. There currently are four OTBs in the state, two in the Richmond area, one in Chesapeake, and one near Martinsville. State law allows up to 10 OTBs.
A study commissioned by advocates of the legislation estimated that by 2022, historical racing machines would generate some $160 million of revenue for the owner of Colonial Downs, which by then would host 25 days of live Thoroughbred racing annually.
But there's a lot of work to be done to get there.
For one thing, there's the sale of Colonial. A Chicago-based group called Revolutionary Racing reportedly has a contract to buy Colonial and its assets and is expected to close on the deal in the next month or so, Hannum said.
His group, the VEA, has a memorandum of understanding with Revolutionary dealing with items such as the distribution of proceeds from the historical racing machines, "a framework for live racing," and other matters.
There are, he said, a number of "details we need to get finalized." Those include the management and build-out of the OTB network.
And of course, the state Racing Commission has 180 days after the law becomes effective to adopt implementing regulations. In his directive, Gov. Northam called on the Commission to place "reasonable limitations on the proliferation of gaming in Virginia… to ensure the safety and welfare of the people…" and to consider "local community opinions."
In the longer run, the state's horsemen's group, the Virginia Horsemen's Benevolent and Protective Association, will need to finalize a contract with Colonial's new owner governing the import and export of simulcast signals.
And state racing interests will need to find a spot on the racing calendar that makes sense. Prior to its shuttering, Colonial Downs had for a number of years run during the summer, when the Maryland Jockey Club did not run. The MJC, however, now runs virtually year-round, which will make finding the right time more complicated.
All of those, however, are problems for a different day. For now, Virginia's racing interests have something for which they've been searching since Colonial closed: a path forward.
"The industry worked very hard, and everyone came together for this," Hannum said. "We appreciate the support of horsemen up and down the state."