Gaudet, Wolfendale: Marylanders break NY glass ceiling
by Teresa Genaro
On Thursday, August 10, as the New York Racing Association's Talking Horses television show began, two women sat behind the desk, ready to handicap that day's Saratoga card for the thousands on-track and watching on television and the internet.

That in itself was noteworthy, given the paucity of women on the NYRA broadcast until recently. Add in that both women grew up in prominent Maryland racing families, and you'd have had to figure that the odds of both of them ending up on arguably the country's most-watched simulcast feed were… well, even with the new regs, you'd have to fill out an IRS ticket on that one.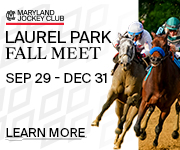 Yet there they were.
Maggie Wolfendale Morley and Gabby Gaudet don't often appear together on Talking Horses—that day in August was Fabulous Fillies Day, so their joint engagement was something of a gimmick—but they are staples of NYRA broadcasts, and individually or as a team, they've broken a glass ceiling in New York racing.
The only bad news about their talent and success is the possibility that it might ultimately pull them away from New York and racing.
The daughter of trainer Howard Wolfendale, Morley grew up in the shedrows of Maryland's racetracks. She showed horses, and when she turned 16, her parents told her, "If you want to keep your show horses and go to college, time to come gallop for us."
[widget id="related-posts-by-taxonomy-2″]
A dedicated equestrian in her late teens, describing herself as "big into showing," Morley attended first community college, then Towson University, just north of Baltimore. As she made the transition from the junior ranks in the show ring and the competition grew more intense, she made the call to pursue a bachelor's degree in communications with a minor in mass media, leaving, at least temporarily, the horses behind.
Sent by her father to Colonial Downs to run some horses, she spoke with the track's head of media relations, Darrell Wood, and pitched herself to do some on-air work. Cutting her teeth there, she made a pretty big jump when her next gig was with NYRA, who called when, she said, she "sent résumés to every track in the country."
"I was completely elated," she said.
After working as an intern in the Saratoga press box, Morley stepped into the shoes vacated by long-time paddock analyst Jan Rushton, offering her thoughts on horses' physical appearance. The on-air learning curve was steep, but before long, she had begun offering polished, poised analysis, and occasionally stepping in to handicap from the desk.
The adjustment to living on Long Island was a little tougher.
"Driving, the attitude of people—I learned very quickly to give attitude right back," Morley said with a laugh. "It's the only way to get respect. There's no killing with kindness up here. On the plus side, the food is great."
In 2015, she married trainer Tom Morley, and just about a year ago, she gave birth to their daughter Grace.
On maternity leave from NYRA she joined her husband for his first winter stint at Fair Grounds in New Orleans, and when they came back to New York, she became an integral part of NYRA's national broadcasts on Fox Sports 2 and MSG+, offering insight from the paddock and interviewing connections in the winner's circle.
"I want to ride this upward trajectory," she said. "I want to be a part of what NYRA is doing, with the TV opportunities and NYRA Bets," the advance depost wagering arm of the New York Racing Association.
Like Morley, Gaudet grew up on the racetrack. Her father, Eddie, was a trainer before his retirement following the 2011 season, at which point her mother Linda stepped in to run the family training operation. Her sister Lacey followed in their footsteps.
At first, Gaudet envisioned a life away from the track; like Morley, she went to Towson University, earning a degree in mass communications and advertising, envisioning a career in graphic design, doing internships with D.C. startups.
But not long before she graduated, long-time Maryland Jockey Club handicapper Frank Carulli decided to retire, and the MJC held auditions for his successor. Gaudet made a demo tape, and, one of four finalists, she got the job as she was finishing her last semester.
"I'm shy by nature," she said. "I take after my mom. It was intimidating to be on-air, but I like a challenge, and I realized that this side of the industry was where my passion is."
She knows how to check legs and tack, but handicapping was another story. Carulli mentored her, and she made the call to report from the paddock, drawing on her background on the backstretch and confidence in her ability to assess a horse's physical appearance.
Gaudet was soon spending her winters in Florida at Gulfstream Park, which, like, Laurel and Pimlico, are owned by The Stronach Group. And then NYRA came calling.
"One of my first jobs was working for the Saratoga Special," she said, referring to the daily paper produced by Joe and Sean Clancy and Tom Law each summer during the meeting. "As I was driving up to Saratoga last year when I started doing TV for NYRA, I was thinking about what a magical experience it was to be working at Saratoga."
Like Wolfendale, Gaudet is a fixture on the NYRA simulcast and on their FS2 and MSG+ programs. For the first time, she stayed with NYRA through the fall, handicapping at Belmont and Aqueduct. She'll finish this year's New York stint after the Cigar Mile on December 2.
Like Morley, Gaudet's transition to life in and around the big city has had its ups and downs.
"Saratoga's easy," she said. "The culture of New York living is a challenge. It's more fast-paced than what I'm accustomed to, and this is one of the first times I've lived by myself."
She continued, "Working with FS1 and FS2 calls on another skill set. You have to be more concise and precise, and change the way you broadcast from the simulcast, where you can talk all day."
She praised Morley's skills as a host, a role she played for the first time at Belmont.
"She was fantastic," she said.
After Aqueduct, Gaudet will head to Hong Kong to work for the Hong Kong Jockey Club for its day of Group 1 races on December 10, then she'll take a few weeks off before deciding how to spend early 2018.
"I like reporting," she said. "I like interacting with horses and with people, and I feel like when I'm interviewing, I'm in my natural state."
She was recently one of three—and the only woman—on a panel for the FS2 broadcast of the Melbourne Cup, an experience that she found a little dazzling, given the perks of working for a major network. But after the Breeders' Cup and the Melbourne Cup, she was happy to come back to New York.
"We have a great crew. It's fun," she said. "Everybody works so hard, and we create a really good work environment."
Morley and Gaudet bring to NYRA's customers something that the rest of its talented roster can't: daily, intimate knowledge of the equine. Like their colleagues, they can read horses on paper…but they can also read them in person, an invaluable asset when dealing with animals that aren't only the sum of their past performances.
And while both are well aware that theirs are plum gigs in the racing industry, Wolfendale, at least, thinks there's only one way it could be better.
"If it were in Maryland," she admitted. "I'm definitely more of a country girl at heart."