In Focus: Wagering Delaware Park closing day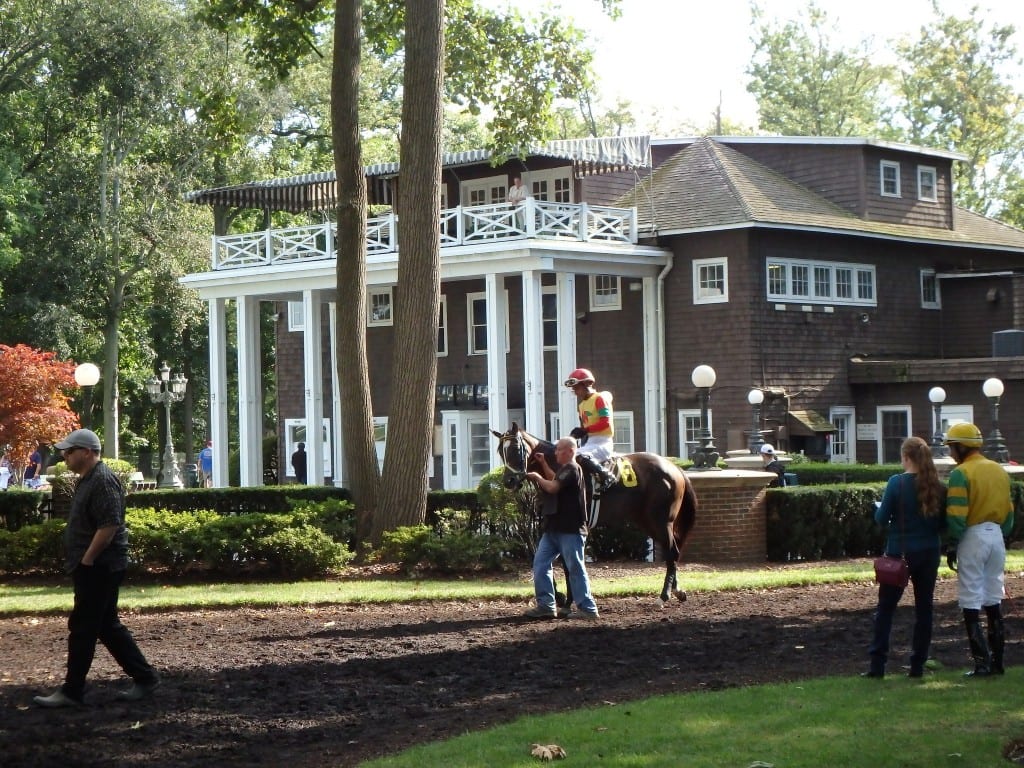 Photo by The Racing Biz.

Our In Focus Guide offers the most in-depth analysis and commentary on Delaware Park's closing day.
RACE 1 – 6 furlongs, MC $10,000
Angels Altar (10-1): Trainer Martin's homebred makes here debut here at age four; mare hasn't thrown a winner yet but was herself a productive racer, and the trainer's 1-for-6, with three in-the-money, sending out firsters into MCL company
#2 Peggys Music Maker (7-2): Hernan Parra trainee makes her second off a layoff and switches back to the main track; better efforts over the winter at TAM would win here
#4 Shack's Legacy (8-5): Favorite hard to dismiss, but has done best work on the lawn
RACE 2 – 6 furlongs, CLM $20,000 (2yo)
#6 Drummer Don (8-1): What an effort in maiden-breaker, coming from well back, darting between horses, bravely running on late – he was tons the best there and one of his beaten rivals, Albertos Al Quinto, scored next out and shows up here; rider comes with
#3 Nekia (2-1): Love the move to drop a step in claiming price for first try against winners; after solid win on debut, Street Sense colt a legit shot to make it two straight
#5 Jai Blue (4-1): Good effort last to leave the winless ranks, and the fourth-place finisher scored next out against CT maiden special weight foes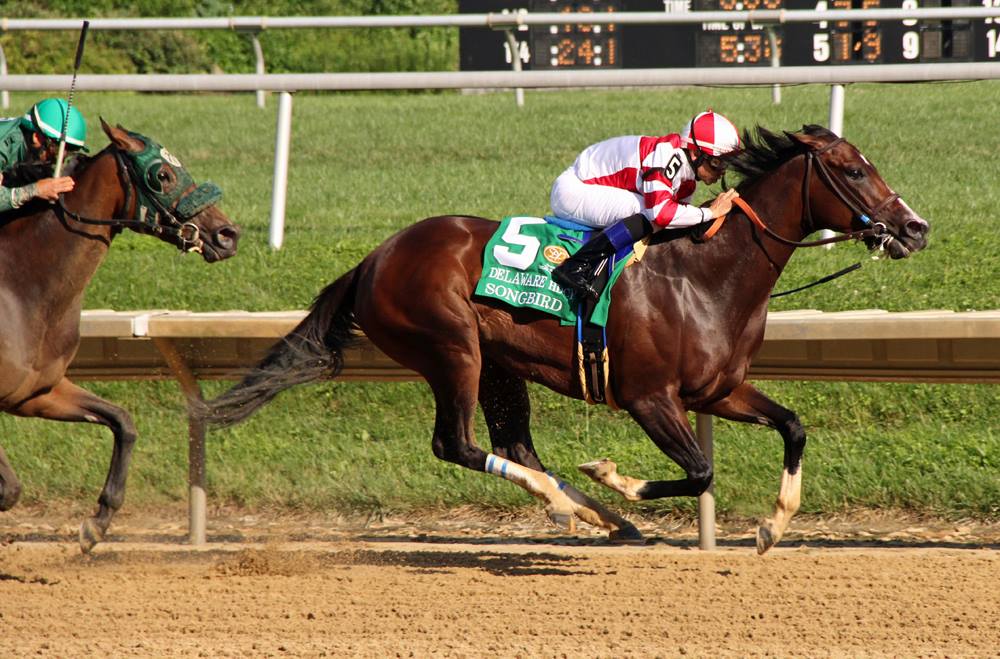 RACE 3 FULL FIELD – 6 furlongs, Maiden Special Weight (2yo)
(post position 5/7) Flashy Trick/Hey Niki (4-1): Two for the price of one! Owner-breeder Brereton Jones sends out a pair of modestly-bred homebreds with two different trainers; the former, by Istan, is the first foal out of an unraced Flashy Bull mare, the latter by Include out of a winning Istan mare; both have long strings of works and come from top barns
A jumpinanda Jivin (10-1): Third foal out of a solid enough runner, one sib a winner; trainer Ashby winless in 22 tries with first-out two-year-olds in the last five years; pretty good work tab
Restless Spirit (3-1): Can't sleep on Larry Jones-trained 2yo at Delaware Park, especially when they cost $410k at auction; this one's a half to multiple graded winner Global View; Jones and rider Pedroza have a gaudy record together
Two Shy (10-1): Modestly-bred sort has been training forwardly for a barn that gets 22% debut winners among 2yo with a hugely positive ROI
Trickizar (8-1): Busy Tapizar filly still winless after seven tries, ran a good one – but not good enough – last out, suggesting she's back in form; demand value if inclined to stick your toe in these waters
Super Duper Girl (12-1): Owner-trainer Meija liked her enough to drop her in the Sorority where she finished up the track at 47-1, but not sure how much of an endorsement that is with a trainer record of 9-for-223. Must show dramatic improvement.
Missive (6-1): Multiple graded stakes-winning mare hasn't produced a single stakes winner but hope springs eternal; trainer Stidham's got a 22% win rate with debut 2yos, and this Alternation filly's been training well at FH; note bullet on the dirt 9/21
Royalty for Life (6-1): Useful debut against maiden claiming runners but two to run back have been up the track; trainer Raymond 0-for-3 with second-start 2yo maidens
My Silver Belle (15-1): Showed little in unveiling at the Big T; one of five from that race won back after dropping to MC $25k; Note curious work tab since, including one-mile breeze, all of which makes you wonder if first start was nothing more than a glorified half-mile breeze
Fighting Glory (10-1): To Honor and Serve filly's been training well, and trainer Lerman (1-for-9 with debut 2yo in maiden special weight) will leg up promising bug rider Ceballos; dam was a multiple stakes winner but sibs nothing to write home about
RACE 3 PICKS
#3 Restless Spirt — Good barn, good breeding, good work tab — all systems go
#4 Two Shy — Barn too solid with these sorts to ignore
#7 Missive — Debut runner has fired bullets
#9 My Silver Belle — Thinking debut was for the exercise, education; now it's time to get serious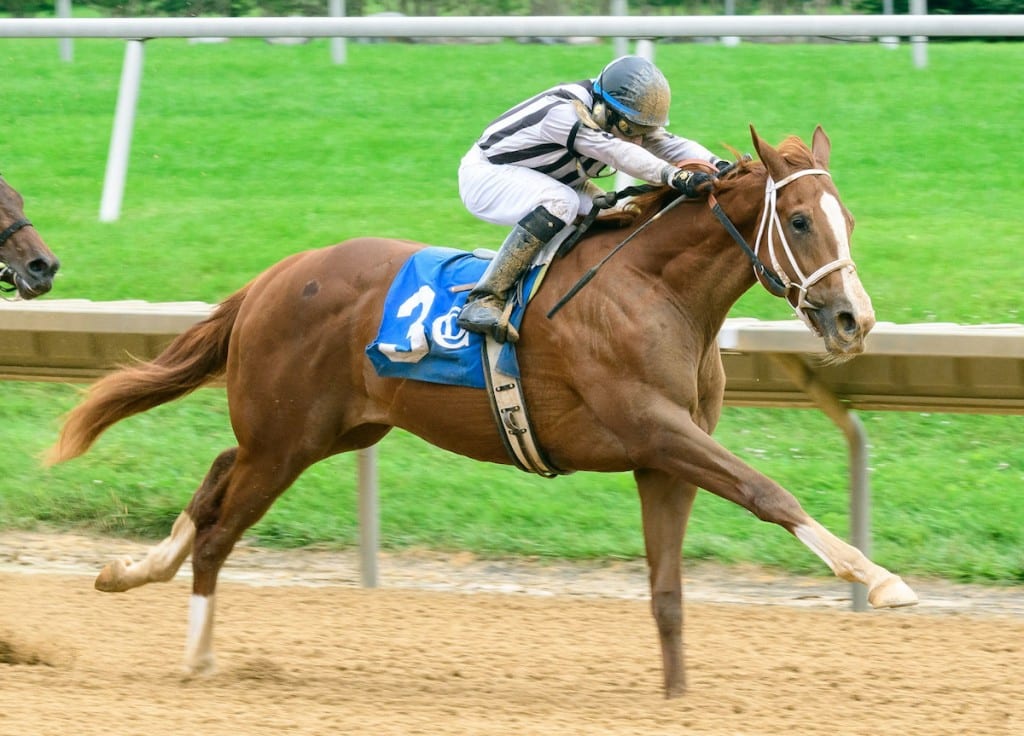 Whereshetoldmetogo. Photo by HoofprintsInc.com.
RACE 4 – 5 ½ furlongs, CLM $6250 N3L
#3 Who Broke the Bank (10-1): Like to see a horse making short work of his conditions, and this guy has two wins in four career starts; drops back to appropriate level after abortive attempt at moving up
#4 Zapata (2-1): Odds not enticing, but trainer Magee likely to get a better effort from this one here; trainer-jock combo clicking
#2 Forged Signature (4-1): Has finished second twice against similar, keeps top jock Cedeno aboard
RACE 5 – 5 ½ furlongs, MC $12,500 (2yo)
#7 Double Derby Perks (7-2): Thinking he'll be happy to get back on a fast main track, return to two-back form should be good enough
#5 My Friend Linus (10-1): Lovers of the Peanuts should appreciate this homebred son of Uptowncharlybrown; trainer Cronk has better numbers with debut MCL runners than overall, and this one is a half to two juvenile winners
1a Brahms Breeze (5-2): As with choice in here, return to fast track should yield improved effort
RACE 6 – 6 furlongs, CLM $5,000 N2L
#3 Arrivano (2-1): Lake trainee stuck with it to the end last out, drops off acceptable outing; trainer-jock combo a positive
#5 Rahrahrah (8-1): Maybe – just maybe – the lightbulb goes on after breaking his maiden easily in 13th try; drew away nicely to win last
#1 Prince of Kentucky (5-1): Stakes-placed runner gets Lasix for the first time in his career in just his second start of '17; first Lasix a positive angle for trainer Pecoraro, and trainer-jock thrive together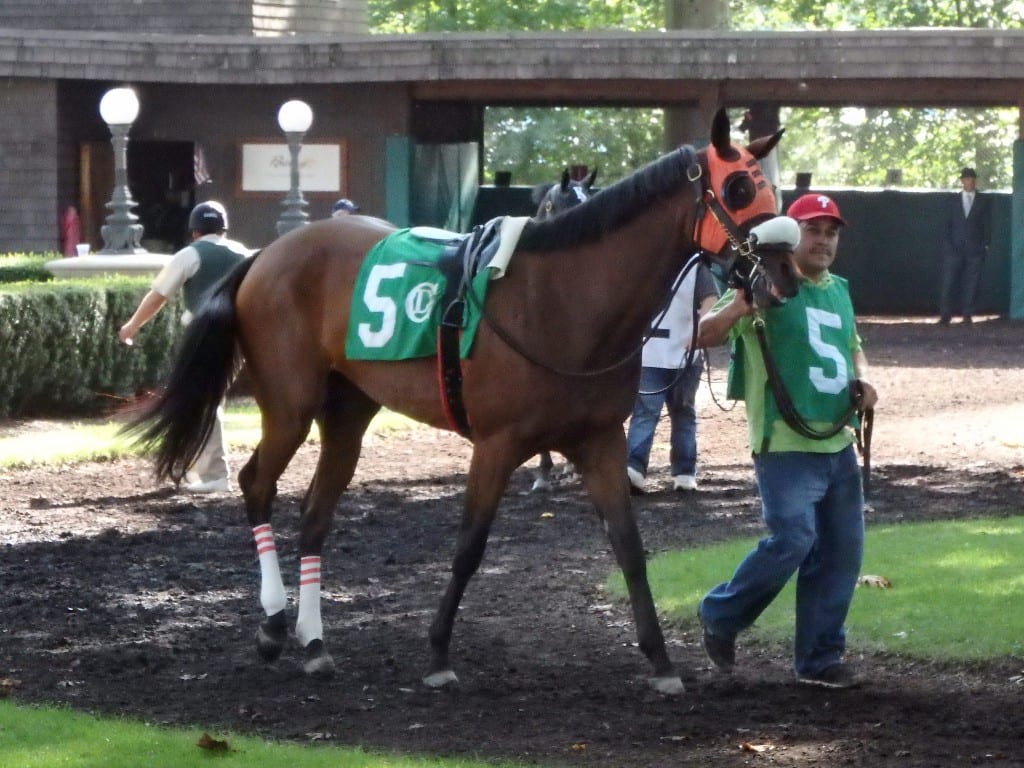 RACE 7 – 5 ½ furlongs, MC $12,500 (2yo)
#8 Purring Valentine (9-2): Set a solid pace for that group and stayed on willingly to the end; top jock Cedeno stays on board a horse sitting on a win
#7 Inspire Me (7-2): Takes appropriate drop for trainer Stidham off a middling effort against better; none of six to run back has won
#6 Misdriven (15-1): Should appreciate drop from Small Wonder Stakes to maiden claiming company; finds lowest level yet, and three back effort puts her in the mix; trainer Peck looking for first win of rough meet
RACE 8 – 6 furlongs, Optional claiming/starter $25,000 N1X
#6 Angel At War (8-5): Hasn't done a thing wrong yet and acts like there's more in the tank; Gorham trainee gets a new jockey for the first time as Centeno heads to LRL for Maryland Million card
#4 Fillupcohensapiker (5-2): Simoff trainee continues to run good races without getting the money; was bested by Angel At War two back but returned to be a good second in the Tax Free Shopping Distaff; only runner from last to run back won
#3 Ocala Chrome (12-1): Speedster was cooked on the front end last out, will hope to ration speed a bit more judiciously here; not likely good enough to hold off Angel At War but can offer improved accounting of herself
RACE 9 – 6 furlongs, MC $5,000
#12 Cowboy Chrome (3-1): Fenneka Bentley trainee has finished in the triple in five of six (though DQed in one of those); two-back show horse won two straight following that race; only concern here is possible case of seconditis
#1 Arnina (5-1): Was well clear of others in runner-up effort in strung-out field in last; Spieth stays aboard and connections hoping third time's the charm
#5 Nonno (6-1): Has kept better company than these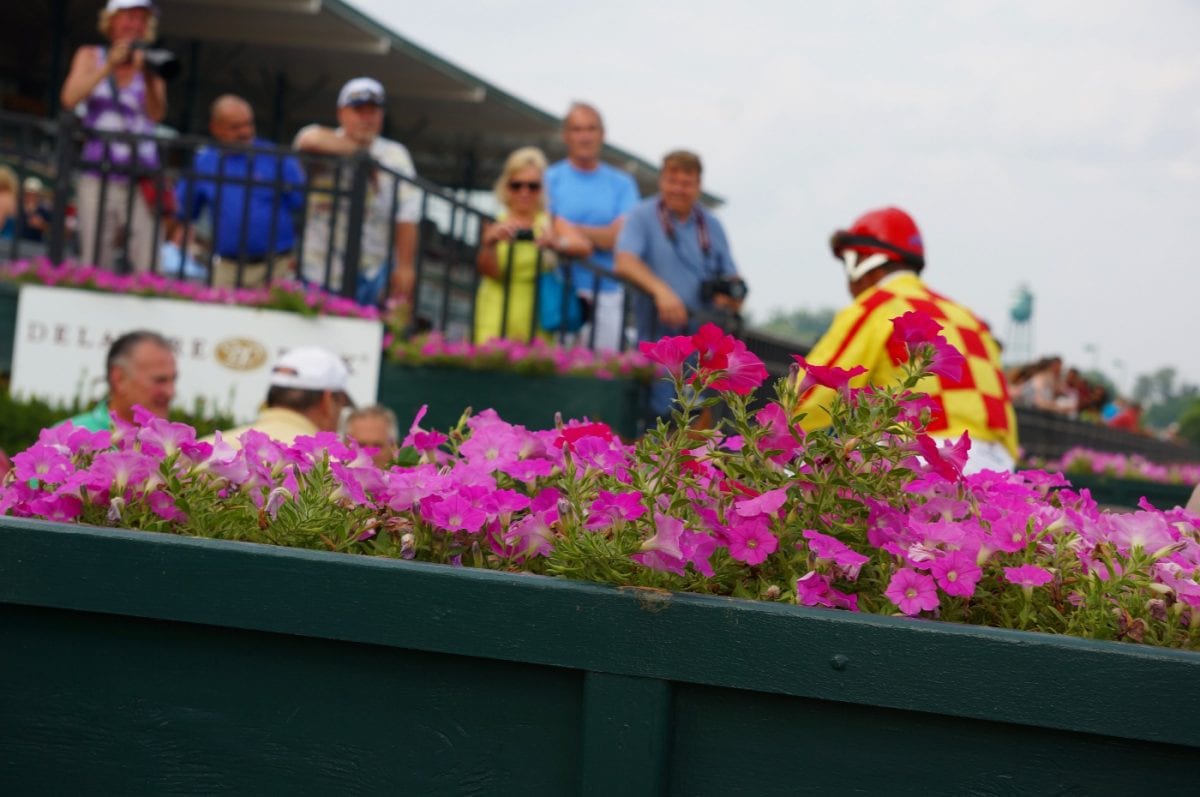 Photo by Vas.
ARABIAN WATCH
Arabian handicapping is provided by our friends at Arabian Finish Line
The last race of the 2017 Delaware Park meet is a 6 furlong claiming race for Arabians 3-years-old and up. Owner/trainer Mark Powell has won a number of races late in the meet and his entry of Miss Paradise and Lil Dude AA will be the likely favorite. If you like to bet the jockeys then Bellefastt, with leading Arabian rider Keiber Coa aboard, or RB Sand Castle with Ricardo Chiappe, are both good choices. Sergeant Pepper MHF, who has now earned over $100,000, could step up once more to win.