Margie's Money, Limited View to square off in Md. Million Lassie
From a Maryland Jockey Club release
M. Terry Shane's undefeated homebred Margie's Money and Limited View, graded stakes-tested and similarly unbeaten over her home track, will square off in what figures to be a fast and competitive running of the $100,000 Maryland Million Lassie Saturday at Laurel Park.
The six-furlong Lassie for 2-year-old fillies and $100,000 Nursery for 2-year-olds are among seven stakes and four starter stakes on the 32nd Jim McKay Maryland Million Day program highlighted by the $150,000 Classic, where Admirals War Chest goes for a history-making third straight victory.
Margie's Money, a bay daughter of Great Notion trained by Hugh McMahon, outran her 8-1 odds in a front-running, six-length debut triumph Aug. 19 at Laurel, going five furlongs in 57.82 seconds. Favored in her next and most recent start, she followed up with a gutsy half-length victory Oct. 1 in 1:11.62 for six furlongs.
"She's doing good. Everything that we do with her is pretty low key," McMahon said. "She is one of these all or nothing type of horses. You have to gallop her extremely slow because if you try to do a medium gallop with her, she's gone. She gets a taste for speed and she just goes.
"When she ran her first race we didn't know really what to expect because we always kept her under control and slow and deliberate," he added. "One thing that impressed me in her last race was they went in 45 and change in a three-way speed duel on the front end and she was able to be on the outside of that and still manage to overcome and draw off and win the race. That usually sets it up for the closers. Hopefully that won't be the case in this race."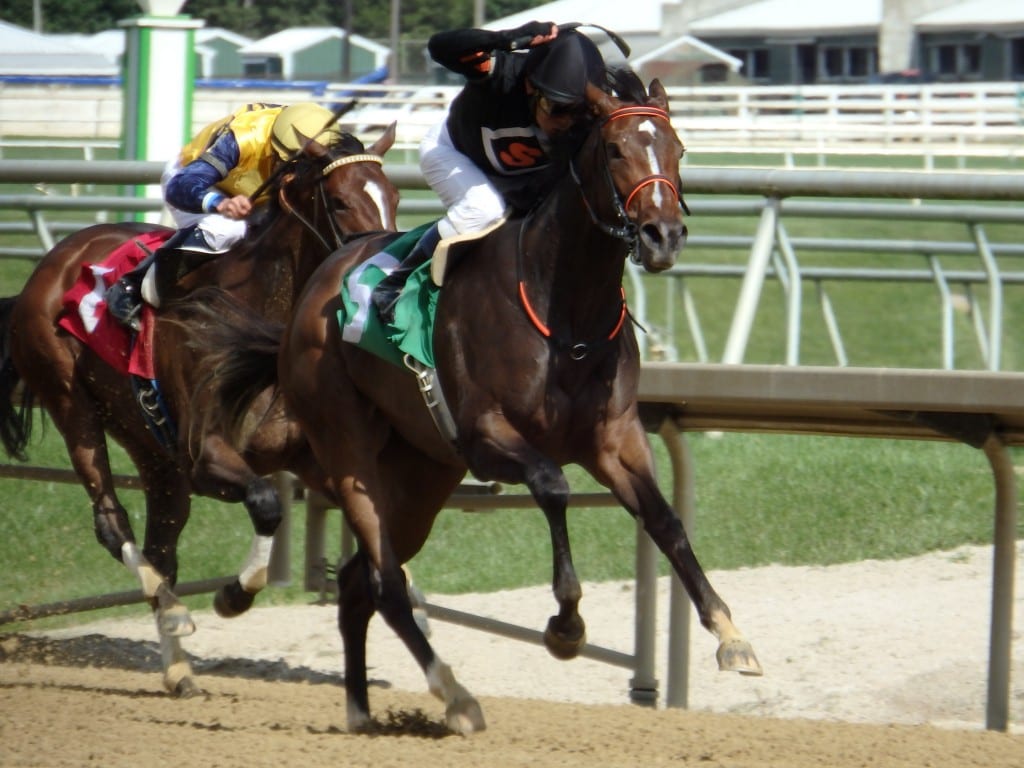 Regular rider Katie Davis will be back aboard Margie's Money from Post 10, just to the inside of Limited View, whose two wins from three starts have both come at Laurel. Co-owned by Fred Wasserloos, George Greenwalt and trainer John Salzman Jr., Limited View went gate to wire to break her maiden June 17 by 3 ¾ lengths, running five furlongs in 57.95 seconds.
Following a summer sojourn to Saratoga, the bay Freedom Child filly returned a 1 ¾-length winner of an optional claiming allowance Sept. 8 in 1:12.37 for six furlongs. Hall of Famer Edgar Prado, aboard for both wins, gets the return call.
"Everything's been fine. She's been working real good. We've actually been working on slowing her down, she works so fast all the time," Salzman said. "We've slowed her down and she really likes this cold weather. She's really doing well right now. Each day is a different day with her but she really seems to be maturing a little bit and she's doing everything right and hopefully getting better."
Limited View's (pictured above, photo by The Racing Biz) lone loss came when she broke slowly and rushed up near the lead before fading to sixth in the 6 ½-furlong Adirondack (G2) Aug. 12 at Saratoga, three weeks after she was scratched from the Schuylerville (G3) there after acting up in the paddock.
"I think she's a real nice filly. I don't think I haven't gotten to the best part of her yet because of the different things I have to do to get her there," Salzman said. "I had that big incident in New York so going into the last race, I trained her a little harder than I normally train horses because you want to take the edge off her to keep her calm enough to get the tack on her. This time I'm doing it a little differently and I hope it works out better for us. She does it all pretty easily."
Lee R. Christian's Fanniebellefleming will be making her four start in the Lassie and first since finishing a distant fifth behind Margie's Money Oct. 1. In her previous start, the chestnut daughter of Freedom Child was a 6 ¾-length maiden winner Sept. 8 at Laurel.
"She didn't break well last time and didn't get away from there clean and then on the turn the boy had to take a hold of her and steady her for a little bit. She didn't really level off and run a whole lot after that," trainer Hamilton Smith said. "When she broke her maiden, that was just a hand ride that day. She's got some run in her and we're really hoping she can step up to this caliber of filly. There's only one way to find out. You've got to go in there and see how she does."
Pearl Gem, 2 ¾-length winner of her lone start Oct. 1 at Laurel; Pikachu Princess, second in the Small Wonder Sept. 30 at Delaware Park; Angel by the Sea, Buff's in Love, Oh So Lovely, Singing Sarah, Talk About Magic and To Be Honest are also entered.
On the also-eligible list are Enchanted Star, a winner of her last two starts for trainer Gary Capuano including the 5 ½-furlong Small Wonder, Dance Or Stroll and Frechette.