Sheldon Russell, Susan Cooney among "Off to the Races" radio guests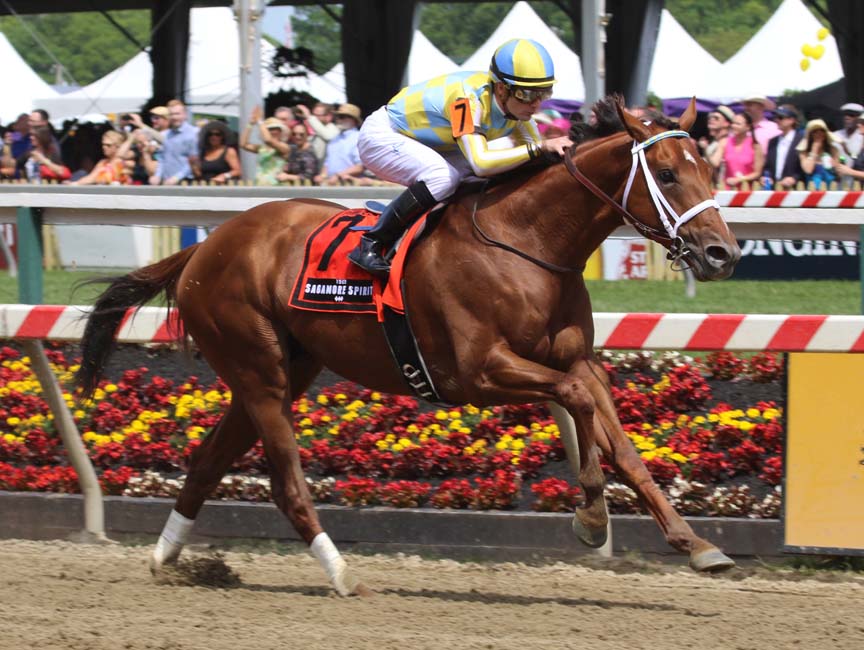 Noble Bird won the 2016 Pimlico Special. Photo by Laurie Asseo.
From a release
Off to the Races on The Racing Biz Radio Network returns Saturday April 29 with a busy lineup.
Guests will include star jockey Sheldon Russell, who returned from an injury layoff just last week, and Virginia-based trainer Susan Cooney. Also on tap will be Virginia racing analyst Nick Hahn to discuss Virginia's upcoming horse awards and handicapper Derby Bill Watson.
Russell, who has won nearly 1,100 races in his career, competed in the 2012 Kentucky Derby aboard Done Talking. But in 2016 and 2017 he's been bitten by the injury bug, making just 138 starts last year and so far only six in 2017.
Cooney's charges have earned $5,549,735 in her training career. Her best current trainee might be Made Bail who two weeks back spoiled Ben's Cat's return to action by taking a $50,000 allowance test. Cooney also won a race on last year's Virginia Gold Cup card and expects to have one in there on Saturday, May 6.
The one-hour program airs at 10:00 a.m. each Saturday on Richmond's ESPN 950 AM.  Additional stations will be announced as they come online. It also is available via streaming (see link below).
The show will focus on Thoroughbred racing and breeding around the mid-Atlantic region and across the country.
Guests in prior weeks have included trainers Cal Lynch (El Areeb) and Graham Motion (Irish War Cry), as well as jockey Trevor McCarthy, and others.
CLICK HERE TO LISTEN LIVE AT 10:00 A.M. SATURDAY.