As CT naproxen investigation grinds on, ship-in horsemen take precautions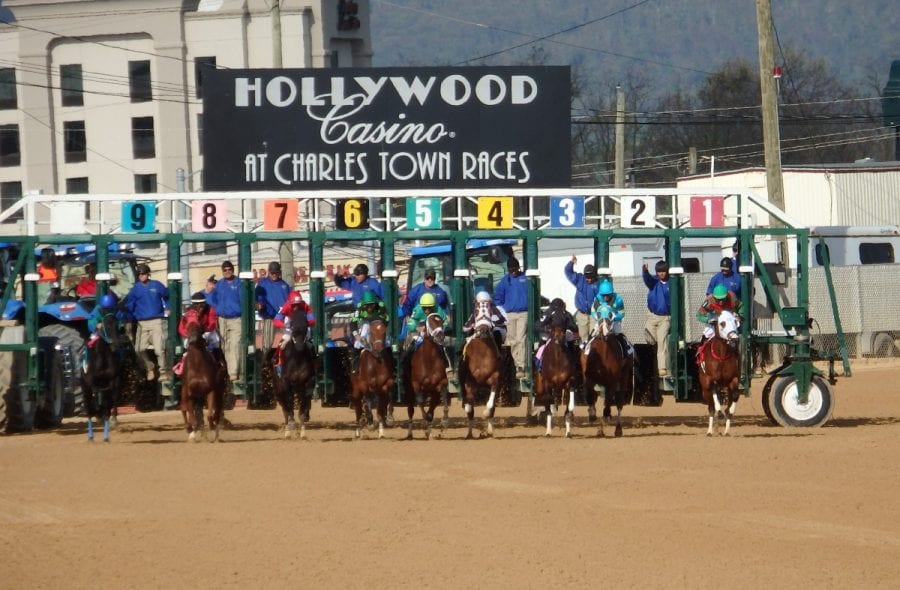 by Frank Vespe
Back on January 19, Shesgotthemoves, a seven-year-old Alajwad mare trained by Wayne Potts, shipped from Pott's Laurel Park base to run in an allowance at Charles Town. Sent off as the second choice in a seven-horse field, she rallied to a half-length victory, earning owner Little Racing LLC a $14,740 payday.
But soon thereafter, the state stewards at Charles Town told Potts his horse had tested positive for naproxen, a non-steroidal anti-inflammatory drug that is not on Charles Town's list of approved medications. It is marketed to humans under the trade name Aleve, among others.
That came as news to Potts.
"I've never used the drug in my life," he said.
Still, on February 8, the stewards issued their ruling. It cost Potts a win, a payday, a 15-day suspension, and two points on the multiple medication violation point system. Moreover, because he already had a point for a prior violation, the two points he received here gave him three total, triggering an additional 30-day suspension.
"I just took my days," Potts said.
Now, though, that's looking like it could have been a mistake.
Stewards have issued rulings in eight naproxen cases from races conducted between November 4, 2016, and March 11, 2017. That's an unusually high number, and seven of those have involved horses that shipped in to Charles Town from other tracks or training facilities.
Sources tell The Racing Biz that there are at least three additional naproxen cases pending which likewise involve shippers.
That has some horsemen crying foul, suggesting that the receiving barn – which houses horses that ship into the track – is contaminated.
While some in the industry are skeptical of the contamination claim, the state Racing Commission has taken it seriously enough to ask Industrial Laboratories, which handles the state's equine drug testing, to examine samples from the receiving barn.
Dr. Elizabeth Daniel, a state veterinarian at Charles Town, said that she took samples from "over half the stalls in the receiving barn" for Industrial to test. "We made sure we got the stalls that those [positive] horses came out of, so we do feel pretty good about that part," she added.
While sources have said that the tests have come back from Industrial, the Racing Commission has not commented on them.
And on Friday, Commission executive director Joe Moore emailed, "The Racing Commission is currently investigating the circumstances surrounding the recent positives in the receiving barn at Charles Town. It would be somewhat premature to put a time table on the conclusion of the investigation."
"It's a joke what's going on up there," said trainer Jerry Robb, also based at Laurel Park. "When I raised hell and filed my appeal, it came out that everyone knew they had some kind of problem in the receiving barn."
Robb trains Nice Try who was disqualified from a March 10 claiming race, which, if upheld by the West Virginia Racing Commission – Robb has appealed the stews' decision – would cost owner Clover Hill Racing LLC $9,180.
Robb said that Nice Try had been treated with naproxen shortly after he claimed the Giant's Causeway colt in August 2016. Subsequently he broke his maiden at Charles Town January 18 and passed the post-race test.
"He was fine on the first test and was not treated between races," Robb said.
Ricky Sillaman is another Laurel Park trainer who supports the contamination theory. His trainee I O Ines came back with a naproxen positive following a third-place finish in a February 11 allowance/optional claiming race.
"I couldn't believe it because I didn't even use it," Sillaman said. "I didn't give the horse anything."
Sillaman has requested a split sample, which at press time had not come back.
Sillaman, who had a horse test positive for isoxsuprine last June at Pimlico – a medication no longer on the prohibited list – said that he's potentially looking at a 60-day suspension and a $2,000 fine.
"This is my reputation. I'm not worried about the money part of it," he said.
Other ship-in trainers from around the region dinged for naproxen include Bill Sienkewicz, stabled at Delaware last fall when he incurred the penalty; Richmond-based Gary Williams, Jr.; Ben Feliciano; Alfred Smithwick; and Billy Ray Davis.
All of this has made for some anxious moments in West Virginia's Eastern Panhandle. Charles Town's biggest day of racing, the running of the Grade 2 Charles Town Classic, took place April 22, with controversy continuing to swirl and an investigation grinding on.
Erich Zimny, Charles Town's Vice-President of Racing Operations, declined to comment on the investigation or special precautions the track might have taken for its big day. But he did say that several horses – in the ballpark of 10 -– were stabled in the receiving barn during the day.
The levels of naproxen recorded in the tests have been fairly low. The horses have ranged from as little as 6.3 nanongrams/milliliter to 96.6.
While naproxen is no longer on the permitted medication list, when some states did allow its use, these small levels of it generally would not have triggered positive findings. In a 2012 booklet published by the National Horsemen's Benevolent and Protective Association (HBPA), Dr. Thomas Tobin and his coauthors found regulatory thresholds for naproxen ranging from 750 ng/ml all the way up to 40,000 ng/ml permitted by the US Equestrian Federation.
That booklet warned horsemen that trace amounts of the drug have been found long after administration "most likely associated with its environmental presence and resulting in inadvertent re-exposure."
Yet Tobin said that the relatively short period of time any given horse spends in the receiving barn – a matter of hours – argues against environmental contamination as the cause. Were they in a contaminated stall for days, he said, that might change the calculus.
"If the time in the barn is relatively short," he said in an interview, "the likelihood of environmental exposure becomes a less likely option."
Another theory holds that perhaps the testing apparatus employed by Industrial is more sensitive than that used by Truesdail, which conducts drug testing in Maryland and several other states, or that differing screening processes in different jurisdictions lead to different results.
According to figures compiled by Maria Catignani, executive director of the Charles Town HBPA, the number of positives called by the track's testing lab has risen sharply under Industrial. During 2014, she said, there were 22 positive tests at the track, with another 24 recorded in 2015.
Industrial took over as the testing lab in mid-2015. According to Catignani, in 2016 – the first full year with Industrial testing the samples – the number of positives rose to 52.
"We want due diligence in regard to the contamination issue, and we want due diligence in regard to screening process," she said.
One thing's for sure. The positive tests have put horsemen on edge.
Potts described himself as "scared to death" to run at Charles Town, and both he and Robb said they took extra precautions, including muzzling their horses, when sending them to Charles Town.
And Sillaman is taking an even more cautious route.
"Until this is resolved, I'm not going to ship there," he said.