Jockey Kevin Krigger nears return to riding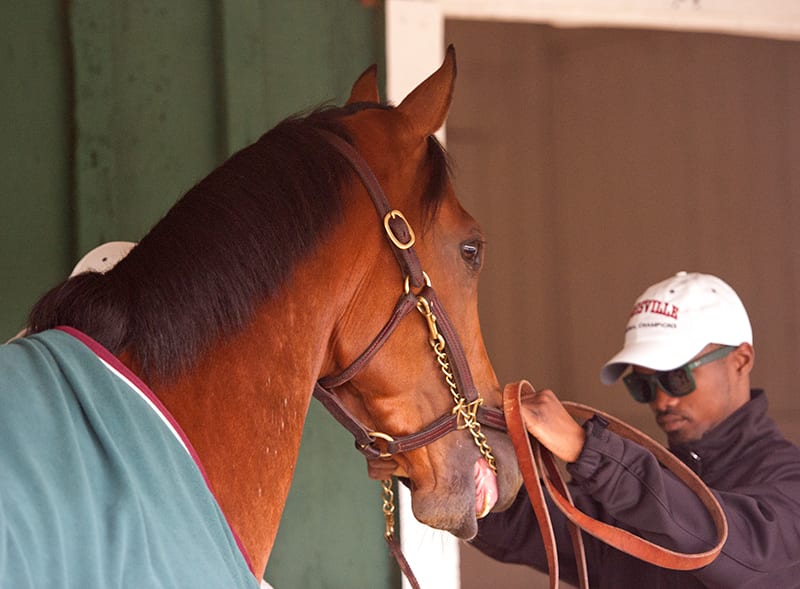 Jockey Kevin Krigger with Goldencents prior to the 2013 Preakness Stakes. Photo by Maryland Jockey Club. by Linda Dougherty
When Kevin Krigger rode his last mount in 2014, he walked away from thoroughbred racing not because he didn't enjoy riding anymore, or because he hadn't experienced success.
Indeed, just one year prior, in 2013, Krigger had hit the big-time when he guided the Doug O'Neill-trained Goldencents to victory in the Gr. 1 Santa Anita Derby, and then rode the colt in the Kentucky Derby several weeks later. Although Goldencents finished 17th at Churchill Downs, the native of St. Croix in the U. S. Virgin Islands enjoyed plenty of media attention as he had been attempting to become the first African-American jockey to win the "Run for the Roses" in 111 years.
A number of injuries sustained over the years, however, prompted Krigger to head for the sidelines, with 978 career victories and more than $19 million in purse earnings.
"I had fractured my back in 2003 and then my neck in 2007," said Krigger, 32. "In 2014, I re-fractured the L3 vertebrae in my back, which most doctors will tell you is one of the most difficult ones to heal. But now it's healed on its own, and ever since I've been away I have the strong feeling that I want to ride again. I miss it – working horses in the morning, being around the horses – everything about the sport."
To that end, Krigger has decided to make a comeback, but not on the California circuit, where he had been based previously. He's going to join the riding colony at Parx Racing.  Krigger has enlisted former New York Post handicapper-turned jockey agent John Da Silva to handle his book and may be in action as soon as this coming weekend, Da Silva said.
Da Silva had been looking to stay in racing after being laid off from the Post, and secured his jockey agent license this past year in New Jersey. He says it was a good fit for him: his knowledge of the sport and all its nuances helped him pass the agent test with flying colors, and he enjoyed his first victory as an agent August 20 at Monmouth Park with 10-pound bug Addiel Ayala, who booted the Bobby DiBona-trained Startripenterprise home to the tune of a $27.20 payout.
Since then, Da Silva had been searching for another rider, and he found Krigger in the unlikeliest of places – on Facebook.
"When I put up a post saying I was coming back, John reached out to me," said Krigger. "He was persistent, and I'm a persistent guy, so I had no doubt that we could work together. And I'm ready to work hard."
Krigger said that he was in contact with a few agents about his comeback, and he was asked about returning to California. But in the end, he decided to give Parx a try.
"It felt like the right thing to do, to work with John at Parx," said Krigger. "He intrigued me – I knew he was a heck of a handicapper, and I believe to be a success in this business that you have to be a handicapper to pick the best horse to ride. So I think he's going to be a heck of a jockey's agent."
"I love that he's coming to Parx," said Da Silva. "Trainers want to meet him, to see that he's really here, so I'm going to be taking him around, as well as to Penn National and to Maryland."
Krigger, who grew up riding horses in a rural St. Croix community, came to the U. S. at age 17, riding in northern California, Florida and Ohio. In 2011, Krigger finally hit paydirt, winning 165 races and nearly $2.9 million in purse money. The following year, he added another 73 wins and more than $3.6 million in purse earnings, his richest year to date.
It was following his 2011 breakout that Krigger moved his tack to southern California, where he hooked up with O'Neill, who gave him the mount aboard Goldencents. But even though he rode Goldencents in the Preakness Stakes and the Gr. 1 Bing Crosby, he was replaced in August and missed the opportunity to ride the colt to a win in the Gr. 1 Breeders' Cup Dirt Mile.
Krigger crashed hard back to earth, and took a few weeks off to return to the Virgin Islands and recharge. In early 2014, he returned at Gulfstream Park, but by year's end old injuries sent him back to St. Croix, where he decided to focus on his health and also his music career.
Krigger has his own record label, OGR4LIFE Records, and sings Dancehall Reggae music. He said that he's timing the release of his first album, "Gone Again 2017," to his return to the saddle.
During his time away, Krigger said he's kept in shape, calling himself a "workout junkie."
"If you could see my body, you wouldn't even know I stopped riding," he said. "My work ethic is second to none, and I'm ready to ride day and night, at whatever track John gets mounts for me. I'm ecstatic about coming back."