2016 in review: Of upsets and circular firing squads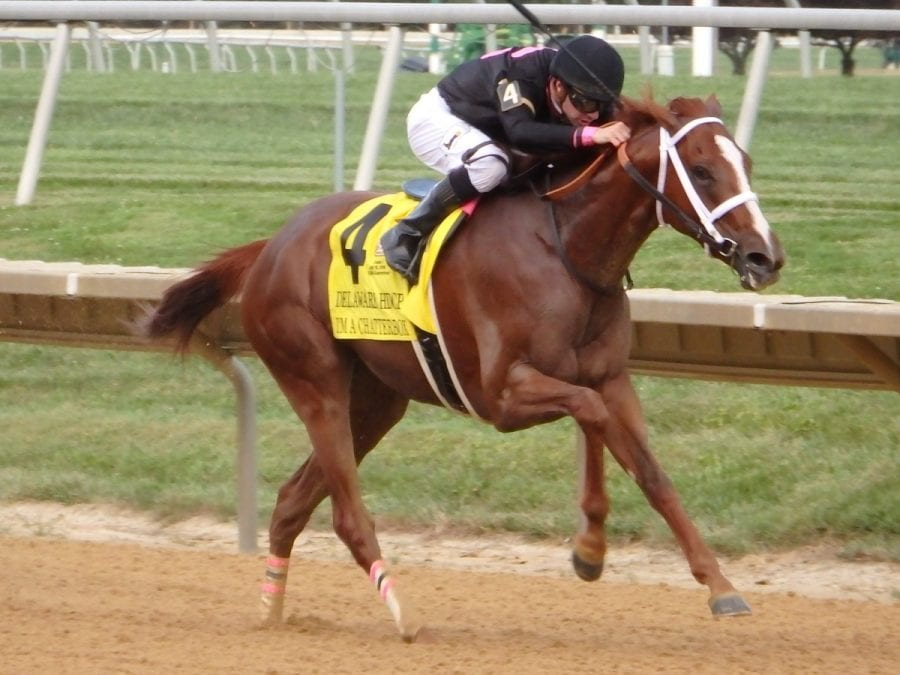 I'm a Chatterbox wins the Delaware Handicap — though not without controversy.Photo by The Racing Biz.
Herewith, the third of our four-part Year in Review in Mid-Atlantic horse racing, a look by turns personal, quirky and bemused at the year that was.
by Frank Vespe
In the spring, they say, young men's (and women's) thoughts turn to… well, the Triple Crown.  And in the summer, they briefly land on the mid-Atlantic before focusing on Saratoga and Del Mar.
IN JULY
One young man happy to have made the pitstop was jockey Florent Geroux, who enjoyed a banner '16, logging 10 Grade 1 victories in the process – double his previous high of five, set in 2015.
The native of France must be especially fond of the mid-Atlantic region.  In July he won a pair of Grade 1 races in the region, as well as a Grade 3.  That added to his earlier win, aboard Catch a Glimpse, in the Grade 3 Penn Mile at Penn National.
Early in the month, Geroux piloted World Approval to a length-and-change win in Monmouth Park's Grade 1 United Nations Stakes.
"We sat the perfect trip," the winning jockey said. "On paper it looked like the two horse (Cement Clement) would be going to the lead, so we let him set the pace for us."
Then, on July 16, Geroux celebrated his birthday by winning the Grade 1 Delaware Handicap, the highlight of Delaware's meet, aboard I'm a Chatterbox.  I'm a Chatterbox was clearly the class of the DelCap field, but her victory was not without controversy.
I'm a Chatterbox hooked a left out of the starting gate and wiped out much of the field, including eventual runner-up Paid Up Subscriber.  After a lengthy review, the stewards determined that I'm a Chatterbox's misstep had not impacted the final order of finish.  Had they taken Chatterbox down, it would have been the second time she'd been DQed from a Grade 1 win.
"I have to say, it [the inquiry] was a déjà vu," said winning owner-breeder Carolyn Gray.  "I couldn't believe it.  It was nerve-wracking."
Speaking of Delaware and controversy, more had flared the prior week, when Suffused, the second choice on the morning line for the track's Grade 3 Robert G. Dick Memorial Stakes, had to be scratched prior to the race.
The reason for the scratch – at least from the standpoint of Suffused's connections – had to be among the most exasperating of all: the state veterinarian charged with administering Lasix to all the runners had mistakenly failed to give it to her.  By the time trainer Bill Mott realized his horse had been forgotten, it was too late for her to receive the diuretic – and the stewards would not let her run without, since she'd been declared with it.
"My people waited and waited, but no one came to the barn, so we finally checked with somebody," Mott said.  "And they told us the state veterinarian who was supposed to have given her the Lasix had her marked off the list as having been given the injection."
Real Smart ended up winning the Dick.
As good a month as Geroux enjoyed, however, he didn't take down the region's biggest prize, the $1 million, Grade 1 Haskell Invitational at Monmouth Park.  Geroux, aboard Gun Runner, ended up fifth that day, while Preakness winner Exaggerator starred, splashing home through the slop for a length-and-a-half win under Kent Desormeaux.
It was a crafty audible by Kent's brother Keith, Exaggerator's trainer, who decided just a few days out to send his star to Oceanport.
The Haskell show horse, on the other hand, followed a different path: Sunny Ridge had been pointed to the event since his two-year-old season, when he was runner-up in the Champagne.
"It means a lot," explained the horse's delighted owner-breeder, Dennis Drazin, whose Darby Development manages Monmouth for the state's horsemen. "This is a horse that everyone followed because he is a Jersey-bred. He's also the last crop of Holy Bull. Jimmy Croll, the owner of Holy Bull, had connections to this track, and to me. I was his attorney. It just kind of came together."
July had begun with a tale of horsemen helping others.  When flash floods ravaged parts of West Virginia, destroying communities and killing dozens, members of the Charles Town Horsemen's Benevolent and Protective Association – whose area was not affected – rallied the troops to collect all the basics needed by those who survived.
"We saw what happened and we knew people needed help," said CTHBPA board member Leslie Condon. "We wanted to try to help any way we could."
Those included some 700 tubes of toothpaste, Condon said, as well as toothbrushes, razors, and deodorant.
THEN IN AUGUST…
It was perhaps an odd coincidence that July began with horsemen helping others.  That's because August began with that old staple of the Thoroughbred industry: the circular firing squad.
In Pennsylvania, the impasse over the state's breeding fund dragged into its sixth month, and breeders who'd earned bonuses for races completed after February 23 still hadn't seen them.  A proposal to resolve the issues had run aground in July when a House proposal increased breeder awards – drawing the ire of the state's breeders association.
"It is somewhat puzzling," wrote Rep. Martin Causer, "why the PHBA [Pennsylvania Horse Breeders Association] wouldn't want to increase awards for their breeder members."
Either way, breeders on the ground were running out of patience – and money.
"This is really getting critical," said one.
On the plus side, it was announced in early August that the Keystone State had, in late July, become the 10th state to adopt all facets of the National Uniform Medication Program.  That list also includes Maryland, Delaware, New Jersey, Virginia, and West Virginia, according to the Racing Medication and Testing Consortium.
In Maryland, the state's two harness tracks both were purchased by Thoroughbred interests.  The Maryland Jockey Club bought Rosecroft, the harness course near Washington, DC, from Penn National Gaming Inc.  And a partnership including Churchill Downs, Inc. took control of Ocean Downs, located on the Eastern Shore near Ocean City.
The state of New Jersey's sports gambling odyssey continued in August, as the Third Circuit Court of Appeals joined lower courts in striking down the state's effort to evade the federal Professional and Amateur Sports Protection Act, which, with some exceptions, prevents states from authorizing gambling on sports.  The Garden State's proposal attempted to sidestep this issue by simply repealing its existing prohibition on sports gambling, but the court was less than persuaded.
"While artfully couched in terms of a repealer, the 2014 Law essentially provides that, notwithstanding any other prohibition by law, casinos and racetracks shall hereafter be permitted to have sports gambling," the decision noted. "This is an authorization."
In mid-August, the National Museum of Racing and Hall of Fame held its annual Hall of Fame induction ceremony, and while the 2015 event had a particular Maryland tinge to it, this more recent one dabbled in mid-Atlantic connections.
Among those connections were jockey Ramon Dominguez, who enjoyed overwhelming success at Delaware Park and the Maryland tracks before taking his show – successfully – on the road; and trainer Steve Asmussen, one of whose very first stakes wins came in the inaugural running of the West Virginia Lottery Breeders Classic, at Charles Town, back in 1987.
On the racetrack, the end of the month saw the venerable Ben's Cat's attempt to win a seventh consecutive Mister Diz Stakes spoiled by first-off-the-claim John Jones.  "Disappointing, of course," said Ben's owner-trainer-breeder King Leatherbury.
Not so for Lacey Gaudet, however, John Jones's 28-year-old conditioner who earlier in the month had run her first starter at Saratoga and in the Mister Diz earned her first stakes victory.
"It feels great," Gaudet said.
The month concluded with the opening of the last remaining fair meet on the East Coast, the seven days of live racing at the Maryland State Fair in Timonium.
AND IN SEPTEMBER…
After a month in which most of the mid-Atlantic action seemed to take place In board rooms, the region's racing returned to the racetrack in September.
Parx Racing held its biggest day of the year, with the Grade 2 Pennsylvania Derby and Grade 1 Cotillion topping the card.
In the Cotillion, superstar Songbird did not disappoint, cruising home to win by nearly a half-dozen lengths for her 11th straight win, defeating Carina Mia and popular Maryland-bred Cathryn Sophia.
"She just continues to amaze me," said Rick Porter, whose Fox Hill Farms owns Songbird.  "I've been fortunate enough to have some nice horses.  Even though we've won Horse of The Year with Havre de Grace, I'm amazed by her accomplishments. It doesn't get any better than to watch her today, she was just gorgeous. I'm proud to watch her race; she gives me chills every time."
Songbird paid just $2.60 to win.
The same was not true of Connect, who scored in the Pennsylvania Derby.  The son of Curlin rallied up the rail to win by a half-length over Gun Runner, returning $23.20 to his backers.  In his prior start, Connect had finished sixth in the Travers, some 22 lengths behind winner Arrogate.
"This kind of horse, he's a big horse and I think he put it together today and I'm very satisfied with the way he did it today," jockey Javier Castellano said.
Among Connect's beaten rivals were Kentucky Derby hero Nyquist and Preakness winner Exaggerator.  They finished sixth and seventh, respectively, and neither made another start.
"That was definitely the worst performance of his life, so that's not how you want to go into the Breeders' Cup," explained Paul Reddam, Nyquist's owner.
But trainer Doug O'Neill struck a more philosophical tone.  "He is a champ in our minds," the conditioner said.
Charles Town Races held its second graded stake of the year in September, hosting the Grade 3 Charles Town Oaks – another race which brought an (albeit mild) upset.
Bettors made Todd Pletcher trainee Sophia's Song 3-10 at post time, but she found herself hemmed in until it was too late, her late rush leaving her a neck behind winner Covey Trace.
It was an astute ride by Arnaldo Bocachica that did the trick, giving both rider and trainer William Denzik the first graded wins of their career.
"I've only got three horses running right now so this is pretty huge for me," Denzik said, while Bocachica called the triumph "amazing."
Covey Track wasn't the only newsmaker out of Charles Town for the month.  Multi-millionaire fan favorite Russell Road was retired in September.
Russell Road slipped past the $2 million mark in career earnings in his final start, and with a minor injury, owner Mark Russell made the decision to retire the 10-year-old rather than try to push him for one more start, which would have come in the West Virginia Breeders Classics.
"It's not going to be the same without him at the barn," Russell said.
With limited rain in Maryland, Laurel Park's turf course was hard and lightning fast for much of the summer and fall, allowing even slow horses to feel the thrill of running fast.
When fast horses ran on it, the times were often remarkable.  On September 24, Blacktype, a Christophe Clement trainee ridden by Trevor McCarthy, won the Grade 2 Commonwealth Turf Cup in a blazing 1:33.43 for one mile on the All Along Turf Course, breaking a mark that had stood for 10 years.
It was Blacktype's third straight win.
"We knew he was a nice horse," Clement understated. "Today's race confirmed that he is a nice horse without a doubt."
Also during September, Monmouth Park's 2016 meet limped to the finish line, with total handle off 26 percent.  New Jersey racing shifted to the Meadowlands for its brief, annual all-turf meet, which this year featured an industry-low 15 percent takeout on all wagers.
[su_box title="
SERIES TIMELINE
" style="glass"]