Pimlico may pose first test for new Commissioners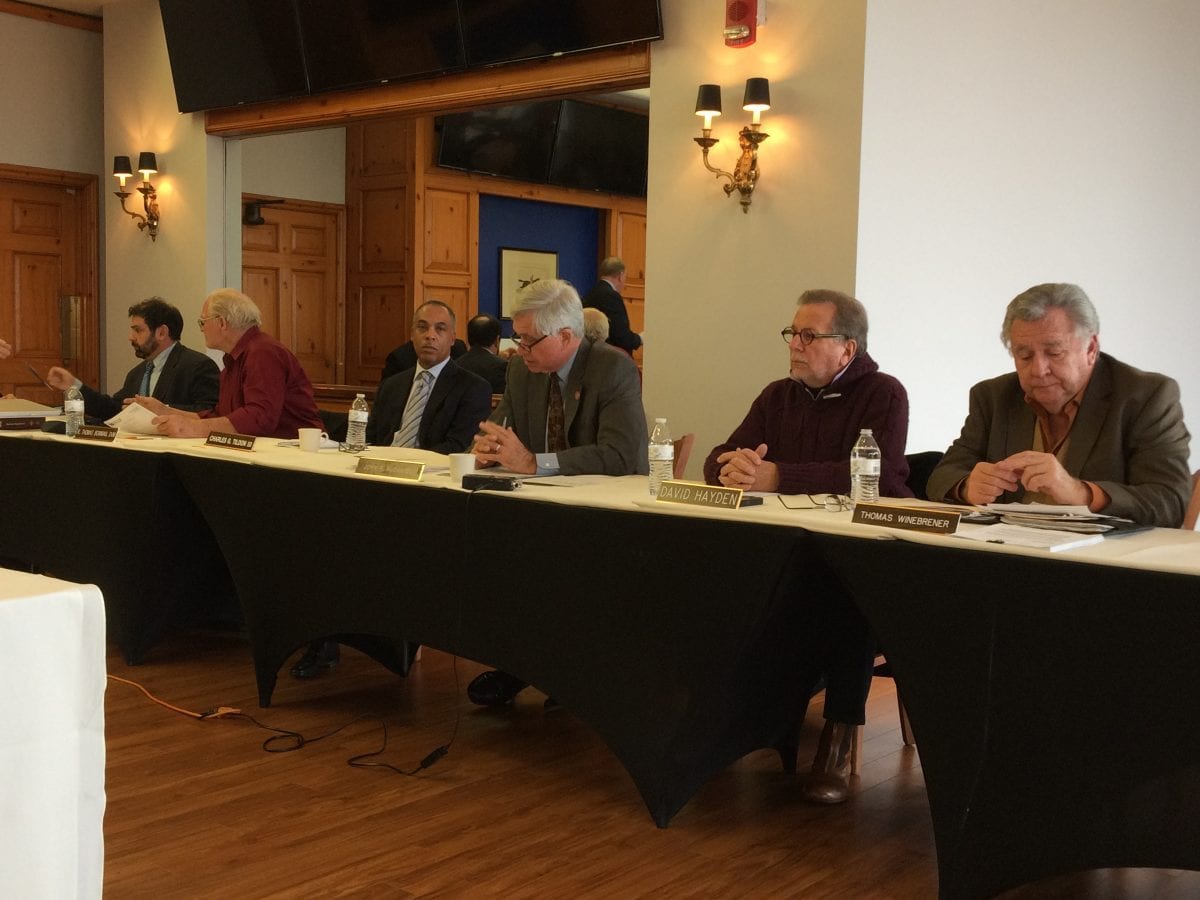 Maryland Racing Commissioners.
by Frank Vespe
It's been fair winds and following seas for the Maryland racing industry these past couple of years, with back- and frontside enhancements, an improving product, and growing handle leading to what former Maryland Racing Commission chairman John McDaniel calls "peace in the valley."
Yet it's not impossible to see those wisps in the distance as gathering storm clouds, with the industry's next test coming over the status and future of Pimlico Race Course.
As it happens, the Maryland Racing Commission will navigate those uncharted waters with new hands on the tiller.  In recent months, former chairmen McDaniel and Bruce Quade, as well as longtime members Mary Louise Preis and Chuck Tildon, all have left the Commission.
In their stead are Ron Thomas, who joined the Commission in September, and two members who will be seated at next Tuesday's Commission meeting, Konrad Wayson and incoming chairman Michael Algeo.
When it comes to Maryland racing, Wayson and Algeo couldn't be much more different.
Wayson's as Maryland as crabcakes, his family ensconced in Anne Arundel County for generations.  A racehorse owner these last 15 or so years, Wayson says, "I've been around racing as long as I can remember.  My dad used to have racehorses."
Wayson actively sought a seat on the Maryland Racing Commission.
Algeo, a self-described "Philly boy," could fairly be called a casual fan of racing.  He watches the Triple Crown and says he's been "in the infield on more than one occasion for the Preakness," but that about covers his racing background.  Algeo says of his appointment to the Racing Commission, "That's where it came out of: left field."
But come Tuesday, both men will be newly minted racing commissioners – and both cited Pimlico as what figures to be their first big challenge.  The Maryland Stadium Authority is in the midst of the first phase of a study to determine whether and how Pimlico can be upgraded in such a way that it can continue to host the Preakness and world-class racing.  That first phase is expected in the first half of 2017.
The Maryland Jockey Club has been in public relatively upbeat about the study.  At the same time, though, it has invested heavily in improving Laurel Park, and it is clear that that track will be the primary home of Maryland racing in years to come.
Yet within the state, there is a deep reservoir of affection for Old Hilltop, despite its rundown condition.  And it is an important economic engine for the city of Baltimore.
"I'm very sensitive to the fact that there's been a tremendous history of racing in this state," Algeo said in an interview.  "It's going to be our job to listen to what the Stadium Authority has to say" and to decide how best to proceed as a "neutral arbiter."
What figures ultimately to drive the decision, Wayson suggested, isn't history or tradition, as much as dollars and cents.
"There's no way Maryland can continue to have two racetracks open all year," he said.  "I think that's going to be a big issue going forward."
That doesn't necessarily mean the demise of Pimlico per se, but if he's right, it probably would mean the end of the Pimlico backside, with the track turned into a ship-in facility for a very short springtime meet.
Algeo's and Wayson's answers to the question of Pimlico's future may suggest one difference in the way in which the two men will approach their jobs.
"I don't think it's my job to go in there with a blazing saddle," Algeo said.
Algeo, a 66-year-old retired circuit court judge, speaks of approaching the position as not unlike a judgeship.
"As a judge, you listen to both sides, apply the law and make a decision," he explained.  "I think the sense is, that having been a judge, there's a number of very significant issues we're going to have to face.  I think the Governor (Larry Hogan) wanted somebody he knew and had experience sitting in that capacity."
Wayson, with much deeper experience and knowledge of the industry, on the other hand, will join the Commission with some specific areas he hopes to address.
"I want to get into the finances of racing," he said.  "To keep track of everything and make sure it's being spent in the best way."
With the state's racing and breeding industries having received more than $260 million in slot machine subsidies since the inception of casino gaming in the state in 2010 – and with the state's largest casino yet just having opened at National Harbor – that focus may be timely.
When it comes to those finances, Wayson mentions one area in particular.
"One of the things that got me was when I saw the big races at Laurel, 75 to 85 percent of the purse money goes out of state," he said.  "What can we do to keep it here?"
Wayson, who is involved in commercial real estate, said that he wasn't sure of the answer to that question.  He added that more races restricted to Maryland-breds might be one answer, "but I don't know if that's the way to go."
Next Tuesday's meeting of the Commission, its final scheduled meeting of 2016, has a light agenda and figures to be an easy debut for the two newcomers.  Whatever the future holds, it's safe to say that Wayson would likely echo Algeo in one area.
"There's been a dramatic improvement [in the state of the industry] over the last five or six years," Algeo said.  "My goal is to make sure that continues."