For Lewises, Mancilla, a shocking 'Sock'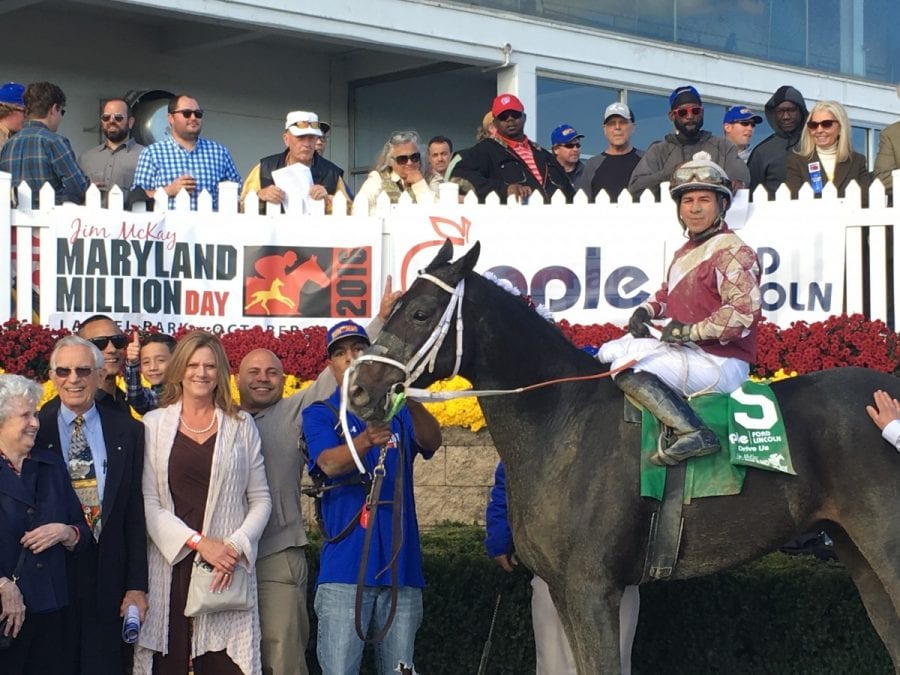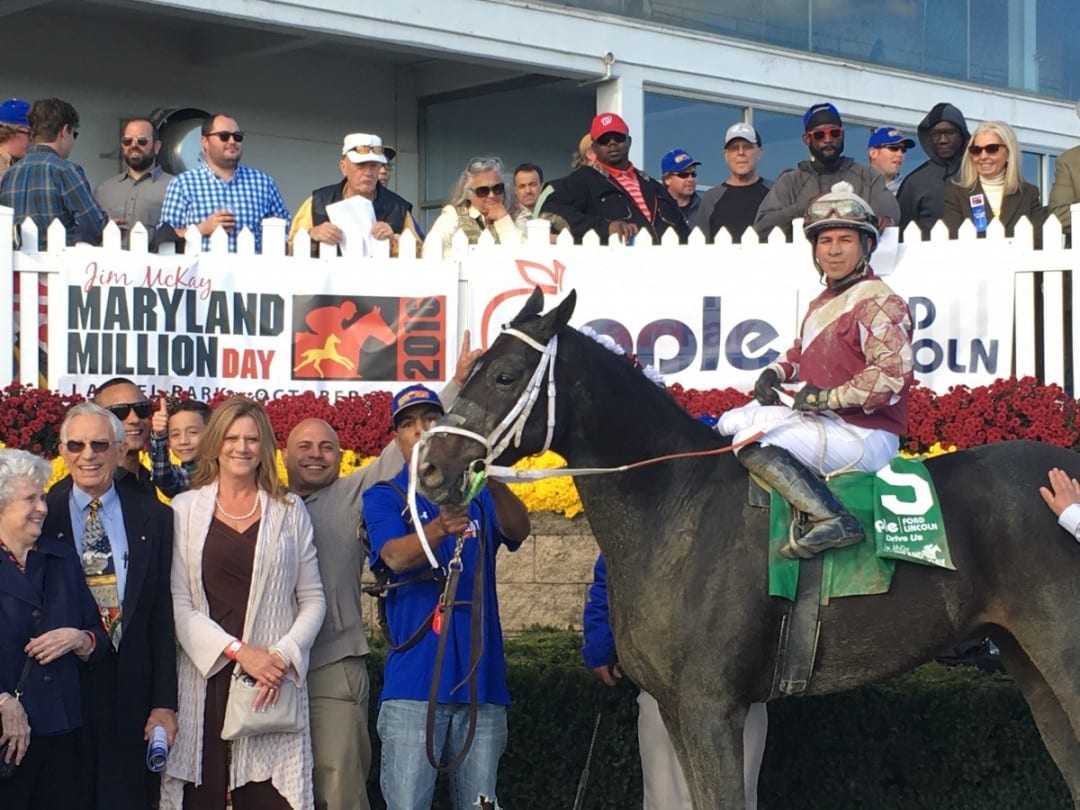 Who Stole My Sock winner's circle, with the Lewises at far left. Photo by Teresa Genaro.
by Teresa Genaro
The 37th time was the charm, for the charmingly named Who Stole My Sock in the Maryland Million Starter Handicap.
Much like his apparent namesake, Who Stole My Sock was nowhere to be found for most of the one-mile race, racing well towards the back under jockey Yomar Ortiz. But running about eight-wide around the final turn and closer to the grandstand apron than the rail, the dark bay/brown five-year-old gelding joined a cavalry charge in the stretch and wore down his competition to win by a neck at odds of almost 41-1.
Owners Fred and Mary Agnes Lewis were overjoyed.
"Oh, my goodness, this is so exciting," said Fred in the winner's circle. "This is something we've dreamt about ever since they started [the Maryland Million]."
Maryland-bred by Lewis, Who Stole My Sock is by Scipion and out of the Norquestor mare Tricky Luck. The Lewises breed from their Clarksville, Maryland farm.
"We foal them right there," he said. "That's half the pleasure. We raise them and bring them all along."
Though hidden by the bandages on his legs, white socks apparently adorn three of the gelding's legs, stretching up to his knees. The Lewis' children—they have 10 of them—get together to name the horses, and as they looked at his one monochromatic leg, one of them said, "He lost his sock."
"I said, 'Well, we won't name him He Lost His Sock,'" said Lewis. "And that's how he got his name."
The win was also the first in the Maryland Million for trainer Carlos Mancilla, the former assistant to Chris Grove. The Chilean native beamed as he stood outside the winner's circle.
"This is the biggest win in my career," he said of the $50,000 race, adding that his brother Oscar, who works for him, also deserved credit for the win.
Who Stole My Sock took seven races to break his maiden, then went winless in his next 29 starts, finishing second in five of them, third in another four. He got his second win a month ago at Laurel, a 7 1/4-length romp in a $10,000 claimer.
"He's been a little slow deciding how to do it," said Lewis, grinning. "His last race showed he was putting it together. Like all of us, he's too soon old and too late smart."
Lewis' first stakes winner came in 2007 with Katie's Love in the Shine Again at Pimlico. A $60,000 purchase, she earned $248,500 in a 47-race career. Her homebred daughter Celtic Katie (Posse) was also a stakes winner, taking the 2014 Geisha Stakes at Pimlico.
Though the 88-year-old Lewis was disappointed that his children were not at Laurel today—"Usually they come," he said, "but today everybody had something going on"—little could diminish his pleasure in what his late-blooming homebred accomplished on Saturday afternoon.
The owner of about a dozen horses, Lewis had a choice to make when Grove retired a few years ago.
"Chris said to me, 'You can stay with Carlos or pick someone else,'" recounted Lewis.
"I said, 'Well, we'll stay with Carlos. He's taking good care of us."
Good care, indeed, that put Lewis and Mancilla in the winner's circle on Laurel Park's biggest racing day of the year.