In Focus: Wagering the Maryland Million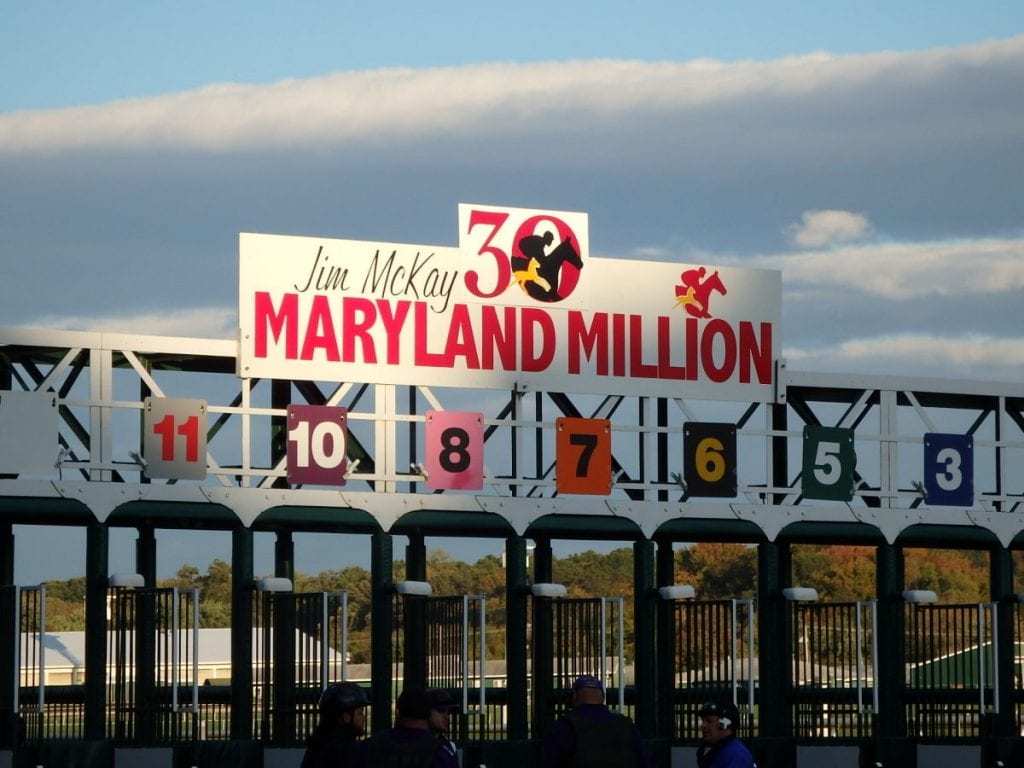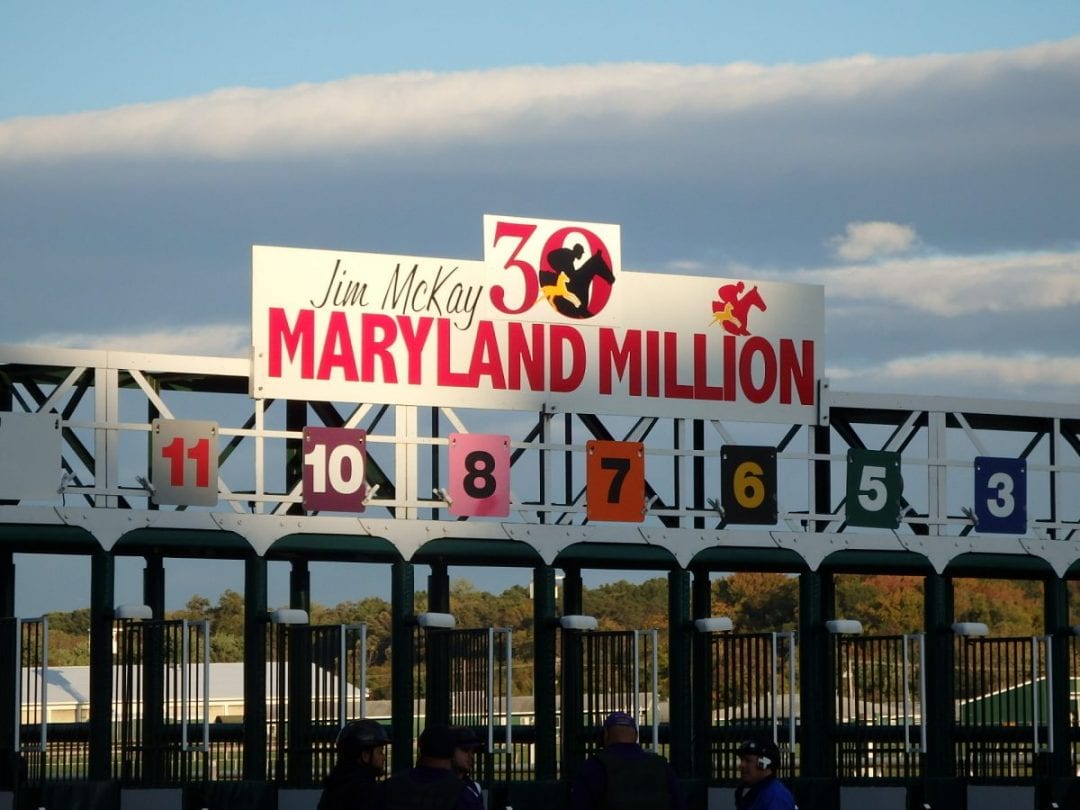 The Racing Biz is pleased to provide our partners at Maryland Million this In Focus guide to today's seven stakes. Our handicappers – Gary Quill and Frank Vespe — provide their analysis of each of the big races, plus data and trends from the last decade, to give you the inside track to winning wagers.  Good luck!
Want this post as a PDF? Click here to get it!
Race 3 – Maryland Million Nursery
Post time 1:23
$100,000, 2-year-olds, 6 furlongs
Average win odds (2005-2016): $6.52-1
Average exacta: $99.76
What to look for: Twice in last four years a first-time starter has won this event, but favorites have won five of last 11 editions of the Nursery, while three other winners were among the top three wagering choices. The nine non-debut winners since 2005 all won their prior race.
The Picks
#7 – Greatbullsoffire (6-5) — Won lone dirt start in the Strike Your Colors at Delaware and is only runner here to beat winners; this group lacks early speed which bodes well for a potential gate-to-wire score for son of Bullsbay
#4 – In Arrears (3-1) — Led late in debut when 53-1 but couldn't hold it, settling for third; came back to romp in the slop by 4, and runner-up was an impressive next out winner
#6 – Slick Man (12-1) — The only first-time starter for this year's event; work pattern for this son of Not for Love is good enough to be considered a threat to upset
#10 – Maryland's Best (20-1): In MSW debut ran in mid-pack early unable to make up ground then was put under wraps after steadying at 1/8 pole; graduated in second outing v. much weaker ($16k MCL) but third-place finisher came back to break maiden @ CT in $23k MSW event; strongly consider for exotics
The Rest of the Field
#1 – Ignotus (20-1) broke maiden versus PA-breds @ Pen in second start after being runner-up in debut; either did not care for synthetic @ Pid or the restricted state bred stakes competition in latest, you decide… #2 – Apolodorodedamasco (12-1) set a pressured pace in lone start @ Prx then faded to fourth; poor Dave Rodman… #3 – Jerandson (4-1) NJ-bred, Mth shipper who won debut v. $40k MCL then held his own (4th and 3rd) while earning an 83 Brisnet#in miost recent race… #5 – Cherokee Spirit (20-1) connections have been high on him from the start but took four tries to get to Winners' Circle and would need a career best effort here to score… #8 – Sventastic (20-1) is one of 4 maidens entered and has already run well behind the second choice in here (#4)… #9 – Dancing With Maude (30-1) is another maiden whose debut in the slop was ugly (8th by 15) so he'll add blinkers hoping for vast improvement… and two Also-Eligibles (AE) who will only draw in if scratches reduce field to "less than 6" which is very unlikely #11 – O Dionysus (2-1) son of Bodemeister was scratched from intended debut race when he threw the jock and ran off; prior to actual debut (win) he ran off again but with jock in the irons; in second official outing was much the "second best" to No Dozing who came back to run fourth in the G1 Breeders' Futurity at Keeneland, the first time going two turns… #12 – Worth His Salt (12-1) been away since debut in May when a distant runner-up to a very nice colt (Recruiting Ready).
Race 4 – Maryland Million Lassie
Post time 1:55
$100,000, 2-year-old fillies, 6 furlongs
Average win odds (2005-2016): $6.18-1
Average exacta: $94.95
What to look for: Each of the last 11 winners had made at least one prior start, and all but two had at least one prior win… Appears to be plenty of early speed which should set up the race nicely for a filly capable of coming from off the pace.
The Picks
#4 – Natural Notion (6-1) — Still a maiden after four starts in MSW while many foes enter off victories in maiden claiming events; a bridesmaid in her most recent two; Brisnet# has ascended in with each dirt effort
#8 – Diamond Dollar (5-2) — Daughter of leading MD Million stallion Not for Love will make first start on dirt after 5:2-2-1 start to her career on the synthetic at PID; dam won 12 of 36 races on dirt including a G3 in her career finale
#9 – Sommer Something (6-1) – Back-to-back wins since adding blinks and seeks the natural Hat Trick in just fourth career outing; from first crop of sire Etched and hails from Bonita Farm, home of MD Million co-founder Bill Boniface
#2 – Item (8-1) — Won at first asking at Penn National in a PA-bred MSW event in gate-to-wire fashion; though it was versus restricted company, the final time of 6 furlongs (1:12 3/5) wasn't too shabby
The Rest of the Field
Seven of 14 entered are still maidens including #1 – Friesan Gal (20-1) is 0 for 4 and may not be cut out for sprints even though she shows early speed, #3 – Faz the Nation (20-1) away since June hopefully to mature and focus on her job and A.M. drills appear that she has, #7 – Friesani (12-1) was a major disappointment when 4th of 5 @ Prx sent off as 2-1 second choice in debut, #10 – She's Achance Too (8-1) has best shot at graduating in here as she just missed a gate-to-wire score here last month in career debut while #11 – Small Batch (15-1) hasn't finished better than 5th in three MSW starts and that one was on the turf… as far as the one-time winners #5 – Big Blue Arrow (9-2) ships in from KY where she got first win on the Ind grass in most recent (4th) start; was third behind a next out winner in lone fast track try that came in debut… #6 – Baltimore Miss (12-1) graduated at The Big T in gate-to-wire style after failing miserably (6th by 10) in first race of her career as 8-5 Post Time favorite @ Lrl… and three MD-bred not MD sired runners are Also-Eligibles (AE) that need six (6) scratches to draw in are #12 – Phantom Shot (9-2) is a solid filly who has faced tough competition then broke maiden when dropped in for $40k tag… #13 – Misty On Pointe (3-1) hails from Sagamore Farm was a winner in debut on grass and has a bright future… #14 – Lucky in Malibu (4-1) 0 for 5, all on turf but won't be a maiden for long.
Race 5 – Maryland Million Ladies
Post time: 2:27
$125,000, Fillies and mares 3-years-old and up, 1 1/8 miles turf
Average win odds (2005-2016): $15.97-1
Average exacta: $216.56
What to look for:  The two longest-priced winners in the last 11 Maryland Millions (66-1, 58-1) came from this race; average exacta in last 11 years: $216… No favorites have won the last 11 runnings of the Ladies, and only three second choices have done so…. Each of the last 11 winners had made at least three seasonal starts prior to this race.
The Picks
#3 – Rocky Policy (4-1): This 4-year-old daughter of Rock Slide comes off her first two-turn race, beating allowance company over the synthetic surface at Presque Isle Downs; looking like a prudent claim for $28k back in June, her trainer Dale Capuano who also will saddle Monster Sleeping in here, is out to prove stretching this gal out was just what the doctor ordered.
#1 – Complete St. (4-1): Hasn't seen the Winners' Circle since last October, but that was just seven (7) races ago; makes third start after a short layoff and exits a neck loss in the Brookmeade Stakes for VA-breds but has yet to hit the board in two attempts at this 9 furlong distance.
#5 – Northern Smile (7-2): Just one of three runners scheduled to start in this event who have reached the wire first when traveling this distance (Monster Sleeping and Dance With Gio are the others); will need plenty of pace help as she doesn't get out of first gear until the quarter pole; been getting better while part of the Trifecta in seven of her last nine starts.
#7 – Pauline's Pride (10-1): In last years' event, her first going 9 furlongs on the turf, she nabbed the Show purse by a nose when 21-1; this late running 5-year-old mare is a better runner coming into this race than she was a year ago; makes second start w/ blinkers; tough one to leave off your exotic wagers.
The Rest of the Field
In this wide open affair are… #2 – Devilish Love (5-1) back in Tony Dutrow's barn who had her 2 years ago when she was runner-up in this event while… #4 – Magician's Vanity (10-1) has only visited the Winners' Circle once in her 27 race career, and that was over a year and a half ago; had a troubled trip in the Ladies last year finishing 4th… #6 – Monster Sleeping (4-1) makes fourth consecutive appearance in this event; won it last year and in 2013 but this 7 year old mare has been off form recently getting beat by double-digits two back in the $150k Lady Baltimore and most recently in a $50k Optional Claimer on the Del turf; prefers a "firm" turf course so with rain in Friday's forecast, she might be up against it but this field lacks early speed so F. Boyce might try to go gate-to-wire… #8 – Dance With Gio (20-1) has been on a downward spiral since being claimed August '15 when making first start in this event for new connections, finishing a non-threatening 6th… barring three scratches, these four MD-bred Also-Eligibles will have to wait another day… #9 – Vielsalm (4-1) a graded stakes placed 6-year-old mare with 5 wins over the Lrl turf… #10 – Debbie's Tude (6-1) would love to draw in since she would be Lone Speed… #11 – Good Roll (10-1) would be a rank outsider in spite of the kind Morning Line… #12 – Opie (20-1) needs some time off back in Mayberry after losing by 25 lengths in latest outing.
Race 7 – Maryland Million Turf
Post time: 3:33
$125,000, 3-year-olds and up, 1 1/8 miles turf
Average win odds (2005-2016): $4.69-1
Average exacta: $113.38
What to look for: Eight of the last 11 Turf winners owned at least one stake win prior to winning the Turf, and seven of 11 had made fewer than six seasonal starts prior to winning here… Favorite here checks those boxes and figures to be a handful if he avoids trouble.
The Picks
#10 – Phlash Phelps (1-1): Was cross-entered in the Classic, but goes here as defending champ; his 5-year-old campaign has had ups and downs, winning just 1 of 4 outings but ran huge in latest, the G2 Commonwealth Turf Cup when 19-1, losing by just 1½ lengths while steadied at the 1/16th pole; this son of Great Notion who should get a perfect stalking trip in order to successfully defend his crown.
#11 – Lord of Love (5-1): If all others are "running for second purse" then this NY-bred son of Not For Love should be at the top of the list considering he's just 2 for 33 on the turf but has earned over $228k in those starts; was a fast closing runner-up in a 6 furlong AlwN$1X on Belmont Park grass just 8 days ago.
#9 – Barrel of Love (20-1): Fourth in this event in 2015 when back heavier (9-2) then he will be this year, for a different barn; comes off two, off-the-board turf sprints in minor stakes after a layoff, so stretching back out should be more to his liking.
#6 – Grandiflora (6-1): Should be considered a nice play underneath in your exotics as he always finds a way to be in the mix at the top of the stretch, but seems to be happiest just following foes to the finish; just one win in past 14 starts.
The Rest of the Field
No shortage of runners willing to take their chance against the 1-1 favorite… #1 – Here's to Mike (10-1) looks for the natural Hat Trick but will need to raise his game a couple notches; has never been off-the-board (4:2-1-1) on turf at this distance… #2 – All Alone  (20-1) is 0 for 2016 (from 7 races) and this Closer has a tough assignment cutting back to a mile…   #3 – Spartianos (12-1) is a turf sprinter who will try to stretch that early speed a few more furlongs but likely will be seeking oxygen in mid-stretch… #4 – Frisky Magician (30-1) recorded his best turf Brisnet# (90) v. $35kN3L @ Bel in latest effort at today's distance though it was only good enough for third… #5 – A P Elvis (20-1) still kicking at age 9 will be making third MD Million appearance ('15 3rd in Turf and '12 4th in Turf Sprint) but has only beaten one rival in three starts in 2016… #7 – Corvus (12-1) won MD Million Nursery in 2015 career debut; switch to turf two races back has suddenly shifted priorities from possible Classic starter to here… #8 – Capital Fellow (20-1) will ensure honest if not quick pace to assist others chances who like to lag behind early on.
Race 8 – Maryland Million Sprint
Post time: 4:06
$125,000, 3-year-olds and up, 6 furlongs
Average win odds (2005-2016): $3.08-1
Average exacta: $34.11
What to look for: Five of the race's last 11 winners were the post-time favorite, and all but one were among top three selections… Every Sprint winner in the last 11 years had either made at least six starts during the season prior to Maryland Million day, or had won at least two races. Each runner has questions to answer in this group.
The Picks
#4 Morning Fire (9-5) – Enters off lengthy hiatus, but this sophomore has plenty of class and might control from the front; top trio from last ran 1st or 2nd in stakes next out.
#2 Nicaradalic Rocks (9-2) – Huge class test for horse still eligible for ALW N1X – but last was super-impressive when cruising to the lead in hand and drawing off. Maybe it was the slop, but a repeat of that puts him in the hunt here.
#1 Ben's Cat (2-1) – 10yo star isn't the horse he was even a year ago, but five in-the-money finishes this season say he can compete here; trainer Leatherbury chose this over one-mile Turf.
#6 D C Dancer (9-2) – 2014 champ was third in this event last year, beaten just two lengths for all the money… Owns right to improve in second off a brief layoff off a decent try; toss the two-back route effort and his 2016 form looks better than his record; note three improving works, culminating in a bullet half-mile, in preparation for this.
The Rest of the Field
#3 Easy River (8-1) needs to find his way back to some of his better efforts to factor in here, as last two main track tries aren't much to crow about… #5 All Fired Up (20-1) hasn't yet delivered on early promise; last out runner-up returned to win impressively against allowance rivals… Hard hitting #7 Rockinn On Bye (3-1) needs a scratch to draw in as a Maryland-bred but not -sired runner; some of this closer's better tries would put him right there in this heat, but he seems more adept at finding second or third than filling the win spot; never out of the money at the trip… #8 Final Prospect (5-1) likewise hopes to draw in off the AE list; Jump Start gelding is in good form now and shows three solid works in preparation… This group looks like an awfully heavy list for the last AE horse, #9 Magritte (20-1), who would have to deliver a career-best performance to get it done here.
Race 9 – Maryland Million Distaff
Post time: 4:40
$125,000, Fillies and mares 3-years-old and up, 7 furlongs
Average win odds (2005-2016): $3.25-1
Average exacta: $39.73
What to look for: Nine of 11 prior winners owned at least one prior stake win, and seven had won multiple… Favorites have won six of the last 11 runnings, and second choices have won three. All 11 winners had made at least five prior starts during the season, and eight had at least one win.
The Picks
#11 Lovable Lady (8-5) – Mary Eppler trainee looks to run off fourth straight win, worse than third only once in 14 starts. Owns back-to-back stakes wins and can eyeball the other speed from the outside post.
#4 Scip's Sonata (6-1) – Father-son combo in trainer-jock slots here; Scipion mare returned from 14-month break to deliver two good efforts.
#2 My Magician (12-1) – Street Magician filly frequently finds trouble, but two of her best efforts – including lone career stakes win – have come on Maryland Million day; likely to look for stalk-and-pounce journey.
#6 Rocky Policy (3-1) – Dale Capuano trainee may post elsewhere in the Ladies, blossomed in April when put on turf and later synthetic; ran second in 2014 Million Lassie and can factor here – if she transfers turf/synth form back to the main track.
The Rest of the Field
#1 Six Tonsafun (30-1) has just a single win from 23 career starts and would be a major surprise here… #3 Rockin Jojo (20-1) ran second in the Maryland Million Lassie two years ago, later won a stake at Penn National; she should appreciate getting back to sprinting but will need to take a major step forward… #5 Nickyrocksforpops (20-1) enters off a win in claiming company but looks likely to be outclassed in this spot… The patiently handled NJ-bred #7 Pinkout (10-1) may find the added furlong from recent starts works to her advantage, putting her a little closer to the early pace; she'll need to catch a break to get the money here, but getting a slice is not beyond her scope… #8 Wowwhatabrat (15-1) has shown improvement this year with three wins and owns two wins at the 7-furlong trip – the only runner there who can say that; she won last out at 30-1 and you'll probably want (and get) a similar big number here… That she's lost all four times she tried allowance company has to be considered a black mark for #9 She Rolls (12-1), whose best argument is that she's improving and still lightly raced… She is, however, nowhere near as lightly raced as #10 Cee Bee Gee Bee (20-1), who'll be making just her fourth career start and first for trainer Phil Schoenthal; she's showing two sharp works over the strip, and a big step forward wouldn't be a huge surprise (though whether that would make her a winner is a different question)… The three horses on the also-eligible list — #12 Deliver Me (12-1), #13 Moon Virginia (4-1), and #14 If I Was a Boy (15-1) almost certainly will not draw into the race, as they need six horses to scratch.
Race 10 – Maryland Million Classic
Post time: 5:13
$150,000, 3-year-olds and up, 1 1/8 miles
Average win odds (2005-2016): $4.55-1
Average exacta: $69.65
What to look for: Three-time champ Eighttofasttocatch is the only fave in last 11 years to reach the wire first… But only one winner in last 11 ('07 Evil Storm) went off at more than 10-1… Top three from '15 return here.
The Picks
#4 Admirals War Chest (9-2) – Defending champ delivered career-best effort at the trip, enters off a win, and looks to be primary speed. Only runner in race's main body with a win at the distance.
#7 Just Jack (9-5)– First two-turn dirt try last out impressed; runner has talent and still plenty of room to improve.
#3 Bullheaded Boy (6-1) – 2015 runner-up in this event saw a rugged group last out, including '15 Travers winner Keen Ice; closed stoutly to just miss here last year and would be key beneficiary if Titan Alexander heats up the pace from rail.
#6 Flash McCaul (2-1) – Odds feel too short on a horse with a habit of running well enough for second – six times in 12 starts – but not well enough to win (just twice)… Like #3, will hope to get a pace to run at… Sophomore was fourth in the Tesio at only try at the distance and is training forwardly for this one.
The Rest of the Field
#1 Titan Alexander (12-1) tired to sixth in this event a year ago, enters off two dominant wins in MNR allowances. Seems more likely to be an early presence than a late one – unless he can figure out a way to control the pace up front… #2 I'm Mr. Blue (10-1) was a distant third in this race a year ago; last out third was an improved effort, but he remains eligible for a first-level allowance… #5 Big Branch (30-1) was fourth in this event three years ago, and that might well be his ceiling here… The also-eligible horses need two scratches to draw in.  They are: #8 Noteworthy Peach (5-2) who would be a major factor at a one-turn mile but is winless in four tries around two turns… #9 Eyeplayeveryday (9-2), who won the grassy Find but has some good dirt form in his past and has won three of five two-turn starts on the main track… #10 Pizmo Time (5-1), who has never been worse than third in six career starts  and would need to – but can – take a step forward here… #11 Kelly Tough (6-1), who's done nothing wrong in his five-race career and dons blinks for the first time.
Want this post as a PDF? Click here to get it!