Admirals War Chest "fit and happy" for Classic defense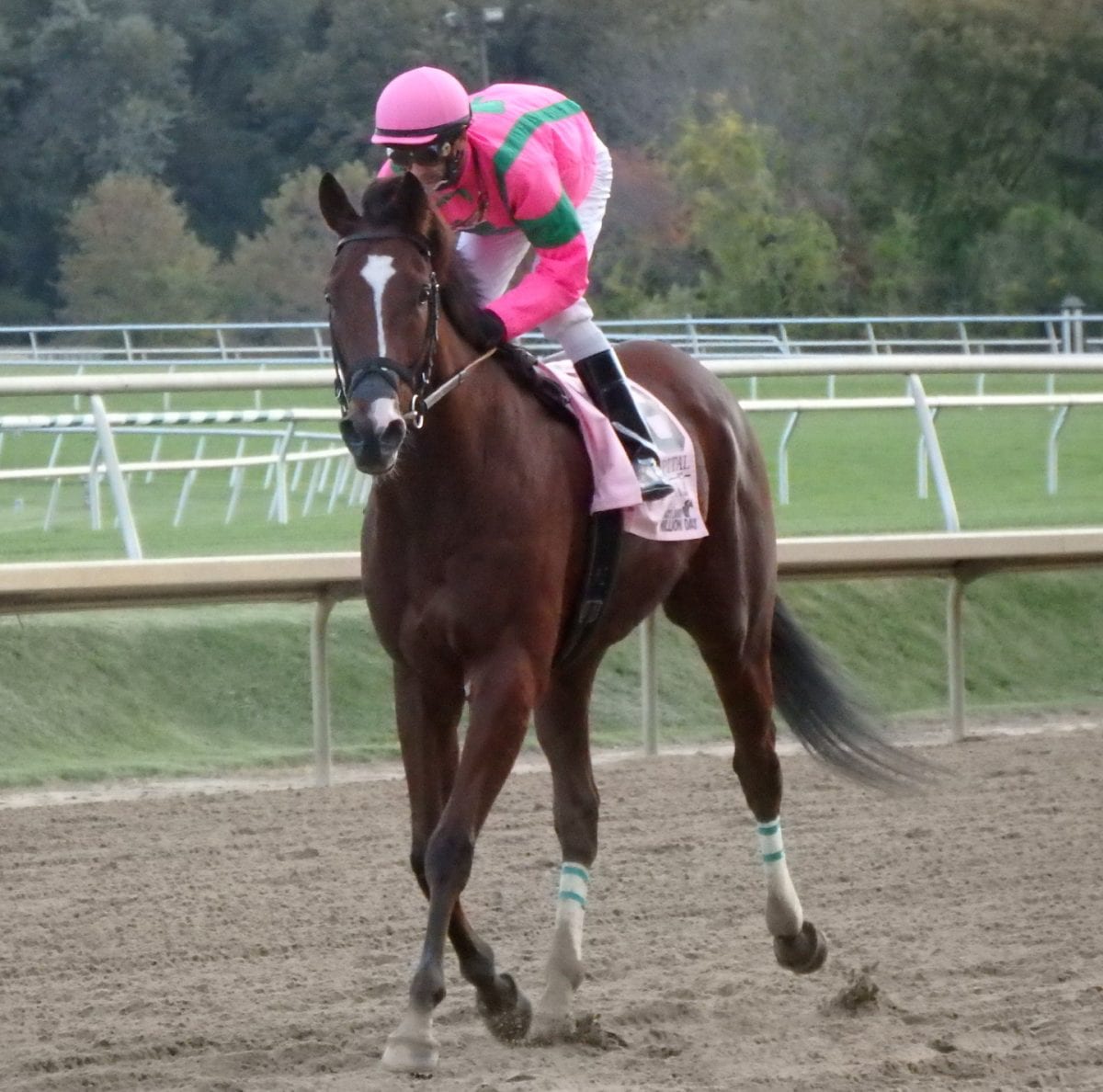 by Doug McCoy

Preparing a horse for a major race while stabled at a training facility is quite a challenge, but that's what trainer Cory Caiazzo has been doing as he get Admirals War Chest ready to defend his title in Saturday's $150,000 Maryland Million Classic.
Of course, it's not like he hasn't done this before. Last fall Admirals War Chest prepared for the 2015 Classic at Berkley Farm in Darlington, Maryland. The farm and training facility are owned by Admirals War Chest's owner, cardiologist Stephen Sinatra, and feature a five-furlong training track as well as an enclosed gallop barn for winter months.
Last season Caiazzo brought Admirals War Chest up to the Million with breezes over that training track, and the result was a front running victory under Taylor Hole. It was the biggest win of Admirals War Chest's career, and when he gave the horse the winter off following a second in the Jennings Handicap, Caiazzo envisioned an even better season in 2016.
But as he said recently, one should never plan too far ahead in horse racing.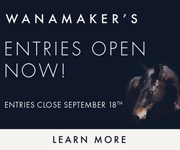 "We planned on giving him (Admirals War Chest) some time off this winter to just rest and develop some more," Caiazzo explained. "He's a big horse but he's been a bit slow to develop physically and mentally. It was our hope he would come back in the spring a more mature and complete race horse. Unfortunately we had some minor issues that set his training back a few times and when we did bring him out he just wasn't at the top of his game."
Admirals War Chest ran up a five-race losing streak following his Classic victory before posting a win last out over allowance/optional claiming rivals at Delaware Park.  Similarly, in 2015, he snapped a five-race skid in allowance company in his race prior to the Classic.
"Fortunately as time went on he's started to come around and we were really pleased with his last race at Delaware Park," Caiazzo said, "He's come together from a conformation standpoint, and his mind set has improved. He can be sorta authoritative in the morning, not unruly, but he likes to make his point. Now we see that more in the afternoon, so I can see him improving more with time."
Admirals War Chest shouldn't come up short in the fitness department on Saturday. He's worked five times at Berkley Farm since that last start on September 1st.
The Classic won't be an easy spot by any means.  Last year's place and show runners – Bullheaded Boy and I'm Mr. Blue – both are back to try their luck.  That's to say nothing of the top pair in the morning line, three-year-olds Just Jack and Flash McCaul.  But Admirals War Chest's trainer says he couldn't be more pleased with the way his charge is coming up to the Million.
"He's a fit and happy horse right now," Caiazzo pointed out, "and he really loves that track at Laurel, which is a big plus (Admirals War Chest's record over the Laurel main track is 9-2-1-5). The race isn't overloaded with speed and he's at his best on the lead, so I wouldn't trade places with anybody on Saturday."
Caiazzo said Dr. Sinatra has 50 thoroughbreds presently with 15 in training and has turned Berkley Farm into a state-of-the-art full service facility that also features boarding, breaking, layups and rehab. "We're about five years into our program and are very proud of our facility. Hopefully Saturday we'll be able to add to our resume with another Classic win."