The art of Maryland Million race selection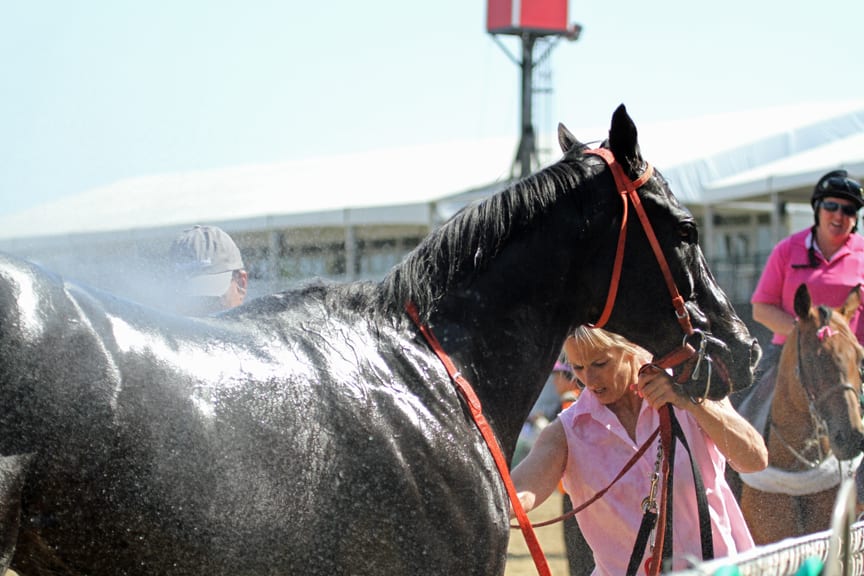 Ben's Cat gets a bath. Photo by Laurie Asseo.
by Ted Black
Trainers looking for an edge often nominate their runners to multiple races.  For example, both Phlash Phelps, winner of the 2015 Maryland Million Turf, and Maryland Million Classic winner Admirals War Chest were nominated to both races this year.  That leads to a complex decision-making process in which the connections balance a variety of factors – field size and quality and the horse's best surface and distance among them – in order to put their charges in the best spot.
For the Maryland Million, that decision is further complicated because of the eligibility rules.  While the day is nominally – and mostly – limited to Maryland-sired runners, when a race draws fewer than six such horses, it opens up to Maryland-breds, as well; with also-eligibles now permitted, that means that an inviting six- or seven-horse field could, with a scratch or two, turn into a challenging 10- or 12-horse group with several state-bred runners added to the mix.
Trainers King T. Leatherbury and Dale Capuano, both accustomed to winning races on Maryland Million Day, are among the conditioners who pondered these questions this year.  The two longtime local conditioners will arrive at Laurel Park on Saturday afternoon as the two leading trainers in the storied history of the program, with Capuano's 11 wins one ahead of Leatherbury.
Leatherbury will saddle Ben's Cat for the Maryland Million Sprint on the main track Saturday after having also considered the one-mile Turf for his veteran star.  As of Thursday evening, Capuano, meanwhile, was still weighing his options with Rocky Policy, a filly that is cross-entered for the Maryland Million Ladies at nine furlongs on the grass and the Maryland Million Distaff at seven furlongs on the main track.
"Her last race at Presque Isle Downs was the best race that she's ever run," Capuano said of Rocky Policy, a four-year-old daughter of Rock Slide who has won twice in nine starts this year and sports four wins from 16 career outings with a lifetime bankroll just over $130,000.
"I'm not sure that she wants to go that far [nine furlongs] on the turf, but the seven furlongs of the Distaff might be a little short for her. If she goes in the Ladies then I'm running against my other mare, Monster Sleeping, who won the race last year. But if I go in the Distaff, then Lovable Lady looks like she stands out in there."
Father Time appears to be finally catching up with Ben's Cat, a 10-year-old son of Parker's Storm Cat owned, bred and trained by Leatherbury.  The gelding, who has won twice in six starts this year, sports a 32-9-7 slate and $2.64 million banked in 59 career outings. Ben's Cat has enjoyed the bulk of his success on the turf, though he has also proven himself a capable dirt runner, winning several main track stakes and running second by a nose in this event last year.
"I really wanted to see how he would do in the mile on the turf, especially with Trevor McCarthy riding him because I think he's really good at getting horses to relax in those longer races," Leatherbury said. "But I haven't had much luck in there going long, so I think the six furlongs on the dirt is going to be better for him.".
For Leatherbury, the decision entailed more than just the short-versus-long question.  Assuming no scratches, the Sprint will go postward with just six runners; if there is a scratch, as many as three also-eligible Maryland-breds may also draw in.
"When I entered there were five Maryland-sired horses in there, so he made six which meant the race was closed to Maryland-breds," Leatherbury said. "That was another factor in my decision."
Ben's Cat is likely to be a major player in the modest field, though three-year-old Morning Fire – a multiple stake winner who has not raced since April – is the 9-5 morning line favorite.
While Leatherbury opted to run Ben's Cat in the Sprint to virtually fill the race with Maryland-sired runners, Capuano said that he has not factored that into the decision while deciding which spot was best for Rocky Policy.
"I knew both the Ladies and the Distaff would get at least seven Maryland-sired horses," Capuano said. "I wasn't really concerned about those races not getting at least six [Maryland-sired runners]. Both the Ladies and the Distaff are good spots for her, but neither is really ideal. I'm still weighing my options which race to run. I know King is probably going to win one on Saturday, so I'm hoping to be able to win one to stay one win ahead of him."
Rocky Policy is 3-1 on the morning line in the Distaff and 4-1 in the Ladies, and Monster Sleeping is 4-1 in the Ladies.  Those constitute Capuano's best chances to pad his win total.
Ben's Cat, 2-1 on the morning line, is Leatherbury's only runner on the day.  After winning the since-discontinued Maryland Million Turf Sprint three times, Ben's Cat has finished second in three straight Maryland Million races, twice in the Turf and last year in the Sprint.
"In the past, the turf race has always come up weaker than the Sprint," Leatherbury said. "However, he doesn't want to go a mile. Every time I've run him [at a mile] he's run right there on the pace, going easy, and then he just doesn't hold on and one or two horses pass him. In the Sprint, he usually doesn't win because the competition has been tougher. But he worked really well the other day. Trevor said he felt good and it's what we wanted and it's what we got."
That, and, he hopes, a six-horse field.