For Groomedforvictory, a well-deserved retirement (with peppermints)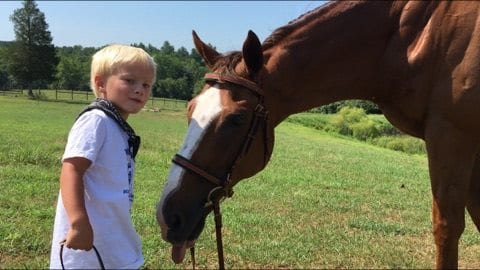 Groomedforvictory and "the bearer of peppermints." Photo courtesy of Cathy Gulick Sanders.
by Teresa Genaro
There is a Genaro family tradition of heading to the harness track in Saratoga on the Saturday after Thanksgiving for an afternoon of simulcasting, and in 2007, I joined my father and brother for the first time, setting up shop on the second floor and settling in for a day of wagering on Aqueduct, Laurel, and Churchill Downs.

The day's stakes races from Aqueduct produced winners that would go on to be favorites of mine; both trained by Bill Mott, Court Vision won the Remsen and Mushka won the Demoiselle. Both would go on to be Grade I winners.
Earlier in the day, the second race was for New York-bred maidens, and a two-year-old trained by Barclay Tagg caught my eye. Almost 12-1 in his debut, he ran second to a 42-1 shot, a horse named Another Foose who would make 17 starts in two years on the track, winning three times.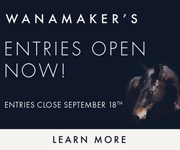 Though a loser that day, the runner-up, Groomedforvictory, would lap Another Foose over the course of an eight-year career, running 68 times and amassing three stakes wins, 15 victories, 38 top-three finishes, and $735,000 in earnings.
He was also claimed 12 times—at one point going back and forth between Vincent Scuderi and Drawing Away Stables, both of whom seemed reluctant to really let him go—and by the time he was retired, he had gone winless for more than a year. Making his last start at age 11, he seemed like the poster child for the good horse run too long and retired too sore to go on to another career.
Not so much.
"His legs were as cold and tight as a two-year-old's," said trainer Rick Schosberg, who never trained the horse but who is chair of the New York Thoroughbred Horsemen's Association Aftercare Committee and who oversees Take the Lead, NYTHA's on-track retirement program. "He was well cared-for during his long career."
Bred by Sure Thing Stables, LLC & Michael J McGuire, Groomedforvictory is by Victory Gallop and out of the Mt. Livermore mare Minigroom. He made his first 26 starts for his breeders, including a win in the Screenland Stakes, a sixth-place finish in the Grade 2 Woody Stephens as a three-year-old and a third-place finish, beaten less than a half-length, in the Evan Shipman at Saratoga in July 2013. The winner that day? Schosberg's Giant Moon.
"He was a great competitor on the track," said Schosberg of Groomedforvictory, remembering the race.
Stabled at Belmont Park in the barn of David Cannizzo, for whom he was well-beaten in three starts, Groomedforvictory went through the Take the Lead program and was placed with New Vocations, an aftercare and re-training facility in Marysville, Ohio. His adoption page suggested that life after a nearly decade-long racing career wasn't a smooth adjustment for the chestnut gelding.
"Victory is really unsure of this new life he has just entered and is feeling very insecure as a result," went the description. "He has had the same routine for so long and finds security in consistency. He needs a quiet rider to help him relax and build his confidence. When you click with him and unleash his potential you will have an extraordinary partner with proven durability. He is best suited for advanced riders and is suitable for any discipline."
At home in Virginia, Cathy Gulick Sanders was undeterred. A 20-year veteran horsewoman, she broke babies at Dogpatch Farm in Middleburg, which is where she met her husband Richard, who trained a small string on the Mid-Atlantic circuit. They have cattle and 17 horses on their Warrenton farm, where they also grow all their own hay.
"He's a retired real estate developer and he got into racehorses," she said of her husband. "We used to breed and train and run off the farm, then we decided that if we were going to have a kid, we better do it before we got any older. We got out in 2012."
Many of the horses on their farm are retired racehorses, including eight that they got through New Vocations. One of them, X Max, was purchased as a two-year-old by Cannizzo, Groomedforvictory's last trainer.
"When we were racing a lot, I heard Groomedforvictory's name and I'd watched some of his races," Gulick Sanders said. "I was thinking of doing the Retired Racehorse Project with one of our horses but he hadn't really settled in when the deadline arrived, so I thought, 'Oh, well, I'll keep an eye out for a horse next year.' I knew I wanted to adopt from New Vocations, and I knew I wanted a war horse."
She saw New Vocation's announcement that Groomedforvictory has been retired there, and she figured she had about six months before he was up for adoption. To her surprise, he popped up as available on Facebook in March.
"I probably had him adopted and paid for within 20 minutes," she said. "And when he got here, he stepped off the van and walked over to my trailer, totally cool. He was actually a lot easier than I expected, given his caliber of racing."
So easy, in fact, that she felt comfortable putting her her three-year-old, who not uncommonly helps feed the horses, at the end of a leadline.
"My son loves him," she said. "I think he knows that my son is the bearer of peppermints."
In line with RRP guidelines that limit horses to 15 rides before training begins, training that can't begin before January, Groomedforvictory hasn't been ridden much since arriving six months ago.
"He's going to get the year off that he deserves," Sanders said. "Then I'll apply in January and hope that he's accepted."
She seconded Schosberg's assessment of his legs—"ice cold"—and until he can start training in a few months, he'll continue hanging out in a field, where he gets along beautifully with the other horses.
"He still looks perfectly sound," she said. "He's clean as a whistle and has great feet."
"He's been fantastic," she continued. "He is such a sweet guy, and so far he's been absolutely stellar in the barn."
She started a Facebook page for him, and she'll share his progress online should he get accepted to the 2017 Thoroughbred makeover.
"I'm quite excited to get busy with him," she said. "He deserves to show off."
"I was so happy to have Take The Lead be a part of his retirement after such a long successful career on the track," said Schosberg. "He's the epitome of a well-deserved retirement and second career horse."