Raim, rain, Runco thrive at WVBC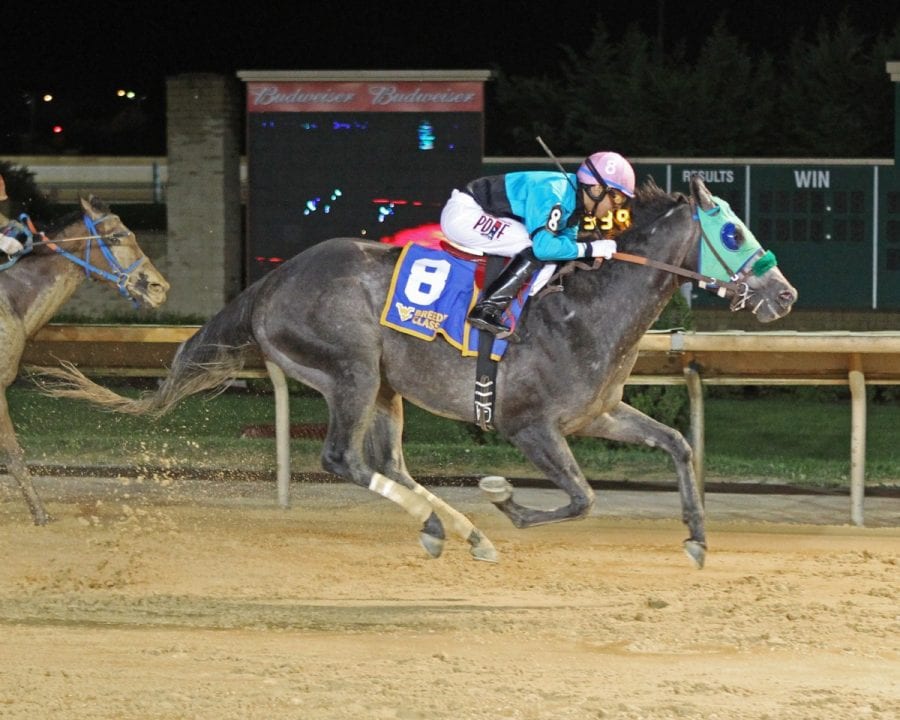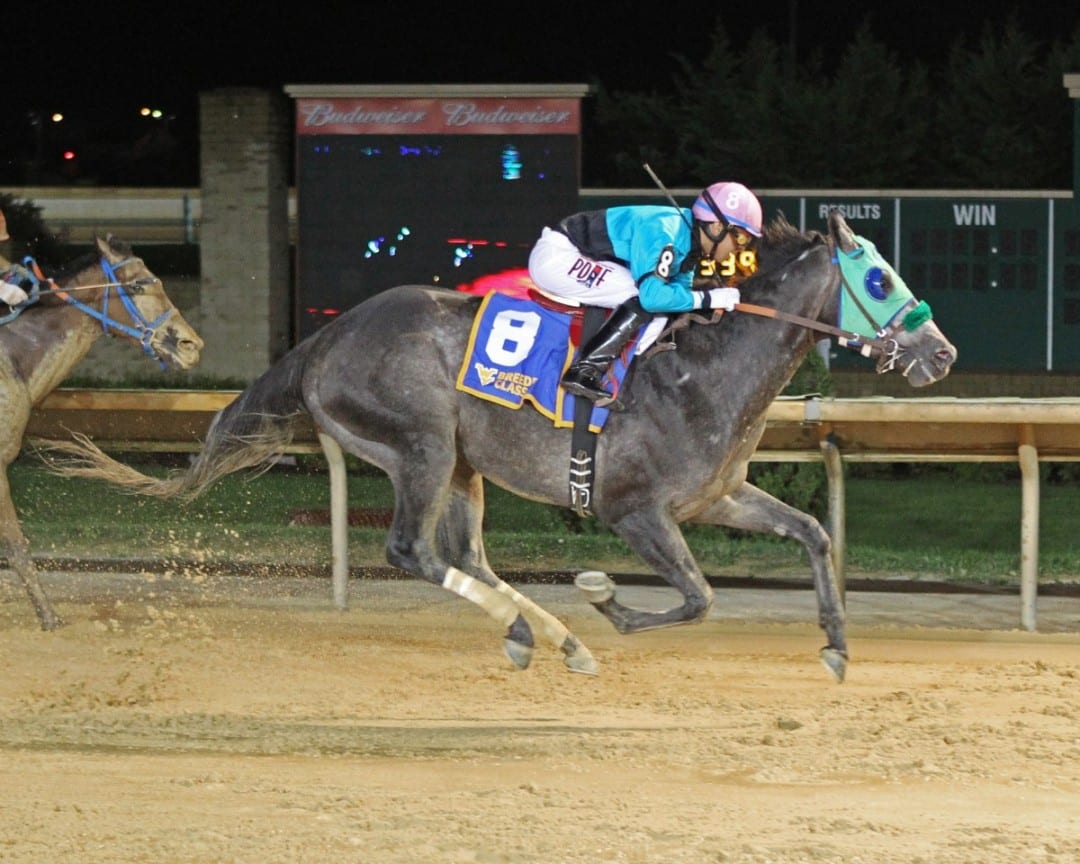 Bullets Fever wins the WV Lottery. Photo by Coady Photography.
by Ted Black

Conditions were hardly ideal for the horses and jockeys that competed over the rain-soaked muddy track at Charles Town last Saturday evening for the 30th edition of the West Virginia Breeders Classics, but the clearing skies and pleasant temperatures made for several happy winner's circle celebrations for trainer Jeff Runco and owner David M. Raim.
On a night when Runco would saddle homebred Slip The Cable (with Arnaldo Bocachica up) to win the $500,000 Classic by over seven lengths in wire-to-wire fashion, the longtime local conditioner and former jockey also enjoyed a pair of winners with owner Raim. In consecutive races at the midway point of the nine-race card, Bullets Fever (Bocachica) kept his perfect record intact by winning the $75,000 West Virginia Lottery Breeders Classic for three-year-olds for Raim.  One race later Spa Creek (Christian Hiraldo), co-owned by Raim and Runco, captured the $80,000 West Virginia Breeders Classic Distaff.
Runco, who as of October 11 has saddled exactly 3,800 winners from just over 18,000 starters with total earnings of nearly $45 million, began training for Raim in 2006 when trainer Graham Motion sent the Charles Town trainer a horse that he thought would be more competitive on the local circuit. Raim has had horses with Runco ever since.
Bolstered by Saturday night's success, Raim's horses have won 13 of 22 starts and banked nearly $275,000 this year, slightly less than his best year to date when his horses won 11 of 40 races and earned over $282,000 in 2013. Raim's horses have earned at least $100,000 for eight straight years, have topped the $150,000 plateau in six straight, and have gone over $240,000 three times in four years now.
"I started training for Mr. Raim about 10 years ago when Graham Motion sent me a horse that he had for him," Runco said. "He's been with me over here ever since. I know he appreciates the hard work that we do here and he loves seeing his horses do well. We've had a lot of success together, but nothing like tonight. He's partners with me on Spa Creek, and he owns Bullets Fever and his two-year-old full-sister, Wizards Fever."
Bullets Fever, named for the Nils Lofgren song that traveled with the Washington Bullets — later renamed the Washington Wizards — en route to capturing the 1977-78 National Basketball Association, has been the star of the Raim stable thus far. Saturday night he notched his fifth win in as many starts this season and kept his career record perfect through eight races overall by taking the West Virginia Lottery BC in 1:25.59 for the seven panels.
"He's truly been a wonderful horse and it's been great to see him win all of his races," said Raim, a Senior Counsel at Chadbourne who is rated among the top tier of reinsurance and insurance arbitration attorneys by Chambers USA — America's Leading Lawyers For Business. "He was able to win tonight although he didn't make the lead right away. It was great seeing him finish the way he did. It was so exciting. Jeff is a wonderful trainer. I could not think of anyone that I would rather have training my horses."
Bullets Fever, a full-brother to the immensely talented state-bred runner, Hidden Canyon, who finished second in the 2015 edition of the Classic and then was second in the Frank Gall Memorial in his belated 2016 debut last month, won at first asking on September 30, 2015 then returned 10 days later to capture the Vincent Moscarelli Memorial Breeders Classic. Three weeks later he won the Tri-State Futurity, just getting the better of the freshman filly, Aye A Song, who was also bred by John McKee.
Bullets Fever made his sophomore debut in April by taking the $50,000 Coin Collector Stakes then won a state-bred allowance at Mountaineer Park in May and an open allowance at Pimlico in June. He returned seven weeks later to capture the $50,000 Robert Leavitt Memorial for state-bred three-year-old colts and geldings in August then was idle for slightly more than two months prior to Saturday evening.
"He was able to relax for me tonight," Bocachica said. "The outside horse (Cat Come Home) wanted the lead, so I let him go and figured I could sit just off of him. When I asked my horse going into the far turn he was ready. I got after him a little bit turning for home, but when I asked him I could tell I still had a lot of horse underneath me."
One race later on the card, Runco sent out Spa Creak to a length victory over Return To Denis in the $80,000 WVBC Distaff by getting the nine furlongs in 1;53.15. A six-year-old daughter of Smoke Glacken co-owned by Coleswood Farm (Runco) and Raim, Spa Creek rebounded from a fifth-place finish in the Sadie Hawkins to notch her second win in six starts this year and push her seasonal earnings toward $120,000. She had earlier won the $100,000 Hancock County Stakes for state-bred mares at Mountaineer on the undercard of the West Virginia Derby in August.
"Her last race was a complete opposite of what happened at Mountaineer," Runco said. "I thought she ran well up there and Navy Ribbon (another Runco trainee) didn't handle that track. Then in the Sadie Hawkins Navy Ribbon won and this mare did not fire. We thought she would do okay stretching out and Navy Ribbon belonged in the Cavada. It was great to get another win for David. He's been a great owner and I'm glad he's had a few winners tonight."
Having won consecutive stakes with Bullets Fever and Spa Creek, Raim and Runco were expected to garner a natural hat trick with T Rex Express (Bocachica) who was favored in the $75,000 West Virginia Division of Tourism BC for state-bred three-year-old fillies. T Rex Express ran well as the odds-on favorite in that seven-furlong affair, but she was overhauled in the lane by Romantic Cork (Grant Whitacre), who was one of two winners for sire Denis of Cork and one of four on the night for breeder James W. Casey, who saddled three of them.
"It was a little disappointing to see her get beat," Runco said of T Rex Express. "I thought she was going to sit a little further back and then wait a little longer to make her move. She seemed like she made the lead pretty easily nearing the quarter pole, but she just got caught near the end."
"It was still a great night," Raim said. "We won two stakes and finished second in another one. Bullets Fever is still unbeaten and we're excited to see how well his full-sister, Wizards Fever, does. It was a great night and we owe it all to Jeff Runco."