Shore Bets: Monmouth Park September 24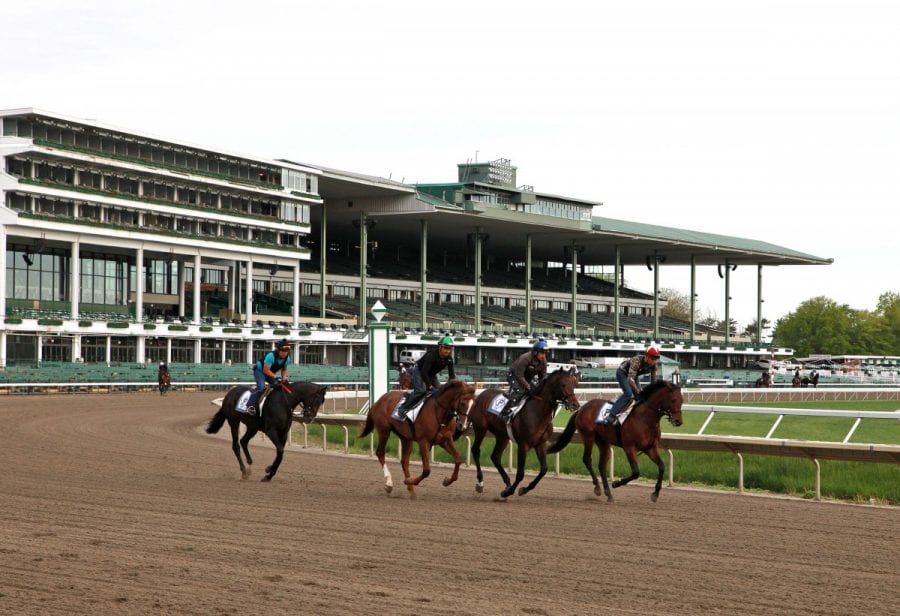 Photo by Bill Denver/Equiphoto.
We are pleased to welcome Shore Bets back for another season of Monmouth Park racing.
by John Piassek
One more weekend to go at Monmouth Park! We've got ten races and eighty-one horses for the penultimate day of the season. After closing day on Sunday, the Jersey racing scene shifts to the Meadowlands, for a 14-day all-grass meet with 15% takeout on all wagers. It's going to be a season that you don't want to miss!
I want to thank everyone who followed my Monmouth picks all meet long, both here and danonymousracing.com. If you put $2 to win on all of my picks, you would have turned a pretty solid profit on the season. I hope some people out there made some money and had fun this year. Let's go out on a strong note!
Race 1: Maiden Special Weight, 2yo, 6 Furlongs
5- Andres Maximus- Has been working strongly for the debut, with two workouts going three furlongs in less than thirty-six seconds, Jose Ferrer is one of the strongest jockeys in the race, hitting at 18% on the year.
6- High Five Cotton- Ran well in his debut at Monmouth before laying an egg last out at Delaware Park, has worked strongly since then so should rebound.
3- Our Space- Plesa firster must be respected by default, turned in a good worktab since heading back to the track in mid-August.
Race 2: Claiming $7,500 (n/w2L), 3yo and up, Fillies and Mares, 5 ½ Furlongs
3- Irie Mon- Drops down from the Jersey-bred n/w1x level, where she recently earned a brisnet figure of 79, has been running in the mid-70s consistently, which should defeat these.
2- Chessen- Has been showing speed and fading in her last two dirt races, both losses were to Hissy Fit, who has dominated at this level this meet, class relief should help.
4- O'Lucey- Finally broke her maiden in her 39th try last out, winning by six lengths going away, two victories in a row may be too much to ask for, but she has an excellent chance of finishing in the money.
Race 3: Maiden Claiming $25,000, 3yo and up, 1 1/16 Miles (Grass)
1- Daftar- Ran in the mid-70s while sprinting on the grass against better at Laurel Park and Monmouth, stretches out and drops to the $25,000 level, which should help his cause.
3- Anthony Scores- Earned a respectable 70 in his grass debut last out while finishing fifth, will hope to improve in his third career race.
5- Hurricane Ramiro- Makes his first start in almost three months after being overmatched at Belmont Park, lost by less than four lengths in each of his two previous route tries, while running figures as high as 79.
Race 4: Claiming $7,500 (n/w2L), 3yo and up, Fillies and Mares, 5 ½ Furlongs
1- Gallant Lady- Second by a length versus better $5,000 horses last out, lone career win came at Monmouth, has some early speed and the inside draw.
5- Sola Fide- Ran a very strong 68 and 69 in her last two races, won at Timonium two races ago at this level, Maryland-based Steve Hamilton comes up for the ride.
3- Aubrees the First- Beaten thirteen lengths for a $12,500 tag last out, has run up to a 70 in the recent past and will seek to return to that form.
Race 5: Claiming $16,000, 3yo and up, Fillies and Mares, 1 1/16 Miles (Grass)
7- Tybalt's Queen- Won easily against $12,500 horses last out while earning a stupendous 89, had been running in the upper 70s before that, seeks to continue good form against slightly better.
2- Lagrats- Led almost all the way around before being caught by Tybalt's Queen last out, will be put on the lead again and has the potential to wire them, you won't get the 19/1 that she went off at last time, though.
5- Bluesville- Had some traffic trouble when finishing fourth at even money last out, hoping for an easier trip here.
Race 6: Claiming $6,250, 3yo and up, 1 Mile 70 Yards
5- Bama Bound- Won his last two starts against $5,000 company with figures in the 80s, seeks his third win of the meet while jumping up for a slightly higher tag.
8- Secretive- Dominated a $5,000 field last out by 5 ½ lengths, that was an all-time low tag and now steps up a bit, will be setting the early pace.
2- Fort Boonesborough- Disappointed at this level last out, but had been running well before then, including a 12-length score for $5,000 at Delaware four races ago, seeks a return to that good form here.
Race 7: Allowance Optional Claiming (n/w1x), 3yo and up, Fillies and Mares, 6 Furlongs
3- Hissy Fit- This fun three-year-old filly has won a remarkable six races at the n/w2L claiming level on the meet, takes the jump here but her figures are still good enough to win at this class.
2- Vow Me Over- California shipper has been fourth three times in a row against starter allowance foes, makes first start for trainer Bobby Dibona, who is 17% first off the claim.
5- Julia Chubouli- Has been running in the mid-80s while winning twice against Jersey-breds within her last three races, makes her open company debut here and figures to be on or near the early pace.
Race 8: Allowance (n/w1x), 3yo and up, NJ-bred, 6 Furlongs
9- Will- Has a case of seconditis, with five seconds from eight starts, but has run in the high-70s to low-80s in all of his recent races.
6- Mr. Spaceman- Ran a big 85 when winning a Jersey-bred n/w2L claimer a few back, gets back on the dirt after a disappointing grass effort, looks to be the best when dirt sprinting.
1- Single Broad- Checked several times last out and wound up losing by 2 ½ lengths, gets a jockey upgrade to Jose Ferrer and has an excellent chance barring more traffic trouble.
Race 9: Allowance Optional Claiming (n/w2x), 3yo and up, NJ-bred, 1 Mile
2- We B Jammin- He's got early speed, good figures, and the inside post in a race with a short run to the first turn. It's a good combination.
6- Fuzzy Muzzle- Hit the board in two Jersey-bred stakes on the dirt earlier this year, will be coming from off the pace and has to catch the early speed of We B Jammin.
7- Don's Marsh- Ran in the 90s twice this year and has won three times against Jersey-breds at the meet.
Race 10: Claiming $5,000, 3yo and up, Fillies and Mares, 6 Furlongs
3- Crazy About Him- Second at Suffolk Downs last out with a very good 76, best in the field by four points among last-out figures, trainer Jamie Ness hits at 30% with his rare Monmouth runners.
4- Hidden Intentions- Finished third behind Crazy About Him last out, third and fourth in two starts at this level at Monmouth earlier in the season.
5- Heir to Glory- Upset the field at 28/1 last out for one of Winston Kay's two winners of the season, jumped up to a 72 there after running in the mid-60s most of the year.