Victor Carrasco posts first win since injury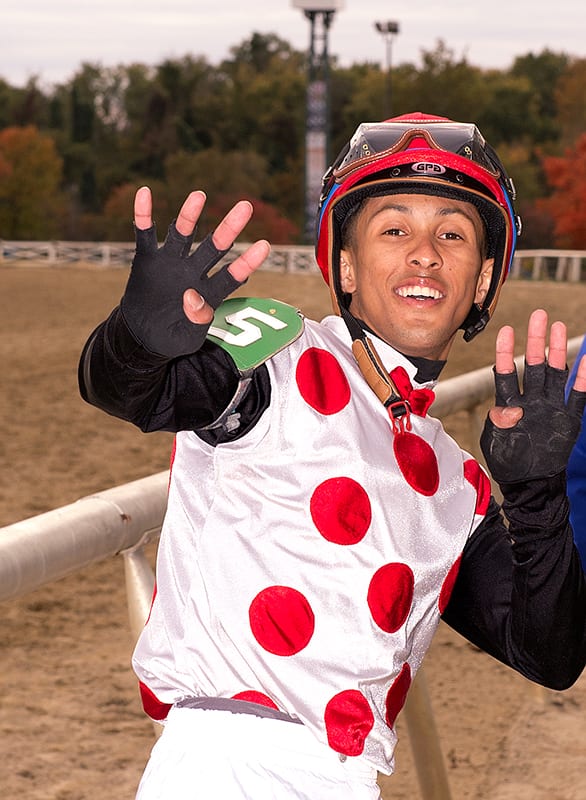 Victor Carrasco. Photo by Jim McCue, Maryland Jockey Club.
From a Maryland Jockey Club release
Victor Carrasco guided 9-5 second choice Daily News ($5.80) to a decisive three-length victory in Laurel's second race, the jockey's first local win since returning Sept. 16 from a foot injury.
Carrasco, the Eclipse Award-winning apprentice of 2013, had gone winless through 13 mounts at Laurel with three third-place finishes over three racing days before scoring on his first try Friday atop the 4-year-old gelding, who he had been aboard in his previous six starts.
The 24-year-old Carrasco was hurt when his mount, 2-year-old first-time starter O Dionysus, dumped him and stepped on his foot as the horses were leaving the paddock for the main track. He wore an orthopedic boot to protect the injury before receiving medical clearance to return on Sept. 12, earning his first win Thursday on Midnight Man at Delaware Park.
"It feels great. It was great to win the other day but it's not the same feeling when you win a race at home," he said. "It feels real good to be back in the winner's circle. People can see me riding with confidence and they know I'm 100 percent and I can get back in business and start going from a little bit to more and more and keep improving."
In his other mounts Friday, Carrasco was fifth with Spicy Girl Red in the fourth race and third on Secondhand Angel in the ninth.
"Today I had an easy day. I only had three mounts, and I feel like I can ride five, six, seven more," he said. "I knew it was going to be like that the first couple days with three or four mounts, so we just have to keep going."