For Andre Stock, a PhD in horsemanship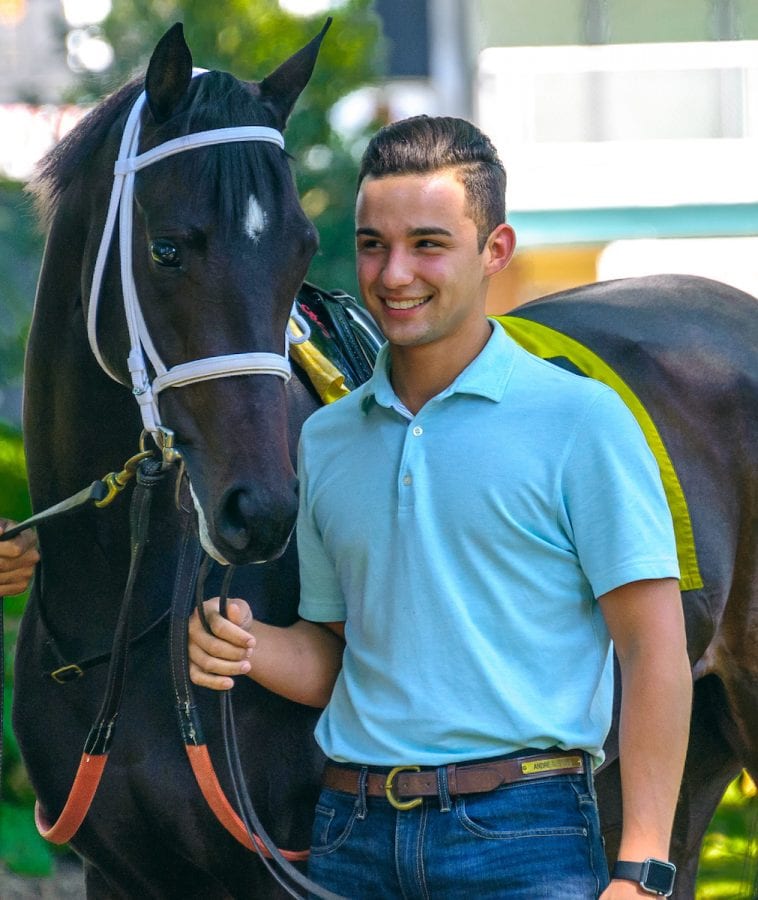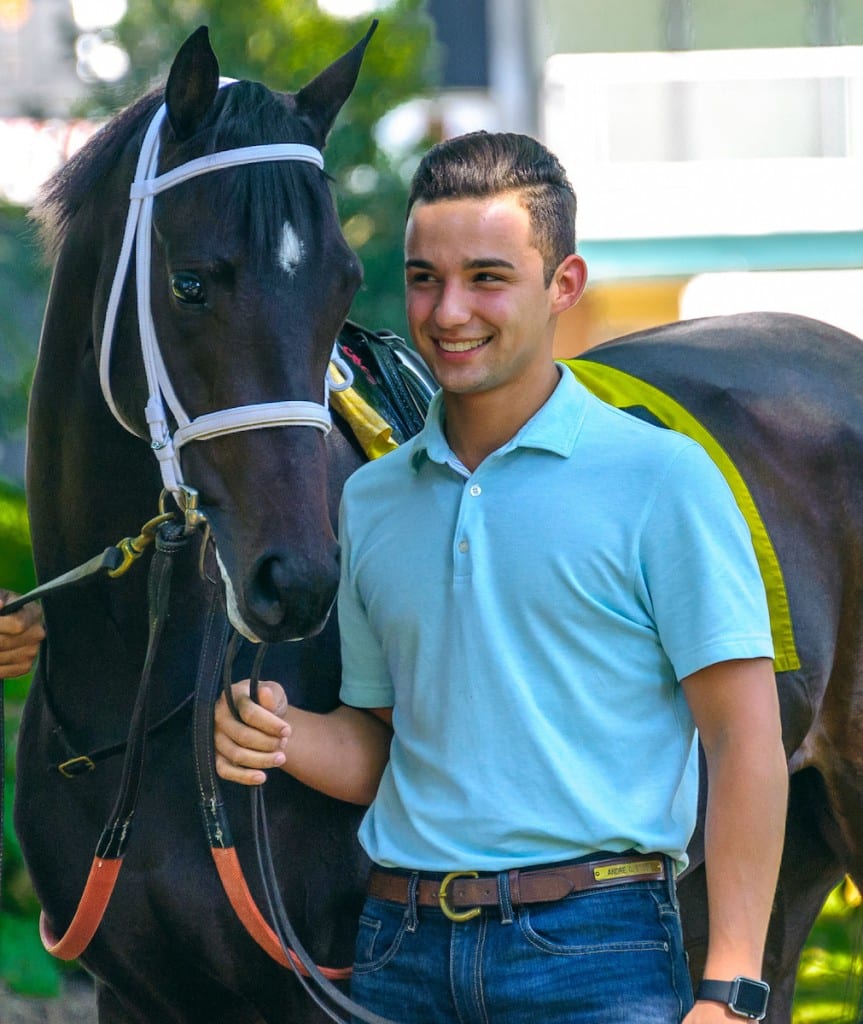 Andre Stock. Photo by HoofprintsInc.com
by Doug McCoy
Andre Stock graduated from the University of Louisville with a degree in Equine Management in May of 2015, but his equine education didn't stop there.
These days you can find Stock pursuing what he calls his "PhD in horsemanship" at Jones University as one of the assistants for master horseman Larry Jones. Stock, whose family in Panama has been involved in owning, breeding, and racing horses for three generations, began working for Jones in 2012 while he was still enrolled at the University of Louisville.
He had been awarded a scholarship as winner of the John R. Velasquez Scholarship, presented by Team Valor to students of Hispanic descent with an interest in an equine-related vocation. Stock worked summers for Jones while he was enrolled at the U. of L., working with a division of the stable at Churchill Downs's Trackside Training Center.
Ruben Munoz, agent for jockey Ricardo Santana, has been a mentor to Stock over the past five years, and Munoz encouraged Stock to continue to work for Jones after graduation. Stock and his girlfriend of some five years, Laurel Humbert, took a week's vacation following his graduation.  But he told her that when he got in his car and headed to Delaware Park last year that their time together would have to be limited.
"I told Laurel that this was the next very important step for me if I was going to train horses and have my own stable someday," Stock recalled by phone recently while en route to Laurel Park. "I've been given a rare opportunity to work alongside one of the top horsemen in the business, to watch and learn from him every day.  A lot of people would do almost anything to be able to be in my position so I'm committed to learn all I can from Mr. Larry (Jones)."
According to Stock, Jones is an able teacher whose key lesson may well be that no detail is too small for the horseman to note.
"The longer I work for Mr. Larry the more I've learned that he is able to spot the little things that can make a big difference in a horse," Stock explained. "Since I've been out trackside on the pony and watch Mr. Larry when one of our horses is working, I can see how he picks up on things. He'll gallop up alongside one of ours that just worked and watches and listens as they gallop out and pull up. He (Jones) listens to the horses going by and will tell us, 'The track's harder today, we're not going to work this horse or that horse.'"
The lessons continue back in the shedrow, too.
"When we get back to the barn he's in and out of the stalls, getting a feel for how his horses are doing, not just day-to-day but hour-to-hour," Stock continued.  "I think if there's one big thing I've learned from Mr. Larry, it's that there's no substitute for being hands-on with your horses. By doing so, he senses those minute changes in a horse's body language. I've had him say, 'There's something just not right with this filly,' and sure enough the next day, the horse will spike a fever or start to cough or snot. Having that sixth sense with your horses is something that doesn't come out of any manual or book. I'm learning every day to watch and look for the little things that can make a difference."
Stock also points out Jones is creative in his own way.
"He doesn't always follow conventional wisdom, he follows his own path," Stock said.  "He's a perfectionist in that he wants things done the way he wants them done, and he's that way because over time his way has more often than not been successful. The bottom line is, he just lets the horse be a horse. He doesn't spoil them or baby them.  We ship with horses from other stables and basically they (the horses) learn to handle strange surroundings and strange horses. All of that makes them more seasoned and poised when it counts."
Stock believes the knowledge of the business side of racing he learned at college will be a big asset when the time comes for him to strike out on his own.
"Racing's a global business these days and running in and winning big races are where any good trainer wants to be," Stock pointed out. "The knowledge of the business side of the business I learned in college helps give me a solid foundation to go with the on-track knowledge I'm gaining each day. You have to try to be as prepared as you can so you can take advantage of the opportunities that present themselves."
For his part, "Professor" Jones had high praise for Stock, as well as his other top assistant Cory York.
"Andre wants to learn it all," Jones said. "Not to be a know-it-all but to learn it all. He and Cory are very eager to learn, to absorb what knowledge I can give them. And he's also becoming more and more hands-on and involved with the horses.  We sometimes have horses who are a handful, horses that tend to be unruly. For years I've usually been the one who handled those types, but now Cory and Andre step in and help. My pride tells me I should be the one to handle the tough cases but I'm not getting any younger, so it's good to have some fresh blood to help out."
As to Stock's future Jones is confident the young man is going to make his mark in the business in a big way.
"I think he's going to be a heckuva a horse trainer one of these days," Jones predicted. "He's got a strong family background in the game, he's a very bright young man, and he has a strong work ethic. When he graduates from the 'University of Hard Knocks' (Jones's description for his barn and racing in general) I think he's got a bright future ahead."