Shore Bets: Monmouth Park September 17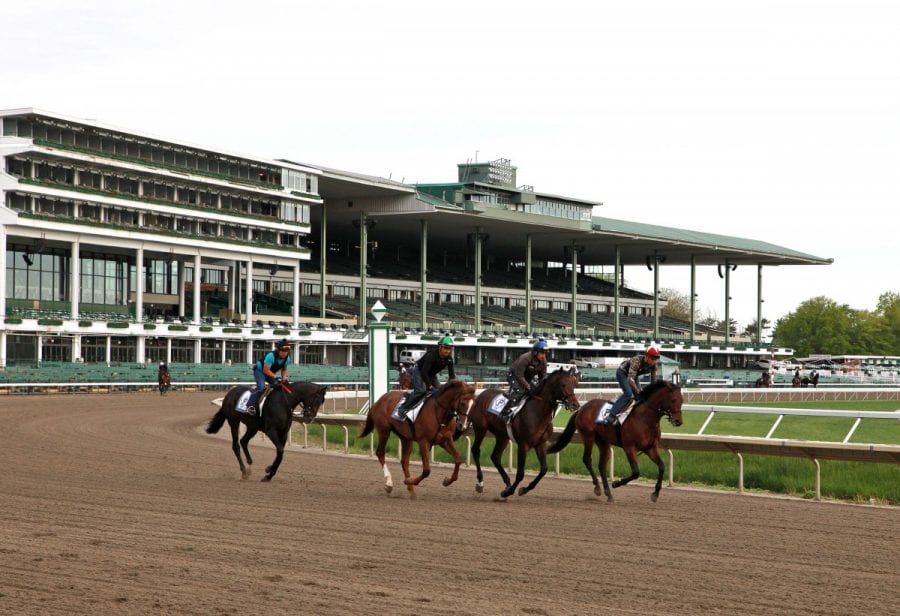 Photo by Bill Denver/Equiphoto.
We are pleased to welcome Shore Bets back for another season of Monmouth Park racing.
by John Piassek
We've only got four days left in the Monmouth season, so let's make them count! On the heels of the news that the Monmouth-at-Meadowlands fall grass meet will have a 15% takeout on all bets, Monmouth has unveiled a ten-race card with a solid 92 entries for today's program.
Race 1: Maiden Claiming $25,000, 2yo, Fillies, 5 ½ Furlongs
2- She'satoughbroad–

Had to check hard on debut when running up on heels, still finished second after being disqualified up from third, should improve sharply with a better trip.

6- Natalie's Angel-

Has been working well steadily at three and four furlongs for her debut, trainer Greg Sacco hits at 17% with maiden claimers.

1- Press Secretary-

Sacco's other first-timer hasn't been working as well, but draws the inside post and picks up Joe Bravo.
Race 2: Claiming $5,000, 3yo and up, Fillies and Mares, 5 ½ Furlongs
2- Kiss Cat-

Never worse than second in four career races at Monmouth, earned an excellent brisnet figure of 89 when defeating a field of similar by four lengths last out, ran an 88 in victory over this track four races ago.

1- Twist and Turn-

Has improved in each of her last four dirt races, won against Jersey-bred allowance horses in her most recent dirt race back in May, will show speed from the inside post.

3- Killin Them Softly-

Won for $5,000 two races ago, then was moved up to n/w1x allowance company first off the claim for Navarro, faded to third with a sharp drop in her figure, drops back down to a level that she's excelled at, so improvement may be forthcoming.
Race 3: Claiming $25,000 (n/w2L), 3yo and up, Fillies and Mares, 1 1/16 Miles (Grass)
8- Legend of Lorelei-

Defeated $35,000 n/w2L foes easily last out at odds-on, is the only member of the bunch to run at least an 80 in her last two races.

2- Believe Indeed-

Lost by a nose after waiting for running room for a while last out, Derek Ryan is not very good first off the claim, but the horse does upgrade to Joe Bravo and has run in the 80s twice recently.

7- Rain on Fire-

Finished third at 25/1 last out after making mild ground from inside, figures to come from the back of the pack and get a minor piece.
Race 4: Maiden Claiming $25,000, 2yo, 1 Mile
2- Catburt-

Ran a fairly impressive 62 in his third race last out, stretches out from 5 ½ furlongs for the first time and will hope to continue his streak of improving in each race.

1- To Honor Stephanie-

Draws the inside post after being hung wide throughout in her debut, trainer Steve DiMauro hits at 19% with horses stretching to a route for the first time.

5- Cheyne of Events-

Drops down from the $40,000 level for the first time, has never run worse than a 56 in two starts, which puts him in the mix for a good placing in this kind of field.
Race 5: Allowance (n/w1x), 3yo and up, 1 Mile (Grass)
9- Lucky Balladier-

Defeated Jersey-bred n/w1x horses last out when making a big four-wide sweep, earning an 88, which is the best last-out figure here by three points, has been in the top three in his last three starts, will hope to handle the transition to open company easily.

1- Sunset District-

Won a starter handicap at 1 3/8 miles last out, earned as high as a 94 three races ago, won his start at a mile on the grass.

8- Wyeth-

Ships down from Saratoga for the powerhouse Chad Brown barn, had a lot of traffic at this level last out and will feel some class relief today.
Race 6: Claiming $12,500 (n/w2L), 3yo and up, 1 Mile
3- Thought Partner-

Broke his maiden last out after battling for the lead and drawing off to win an off-the-grass maiden claiming affair, makes fourth career start here so definitely has a lot of room for improvement.

5- Over the Limit-

The nineteenth time was the charm for this one last out, when he broke his maiden for $10,000 easily, has improved in each of his four dirt races and ran a very strong 83 last out.

7- Moneyman-

Stretches out to a dirt route for the first time after eight sprint tries, has a career-high figure of 82, earned when breaking his maiden three starts back.
Race 7: Maiden Claiming $35,000, 3yo and up, Fillies and Mares, 1 Mile (Grass)
5- Quick Thinker-

Drops into a maiden claiming race for the first time after two fruitless tries at Delaware and Laurel, ran an excellent 78 on debut two races ago, stretching back out to a route should do her good.

10- Kate 'n Kerri-

Rallied late to finish third at 44/1 last out, jumped up sharply to run career-high 73, drifted in the stretch last out and will hope to keep a straight path here.

6- Scarfire-

Led briefly in the stretch of her grass debut before flattening to finish third, ran much better than she's ever run on dirt, looks to have turned a new leaf with the surface switch.
Race 8: Claiming $7,500 (n/w2L), 3yo and up, 5 ½ Furlongs
10- Purrin' Proud-

Claimed out of his disappointing Monmouth debut last out, had been running figures in the mid-80s before laying an egg, new trainer Dennis Kendall hits at 22% with horses first off the claim.

3- Distinctivelyfouru-

Fourth at this level last out, but ran a very strong 78, has improved the figure in his last four races.

5- Speed Running Wild-

Finished a solid third at 70/1 after looking like a bit of a longshot contender last out, hopes to duplicate the magic in this spot.
Race 9: Allowance Optional Claiming (n/w2x), 3yo and up, Fillies and Mares, 1 Mile (Grass)
3- Quest-

Finished fifth and sixth against n/w2x horses at Belmont and Saratoga in her last two, figures in the mid-80s make her a very strong contender, Clement/Bravo trainer-jockey combo is always dangerous.

7- Hanover Honey-

Ships in from Suffolk for the hot Bobby DiBona barn, which has had eight winners from thirty-one starters on the meet, ran in the mid-80s four times in a row before disappointing last out, seeks to rebound here.

5- Baciami Piccola-

Has been overmatched running against stakes company at Belmont and Saratoga, should find the allowance going easier.
Race 10: Claiming $5,000, 3yo and up, 5 ½ Furlongs
10- Stableford-

Has been first or second in each of his last three, running two 88s and an 85, Jorge Navarro is a ridiculously good 42% with horses repeating at a claiming level.

9- Timetogivein-

Third in each of his last two races, with figures in the high 70s and low 80s, has been making mild rallies from mid-pack and should get a share once again here.

6- One For Don-

Won at this level four races ago with a strong 82, has not found that form since, but has been running well enough to make him a contender.