Laurel Dash: Ben's Cat, plus odds and analysis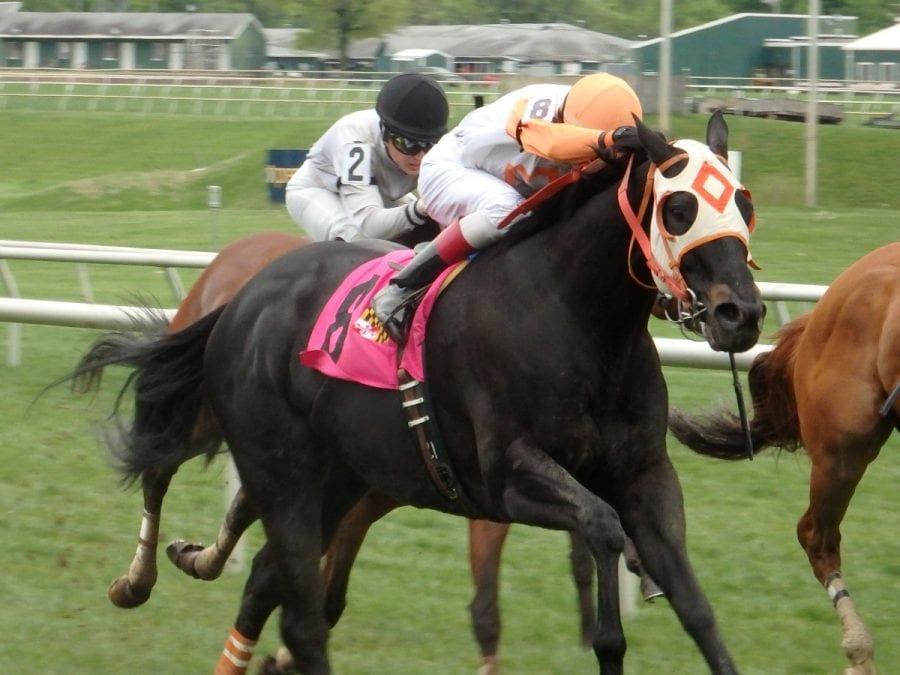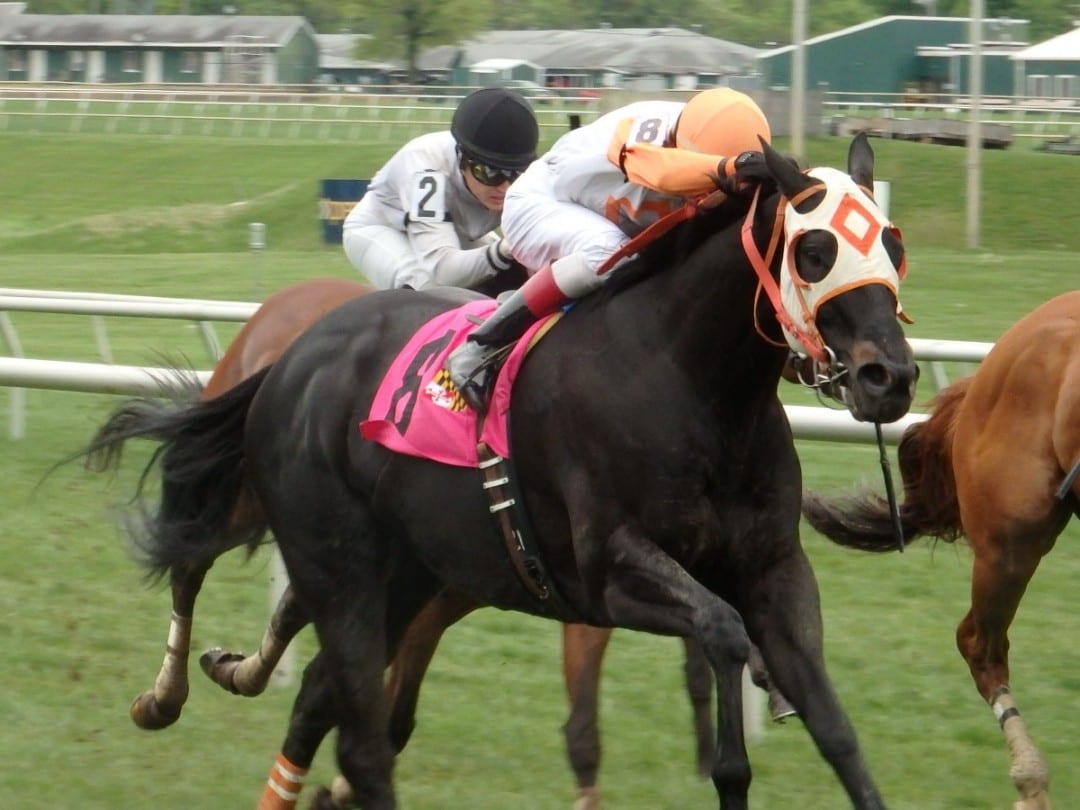 Ben's Cat. Photo by The Racing Biz.
From a Maryland Jockey Club release
Over a distinguished 58-race career that began in 2010, Ben's Cat has won 32 times, 26 of them in stakes, and earned more than $2.6 million. Perhaps as remarkably, the popular Maryland-bred star has never lost more than three races in a row.
Bred, owned and trained by Hall of Fame horseman King Leatherbury, the 10-year-old Parker's Storm Cat gelding will look to continue that streak when he takes the gate in the $100,000 Laurel Dash as part of the 11-race Turf Festival program Saturday at Laurel Park.
[su_box title="
LAUREL DASH ENTRIES
" style="glass"]
For three-year-olds and up, 6 furlongs turf, $100,000 purse
Mr. Brightside (6-1) — Sheldon Russell/Niall Saville — G2-placed going a route of ground, and owns a win at the trip; gelded and gets Sheldon Russell aboard
Mosler (7-2) — Edgar Prado/Bill Mott — Just missed against #10 in here two back but is winless in four tries at the distance
Sallal (6-1) — Feargal Lynch/Graham Motion — Nothing wrong with local debut, and runner-up that day was stakes-placed next out
Wild Woo Who (15-1) — Brian Pedroza/Anthony Pecoraro — This guy's not bad, but the water may be a bit deep
Ben's Cat (3-1) — Trevor McCarthy/King Leatherbury –Fan favorite will need to get back to May form to get the money here; hard to love if projected short odds come to fruition
Triple Burner (20-1) — Yomar Ortiz/Linda Albert — Odds entice on a solid runner beaten two lengths by next-out stake winner in last
Barrel of Love (30-1) — Steve Hamilton/William H. Wolfendale — Beaten by four of these last out
Grandiflora (15-1) — Horacio Karamanos/Ann Merryman — Beaten by three of these last out after steadying at start
A.P. Elvis (30-1) — Forest Boyce/William H. Wolfendale — No longer this kind
Spring to the Sky (4-1) — Mike Luzzi/Bruce Brown — Defending champ figures on the engine early and rates a big shot here; like to see Luzzi make the trip
Just Jack (12-1) — Jevian Toledo/Hamilton Smith — Nothing but upside for a runner never worse than second on the green
John Jones (12-1) — Luis Garcia/Lacey Gaudet — Shocked last out with front-running score; can he double up?
Weekend Hideaway — scratched
[/su_box]
Ben's Cat is a two-time winner of the Laurel Dash, contested over six furlongs on the Fort Marcy Turf Course, having finished first in 2011 and 2013. He was second by three-quarters of a length behind filly Jazzy Idea's track-record performance in 2012 and third by a length in 2014.
"It's right here on our home ground, it's on the turf, it's $100,000, it's a perfect spot basically since all we have to do is walk over to the paddock," Laurel-based Leatherbury said. "This is the spot to run him, no doubt about that."
Ben's Cat opened 2016 with back-to-back wins, an open allowance May 1 at Laurel and his fourth straight Jim McKay Turf Sprint May 20 at Pimlico. He has followed with three consecutive third-place finishes, all in stakes, most recently Aug. 20 in his attempt to win Laurel's Mister Diz for a North American record-tying seventh straight year.
"To be honest, the Mister Diz was a big disappointment. It really was a disappointment but this is horse racing. He's a remarkable horse. To just keep coming back race after race like he has is remarkable," Leatherbury said. "We're as good as we can be under the circumstances."
Leatherbury said Ben's Cat emerged from the Mister Diz with several superficial cuts on his legs, but was unsure whether it was a factor in the race. Under new regular rider Trevor McCarthy, Ben's Cat was in striking position at the top of the stretch but was unable to unleash his late run to catch 43-1 long shot winner John Jones.
Ben's Cat has lost three straight races three times previously in his career – Dec. 19, 2010 – Feb. 21, 2011, Sept. 1, 2014 – Oct. 18, 2014, and Sept. 7, 2015 – Nov. 25, 2015. Each time he came back to win.
"He seems to be OK now. You don't know really how much it mattered in the finish of the race. You like to give a horse excuses but, generally, results are the thing," Leatherbury said. "We got beat up a little bit in that race last time that he ran and it took him a little bit longer to recover than normal. He worked [Tuesday] morning and went nice, so we're in good shape. We're going to enter with every intention to run."
McCarthy returns to ride from post 5 at 122 pounds. A field of 13 was entered including also-eligibles John Jones and Weekend Hideaway, the latter highweighted at 124 pounds.
John Jones was a front-running winner of the Mister Diz in his stakes debut, which was also his first start since being claimed by trainer Lacey Gaudet for owner Matthew Schera, where he sprinted clear of Just Jack late to win by two lengths.
"I did think at the head of the lane that it would be about time. When you see a horse that's 40-1 in front, you know that they're going to be coming to get you," Gaudet said. "They did. They tried to come and get him and he just kicked back on."
Like John Jones, Michael Harrison's Just Jack was making his first stakes appearance in the Mister Diz, finishing two lengths ahead of Ben's Cat. Unraced as a juvenile, the 3-year-old Great Notion gelding has steadily climbed the ladder with maiden and allowance wins since getting his career started in April.
"He's coming into it fine. He came out of the other race good and he's been training as good as he ever has so I don't have any problem running him as far as that part of it goes. We'll see what the competition looks like, but he's been training good and is coming up to the race just fine," trainer Hamilton Smith said. "He ran well last time. The turf course was soft that day a little bit and the winner got out there by himself and we couldn't run him down."
Just Jack drew post 11 with Laurel summer meet champion Jevian Toledo at low weight of 114 pounds.
Defending Laurel Dash winner Spring to the Sky; A P Elvis, third in last year's Laurel Dash, Barrel of Love and Garndiflora, all exiting the Mister Diz; Grade 2-placed Mister Brightside, making his first start since Dec. 26; turf sprint stakes winner Mosler from Hall of Fame trainer Bill Mott; Sallal, Triple Burner and Wild Woo Who round out the field.