Shore Bets: Monmouth Park August 20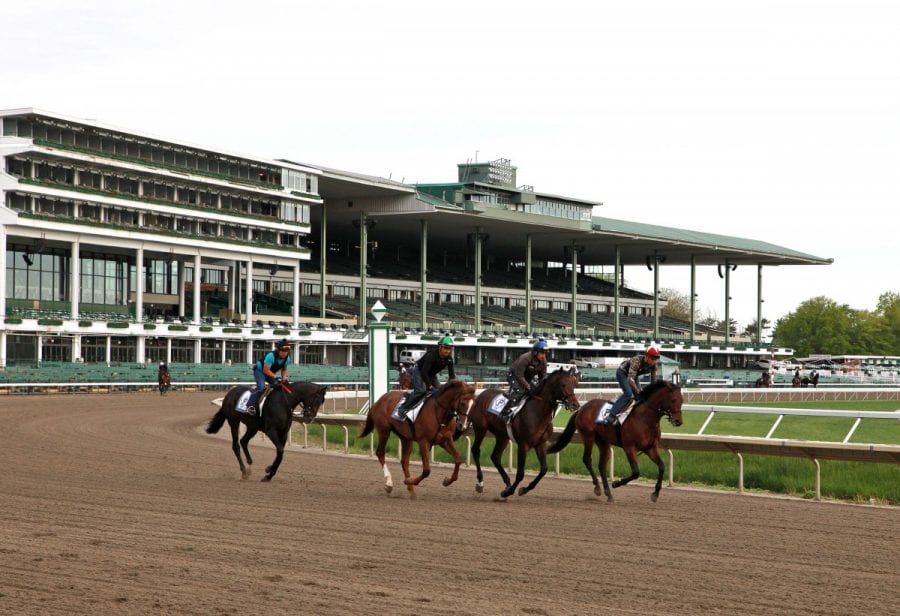 Photo by Bill Denver/Equiphoto.
We are pleased to welcome Shore Bets back for another season of Monmouth Park racing.
by John Piassek
An excellent ten-race card greets us on Saturday at Monmouth Park, the first of the two-day "Latin Fiesta" at the track. On the racing side, today's feature is the grade 3 Monmouth Oaks, which happens to be the best betting race among three-year-old filly races on the East Coast today.
Race 1: Claiming $7,500 (n/w2L), 3yo and up, 1 Mile 70 Yards
This race drew a field of sixteen and was split into two fields of eight. Among the opening division horses, my pick will be the 1, Ghostcatcher. He broke his maiden at today's distance two races ago, earning a fairly strong brisnet figure of 80. He declined by seven points last time out, but still ran a decent third at this condition. His 73 from last out is still the second-best among all the runners here. Unlike a few of the others, he hasn't lost a ton of n/w2L races, so he hasn't been established as a proven loser yet. All these factors put together are good enough for me.
The 4, Bayshore Boy, earned an 83 two races ago when he got an easy gate-to-wire trip. There isn't a lot of speed to his inside, so there's a chance he'll be able to sneak away on the lead once again. If he can, watch out. The 6, Danny My Boy, won at this level last out, earning a 76 while winning by 4 ½ lengths. He's improved his figure in each of his last three, which usually means that a decline is a strong possibility. Still, another mid-70s outing would put him in strong contention.
1- Ghostcatcher
4- Bayshore Boy
6- Danny My Boy
Race 2: Claiming $7,500 (n/w2L), 3yo and up, 1 Mile 70 Yards
The 3, Alex the Dude, gets my nod. He's shipping in from Parx and stretching out in distance from seven furlongs. If he duplicates his form from the sprints, however, he'll be in excellent shape. He ran a 75 at the n/w3L level in his last race, the best last-out figure in the race by four points. He earned figures as high as 83 earlier in the year. Best of all, his trainer is the great Jorge Navarro, who is 29% with horses stretching out to a route, and 36% at the meet in general. Even if the added distance takes a few points off of Alex the Dude's figures, he should still be good enough to win this one.
The 4, Royal Moment, has been fourth in his two tries at this level this year, but he ran competitive figures in the low-70s in those two starts. Facing a rather mediocre field here, those figures may be good enough to win, or at least get a piece of the pie. The 8, Zachary's Pitch, improved sharply last out when stretching out to a mile. He was well behind the winner, but the improved figure suggests he may like routing even more. We'll see.
3- Alex the Dude
4- Royal Moment
8- Zachary's Pitch
Race 3: Claiming $25,000 (n/w2L), 3yo and up, 5 ½ Furlongs (Grass)
We go to the lawn for the first time for this field of claimers. The 1, Canarsie Kid, was last seen finishing seventh against n/w1x New York-bred competition, earning a figure of 80. Given the circumstances, it wasn't a bad effort. It was his first race in almost two months, and he was wide throughout. Despite those obstacles, he was a respectable five lengths behind the winner. Furthermore, that 80 is the clear-cut last-out best in the field, and also a lifetime top for Canarsie Kid. He gets a lot of class relief here, and if he can repeat that last race, or even run within a few points, he'll win.
The 2, Stress Test, is also taking a big drop in class, moving from an open n/w1x allowance at Parx. He finished fourth in his lone career grass outing, earning a 76. As a Navarro trainee, he automatically merits respect. If Canarsie Kid drops off a few points, Stress Test has an excellent chance. The 8, Chasintheblues, has been a non-factor in his last few against better on the New York circuit. He's run up to an 81 earlier in the year, and will seek to regain that form after two disappointing efforts.
1- Canarsie Kid
2- Stress Test
8- Chasintheblues
Race 4: Claiming $5,000, 3yo and up, 1 1/16 Miles
It's an excellent betting race here, with a wide-open group of ten hard-knocking claimers greeting us here. The 4, Ravelo's Boy, has shown fickle form as of late. Two races ago, he was on a fast pace against better horses here at Monmouth, and finished second to earn a 94. Last out, he declined sharply, to finish a non-threatening sixth against $16,000 foes to earn a 78. Still, that 78 is among the best last-out figures in the race. That 94 wasn't a total fluke, either, as he ran an 85 four races ago, and a sterling 97 five back. He's facing easier than he has in a while, and Jorge Navarro hits at 31% with horses dropping by two or more class level. Ravelo's Boy is an overall solid pick.
The 9, Wise Child, also drops in class from starter allowance company, where he most recently finished fifth while earning a 76. He's been running in the high-70s to low-80s all meet long, and has some of the best late pace figures in the field. The 10, Mason's Dream, defeated a n/w3L claiming field last out, earning a season-best 79. He battled for the lead on a slow pace throughout last out, and will hope to slow down the pace and save ground.
4- Ravelo's Boy
9- Wise Child
10- Masons Dream
Race 5: Maiden Special Weight, 2yo, 1 Mile (Grass)
Outside of the Colleen and Tyro Stakes, this is the first two-year-old grass race of the Monmouth season. Only one of the horses in has ever run on the grass, rendering this one a virtual guessing game. I'll try out the 6, Mr. Brix. He has some sort of experience, finishing fifth while running five furlongs on the dirt in his career debut. He's worked well since his debut, suggesting an improvement in form is coming. He's a Paco-Plesa horse, always a combination to respect, and one that is especially dangerous with two-year-olds. Plesa is also 16% with horses making their grass debuts, turning a positive ROI with such horses.
The 7, Giant's Voice, debuts for the powerhouse Todd Pletcher stable, winning at a dominant 34% rate. This one has had grass workouts in the past, and looks to be very well-bred for the lawn. The 9, Ponti Premonition, is the only one in here with grass experience. He was fifth on debut at Delaware Park, after being last for most of the race. He'll have to show more early foot to seriously contend, but his experience nonetheless makes him worthy of a look.
6- Mr. Brix
7- Giant's Voice
9- Ponti Premonition
Race 6: Claiming $12,500 (n/w2L), 3yo and up, Fillies and Mares, 6 Furlongs
The 1, Hissy Fit, has absolutely owned this level this year. She's finished first or second in each of her five races this meet, all of which have come at this class (as a three-year-old, she's eligible no matter how many races she wins). Last out, she popped out from the inside post and drew away to win by 3 ½ lengths, running a very strong figure of 81. As long as she keeps up her good form from this season, she'll beat them laughing.
The 6, Lucky Greatness, won at the n/w2L level last out, earning a 77 while winning by almost three lengths. That was almost as good as the 78 that she ran while finishing second two races ago. She will likely press Hissy Fit near the early lead. The 5, Amour's Charm, came from off the pace to win at this level last out. She makes her third start off the layoff, and retains the riding of the hard-finishing Nik Juarez.
1- Hissy Fit
6- Lucky Greatness
5- Amour's Charm
Race 7: Allowance Optional Claiming (n/w1x), 3yo and up, Fillies and Mares, 5 Furlongs (Grass)
One of the best late pick 4 sequences of the meet begins here. All four races are wide-open betting races, especially this grass sprint. The 3, Sweet Butterfly, gets my nod. She won at this level two races ago at Monmouth, sitting a great trip and getting up to win by a head. She earned an 89 there, backing up the 88 that she ran three races ago. Her last effort was disappointing, but it was against tough $40,000 horses at Saratoga. She's coming back down to Monmouth, over a track that she likes, and a field with a class of horses that she's already beaten. I expect more big things out of her.
The 11, Sunshine Heart, will have to draw off the also-eligible list to run, but if she gets in, don't overlook her. She's finished in the top three in each of her last five, most recently running second against Pennsylvania-breds while running a career-best 87. The 6, Scuba Sue, makes her first start off the claim for the Navarro barn, and has run as high as a 90 on the grass.
3- Sweet Butterfly
11- Sunshine Heart
6- Scuba Sue
Race 8: Allowance Optional Claiming (n/w1x), 3yo and up, Fillies and Mares, 1 Mile 70 Yards
Often, I will declare a filly who runs well against Jersey-breds and is getting ready to debut against open company as the next great New Jersey hope. Most of the time, these predictions do not pan out. The 6, Irish Defence, is the latest candidate for the honor. She'll make her first start in open company here, after two easy wins against Jersey-breds. In her debut, she was very well-bet, and ran a gigantic figure of 89 going six furlongs. She stretched out to a mile and seventy yards last out, and did not disappoint, winning by 2 ½ lengths and earning an 88. Now, she gets her test against open company. She's got great early speed, some of the best figures in the race, and a world of potential. If she wins here, big things could be ahead. We'll see.
The 11, Pleasant Mine, broke her maiden last out at today's distance, winning by three lengths and running a strong 91. If she can improve off of that debut figure, she'll be extremely tough. The 2, Ansible, has not raced since December, but trainer Christophe Clement is 21% with horses off the long layoff. The filly ran two 86s last fall at this level at Aqueduct, and has been working since June getting ready for her return.
6- Irish Defence
11- Pleasant Mine
2- Ansible
Race 9: Monmouth Oaks, 3yo, Fillies, 1 1/16 Miles
From 1999 to 2001, the winners of this race included Eclipse champion Silverbulletday and Breeders' Cup Distaff winners Spain and Unbridled Elaine. I don't think that there's anyone of that caliber here, but it's nonetheless a very good field of seven that should provide some value. The 4, A Place to Shine, is coming off a second-place finish in the Delaware Oaks. She was last early on, but rallied to get second behind Dark Nile, the official wise guy horse of the Alabama Stakes. Her figure there was 89, only the fourth-best last-out number. However, she's got great late pace figures, she's working well coming in here, and should be a great value at 6/1. She won three in a row prior to her Delaware Oaks runner-up finish, and in all three of those races, she was close to the pace. If she can stay near the lead today, she'll be in great shape.
The 3, Tejana, is undefeated in her two-race career, most recently going gate-to-wire to win a n/w1x allowance at Belmont Park. Her figure there was 92, suggesting that she can improve even further in her third lifetime start. Edgar Prado comes in from his summer base of Maryland for the ride. The 2, Mo d'Amour, has been struggling against grade 1 competition in her last few, and gets some much-needed class relief here. She ran a career-high 96 when finishing fifth in the Kentucky Oaks, and earned a 91 when up the track behind Songbird last out.
4- A Place to Shine
3- Tejana
2- Mo d'Amour
Race 10: Claiming $10,000, 3yo and up, 1 Mile (Grass)
The 10, Seeya When I Seeya, will be my play to close the show. He finished fourth in a starter handicap last out, earning a sparkling 93. It was the best figure by far that he's run on grass recently, but he's still in the top echelon in the field. He ran in the mid-80s all winter and spring long at Tampa Bay Downs. He's got a bit of a seconditis streak in him, but not many others in here can run as well as he can, so I don't think that it will matter too much in here.
The 3, China Prince, would, in most circumstances, be the main threat to Seeya When I Seeya. He's had a tough time getting to run on grass, with his last two races being rained onto the main track. When he last ran on the lawn, he won against $12,500 horses by a nose, earning an 83. He's another one who usually runs in the mid-80s. His only issue is that he's getting a severe jockey downgrade. In his last grass race, he was ridden by one of the best on the circuit, Antonio Gallardo. Now, he's getting Winston Kay, a one-man argument for having little robots ride horses instead of humans. Tread lightly as such. The 7, Manacor, gets an upgrade to Gallardo, and probably would've won his last race at Penn National if he was not shut off in the stretch. With a cleaner trip, I expect big things.
10- Seeya When I Seeya
3- China Prince
7- Manacor