For trainer Keith Nations, a successful rebuilding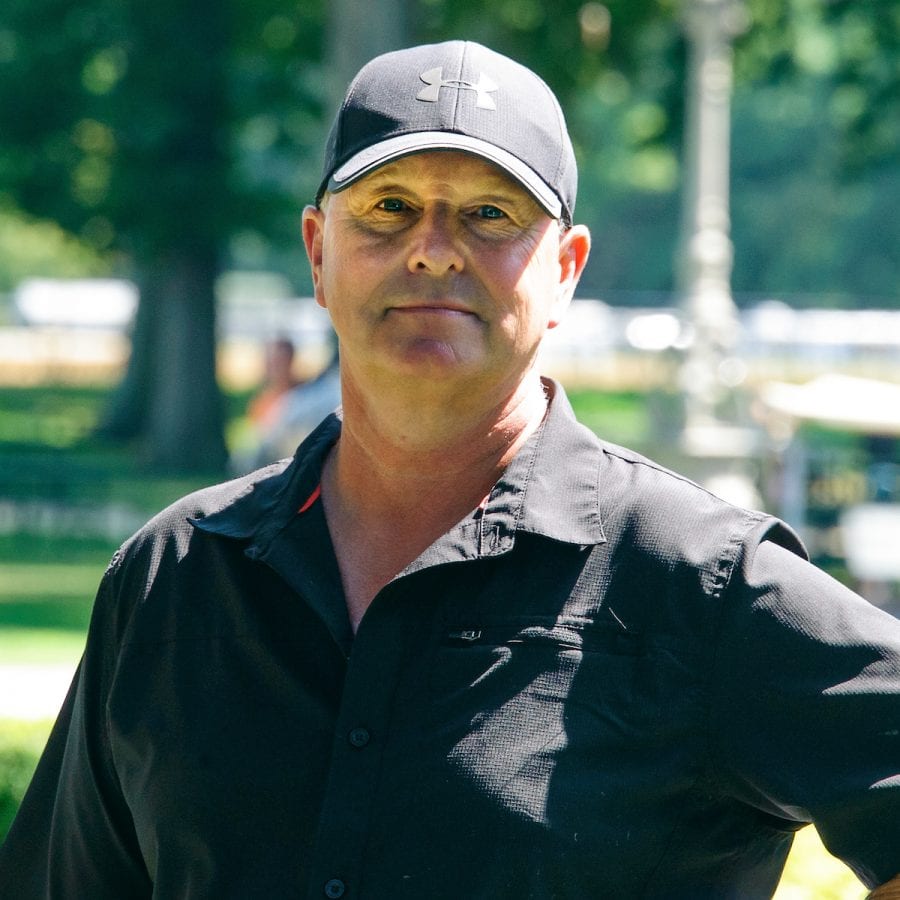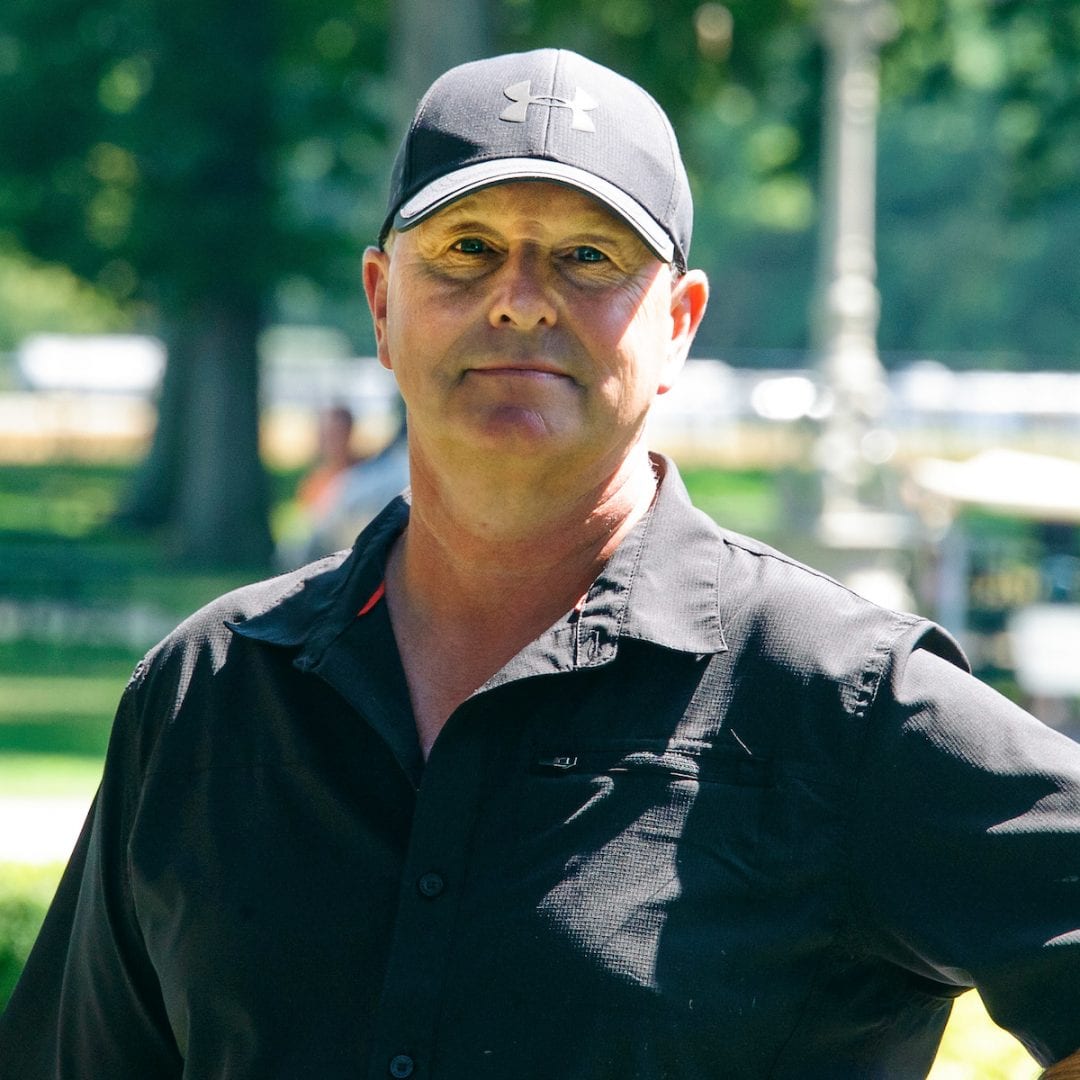 Keith Nations at Delaware Park. Photo by HoofprintsInc.com.
by Doug McCoy
Trainer Keith Nations was quietly knocking out a decent living running horses on the California Fair Circuit back in 2013. He had won 26 races from 99 starts the year previous and when a stable wins at 26% it's a sign they're doing a lot of things right.
The Washington native's wife Cheryl was a vice-president at the University of Washington, and while life in bucolic Northern California with its scenic geography and temperate weather was hard to fault, Nations felt the time was right to take a step up and explore options to race in other areas.
"We were doing O.K. (on the fair circuit) but with today's economics we felt we had to consider making a move to another region where the purses were higher," the trainer recalled recently. "Of course, we also realized that with higher purses we would have to have better horses, so moving basically meant pretty much rebuilding the outfit. We looked at Southern California, but there are some really heavy hitters on that circuit who have a lot of money backing them. Cracking that circuit would have been very tough and very costly."
After a lot of soul searching and research, the Nations family made the decision to move cross-country and begin racing on the East Coast at Parx Racing.
"I arranged to move most of my stock to other trainers since most of my owners were from California." Nations reported, "We agreed I would go East and give things a try while my wife continued to work at the University (of Washington). I brought four horses with me to Parx and fortunately we had Hank Nothhaft in our corner. Hank is an owner and breeder who focuses on Pennsylvania-breds and had stood Breeders' Cup Sprint champion Silver Train at one time. He gave me a lot of support and advice about the area when I first got here. After nine months, I told my wife this was the area for us to race."
And the figures bear that assessment out. In 2014, his first full year in the Mid-Atlantic region, Nation runners won 27 races from 105   starts, a 26 percent strike rate, and those horses earned $645,690. Last season Nations sent out 49 winners from 279 starters and the stable's earnings swelled to $1.543,032.  So far this season, his horses have won 33 times from 160 starts with earnings just north of $870,000.
And that four-horse string that Nation brought East now numbers more than 50 head!
This season Nation made another decision regarding his outfit, deciding to race the bulk of his string at Delaware Park. While he still has horses (predominantly Pennsylvania-breds) at Parx, Nations said the decision to move to Delaware Park had a lot to do with the track's tranquil, horse-friendly atmosphere, as well as its turf course.
"The barns here are the old fashioned type," Nations pointed out.  "The stalls give the horses a good view of the outside and allow them to be more relaxed and more attuned to what's going on around them."
Young horses are the life blood of any stable and Nation has an impressive list of 3-year-olds, headed by Morning Fire. That Friesan Fire colt won the Pasco Stakes at Tampa Bay Downs earlier this year and then came back to finish third in the Grade 3 Sam F. Davis Stakes at the same track.  In March he captured the 6 ½ furlong Spectacular Bid Stakes at Gulfstream Park.
"He's been sidelined since he ran at Oaklawn in the Bachelor Stakes, but he's back with us and just had his first breeze, so you can expect to see him later this year," the horseman reported.  "And we've got a nice Scat Daddy colt named Mister Nofty we've got nominated to the Delp Stakes next week. He's a Pennsylvania-bred who's won three of five starts and he just won a state-bred allowance race on the turf last out. We felt the Delp would be a good spot to see how he handles open company."
Martini Glass, a Kitalpha filly Nations claimed for $16,000 at Tampa, has won four of five starts and Nations describes her as a "nice filly with some good bloodlines. She's between being a stakes level or solid allowance type horse. And we've got Tactical Hero, another solid allowance and optional claiming type."
Nations is also looking forward to running several of what he describes as a "very nice group of 2-year-olds," adding that "We've got some nice ones we've been taking our time with because we feel there's some real potential and talent in the group."
Nations assistant is Campbell Wilson, and the horseman couldn't say enough nice things about his right hand man.
"If you want to give someone credit for much of the success we've had it would be Campbell," said Nations.  "He's a first rate horseman, a real professional and he takes a lot of pressure off me on a daily basis. He could very easily have his own stable, so I can't tell you how pleased we are that he's with us."
Nations' wife Cheryl retired from her post at the University of Washington and now handles the business end of the stable operation, while his daughter Ashley has graduated from culinary school in Baltimore and works at the Gaylord in National Harbor, near Washington, DC.
His owners include Mercedes Stable, Vince Campenella, Hank Nothhaft's HnR Notthaft Racing, Stony Brook Stables, and Nick Sanna. Nations says he is lucky to have the right kind of owners.
"My owners are more like buddies, they're not constantly on the phone, second guessing the training," he explained.  "They've been around long enough to understand the ups and downs of the business and most are just fun folks.  They love to win but they also love being around the barn and around their horses."
Nations will move to Laurel when the live meeting concludes at Delaware Park and will race there through the winter.
"I've been very impressed with the turnaround in Maryland racing in recent years," he observed. "It's tough, competitive racing but the purses are really good, and if you win there you get rewarded. I can see having horses in Pennsylvania, Delaware and Maryland in the future."