Shore Bets: Monmouth Park August 13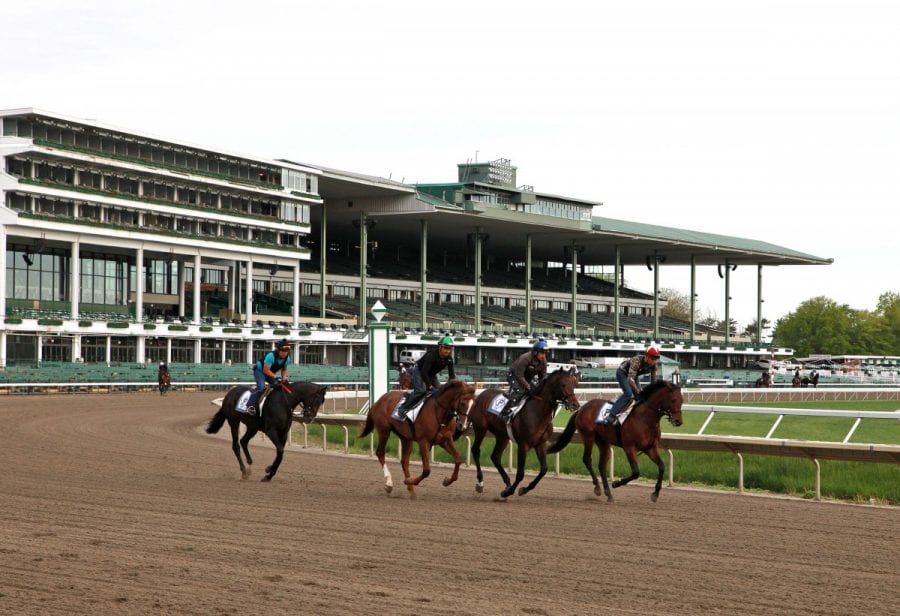 Photo by Bill Denver/Equiphoto.
We are pleased to welcome Shore Bets back for another season of Monmouth Park racing.
by John Piassek
The beat goes on at Monmouth Park on Saturday with a ten-race program, headlined by the My Frenchman Stakes at 5 ½ furlongs on the grass. A field of eight has signed up for this one, and it's looking like a great feature.
Race 1: Claiming $5,000, 3yo and up, 6 Furlongs
Either way you slice it, the Findley Bishop entry has a big advantage over the rest. The 1, Goodnewswithatwist, has been second and third in his last two races at this level. Last out, he earned a 74 brisnet figure, tied for the second-best last-out figure in the field. The only horse better than him? The 1A, Steve's Adventures, has improved his figure in each of his three races this year, most recently earning an 83 after getting mixed up in an early pace battle. Unlike last time, he should have an easier job getting to the lead. The only one to have comparable early figures is the 5, All Up, who hasn't raced in more than a year. Being the possible lone speed, Steve's Adventures may have a very favorable pace scenario. Granted, he is being ridden by Navin Mangalee. But if Steve's Adventures can't come through, Goodnewswithatwist (being ridden by the great Paco Lopez) is the clear best of the rest. Either one would be a great play on their own; as a couple, they're unstoppable.
The 6, Oliver Rush, was a disappointing fourth in his last race at this level. Before that, however, he ran a decent second at this level, earning an 81 in his first start of the meet. The 3, Sassy Defender, has been a better horse since cutting back to six furlongs. He finished third and fourth in his two starts at six furlongs this meet, most recently running a respectable 72. He can definitely sneak into the trifecta at a possible big price.
1- Goodnewswithatwist/1A- Steve's Adventures
6- Oliver Rush
3- Sassy Defender
Race 2: Claiming $25,000 (n/w2L), 3yo and up, 6 Furlongs
Ever since dropping into claiming company, the 3, Town Policy, has had an easier go of things. He was a distant third in his Monmouth debut at the n/w1x allowance level, but still ran a very solid 84. After disappointing at the same condition at Parx, he was dropped down to the $32,000 level at Monmouth for his next start. Getting class relief, he took the field gate-to-wire. He set a remarkably fast opening quarter of 21.4 seconds, only to keep on going to win by a length. His figure there was an 81, by far the best last-out number in the race. With no one here to challenge that early speed of his, I expect another front-running victory.
The 2, Kris the Great, was dazzling while breaking his maiden at Gulfstream back in March, earning a 94 in a 3 ½ length victory. He was disappointing over off tracks in his last two races, so he'll hope to catch some fast going here. The 4, Inky Dinky Do, chased from the outside last out and flattened out. He ran good races earlier in the meet, so if he saves more ground than last time, he may have a shot.
3- Town Policy
2- Kris the Great
4- Inky Dinky Do
Race 3: Claiming $20,000 (n/w3L), 3yo and up, 1 Mile (Grass)
The 2, Talent Show, will get my nod here. He's shown early speed in almost all of his races at the meet, something the other contenders have not done. In his last race, he led almost the entire way, and wound up finishing second by 1 ¼ lengths. He ran a field-best last-out figure of 84, his best number of the season. With the lack of early pace competition, jockey Jose Ferrer will be able to put him on the lead without too much trouble, and will be able to waltz his way around the track.
The 5, Celebrity Warrior, has run at least an 80 in all four of his races this meet. However, he hasn't been able to win any of them, earning three thirds and a fourth. On paper, his numbers put him in the upper echelon of runners, but I can't bet a horse to win at a level that he's lost at four times in a row. The 1, Ginger Goose, disappointed as the favorite at this level last time out, but gets a rider upgrade to Paco Lopez, and lost by a half-length with Paco riding two races ago. He saved ground in that race, and his inside post should enable him to do so once again.
2- Talent Show
5- Celebrity Warrior
1- Ginger Goose
Dirt:
3- Greed is Good
6- Holdtherightcards
4- Saint Roch
Race 4: Claiming $7,500, 3yo and up, 1 Mile
The 7, Kodiak Syd, is my pick. He lost to the heavily favored Bama Bound last time out, but that was through no fault of Syd's. Bama Bound sat an easy trip off a clear leader, while Kodiak Syd was a few lengths behind the big favorite. In spite of that, Syd rallied three wide and missed catching the winner by a neck, running a strong 82. Two races before that, he won by a nose at the $5,000 level with a strong 81. He retains the hard-riding Nik Juarez, and trainer John Tammaro is a very good 17% with horses second off the claim.
Both halves of the Miguel Penaloza entry look good. The 1, Fort Boonesborough, had run three straight races in the 80s, before running a dull race after being hung wide at Parx. In the race before that, he won by 12 lengths at the $5,000 level. The 1A, Extrasexxyeurodude, ran a strange race at Parx two back, where he abruptly lost action at the quarter pole, but re-rallied to win. If he does not randomly stop on the turn here, he can run another big one. The 6, My Son Ernie, has hit the board eight times from fourteen starts this year, and steps down from the starter allowance level into open claimers. He's got the best average late pace in the field.
7- Kodiak Syd
1- Fort Boonesborough/1A- Extrasexxyeurodude
6- My Son Ernie
Race 5: Maiden Claiming $35,000, 3yo and up, Fillies and Mares, 1 1/16 Miles (Grass)
Maiden claimers on the grass begin the Saturday Jersey Shore 6. The 10, Runaway Scarlett, takes a drop down in class from $40,000 maiden claimers at Belmont Park, where she ran decent figures of 69 and 76 in her last two. She's been working well at Belmont since her last race, and it's likely that new trainer Emron Ibrahim simply finds it easier to bring his filly over to Monmouth rather than ship her up to Saratoga. The 69, despite the drop-off from two races ago, is still the best last-out figure in the race. She should find her competition easier than the times before.
The 8, That's Angelina, gets first-time-Lasix for her American debut, after a disappointing eleventh-place finish in her grass debut in Ireland. All three of her workouts for new trainer Derek Ryan have been strong. It wouldn't be surprising at all to see her win her stateside debut. The 4, Teufles and Roses, was fourth at this level in her most recent grass race. She's run between a 66 and a 69 in all three of her grass starts, all of which may get the job done here. At the very least, she should get a good piece of the purse.
10- Runaway Scarlett
8- That's Angelina
4- Teufles and Roses
Dirt:
4- Teufles and Roses
7- Alex's Party
3- Scarfire
Race 6: Claiming $12,500 (n/w3L), 3yo and up, 5 ½ Furlongs
The 5, Santin's Anna, has had only three races on dirt. However, she's made the most of her opportunities, with two victories and a close second in those races. Last out, she rated off a fast pace and won a n/w2L claiming race going away, earning a career-best figure of 83. She improved off her maiden-breaking number of 80. Either of those two races would be good enough to win here. Unlike the others in here, she's not a proven loser; she's never lost a n/w3L claiming race before. This is a filly with some potential, and I expect to see her maximize it here.
The 4, Rockette Jet, has been second in her last two tries at this level at Parx, running in the 80s both times. She'll be on the pace, and there's a possibility that she'll take them gate-to-wire. The 1A, Runaway Train, has been first or second six times from ten career races at Monmouth. She won at the $5,000 claiming level two races ago, with a figure of 80.
5- Santin's Anna
4- Rockette Jet
1A- Runaway Train
Race 7: Allowance (n/w1x), 3yo and up, NJ-bred, 1 Mile (Grass)
A bit of an unusual sight greets us here: Jersey-breds on the grass. The 9, George Cross, was most recently seen in a race just like this one, running a good second by 1 ¼ lengths, running an 83. That figure's better than anyone else has run in their last three races, and George Cross ran an 87 two races ago to back his form up. He really likes the Monmouth track; he's hit the board an impressive eleven times from fifteen races. It's true that he has a bit of second-itis—he only has one win since the start of 2015—but that one win was against Jersey-breds on the grass, not unlike the horses that he'll see here. He likes the track, and has a big speed and class edge over the rest. What more could you want?
The 4, Lucky Balladier, led for most of the way in the Dan Horn Handicap three races ago, before tiring to finish fourth late. He led briefly after making a wide rally before tiring to third in the same race that George Cross exits. His figures are a smidge below those of Cross, but if that one doesn't fire, Lucky Balladier just has to run his race and he may wind up in the winner's circle. The 3, Air Ranger, has finished fourth three times from four races at the n/w3L claiming level this meet. He ran a solid 82 last out, which puts him in the mix. He'll hope to do better against Jersey-breds.
9- George Cross
4- Lucky Balladier
3- Air Ranger

Dirt
1- Strike 'n Spare
8- Mr. Spaceman
11- Shake D'Bone
Race 8: Allowance (n/w1x), 3yo and up, 5 ½ Furlongs
The 6, Wild Street, consistently ran in the mid-80s at Parx last year, winning twice at the beaten claiming level. In his 2016 debut, back in mid-July, he ran a disappointing 70 while finishing a non-descript fifth. However, he returned to his good form last out, winning a n/w4L claimer by a neck and earning an 86. That suggests to me that he's rounding back into his good form from last year, and that he'll once again run a mid-80s figure. That would probably lead to victory at a good price.
The 1, Unruly Heir, also ran an 86 last out, and has good early speed from the inside. His issue is that he cannot win at this level, having lost all four of his tries at the Jersey-bred n/w1x class this year, continuing a streak from last year. I can't endorse him to win at a short price. The 3, Will, broke his maiden against Jersey-breds last out, going gate-to-wire to win by eight lengths with a figure of 81. He's been no worse than second in three races against Jersey-breds this meet.
6- Wild Street
1- Unruly Heir
3- Will
Race 9: My Frenchman Stakes, 3yo and up, 5 ½ Furlongs (Grass)
Today's feature race is named after a great grass sprinter who won four stakes races at Monmouth, including back-to-back runnings of the Wolf Hill Stakes in 1993 and 1994. This year's edition of his race drew a field of eight, and it's a pretty competitive bunch. My pick among them will be the 2, Pool Winner. He's shipping in from Laurel Park, where he recently won an open allowance at today's 5 ½ furlong distance by half a length, earning a strong 90. He's riding a four-race winning streak at tracks in Maryland and Pennsylvania, and has been first or second eleven times out of twelve on grass. There's no notable speed to his inside, and he's got good enough pace figures to run them all off their feet.
The 7, Run For Logistics, was last seen finishing fourth in the grade 3 Parx Dash. He'll get a lot of money because of the class drop and the fact that Paco is riding him. He's working well since the Parx Dash, and won a n/w2x allowance at Monmouth two races ago with a strong 91 figure. The 3, Joe Franklin, ran a 93 when winning a n/w2x allowance at this distance last year at Monmouth. He was a disappointing last in the off-the-grass Wolf Hill Stakes last time out, but at least he got a race under his belt this year.
2- Pool Winner
7- Run For Logistics
3- Joe Franklin
Dirt:
9- Blue Y Gold
10- Alfredo Romana
7- Run For Logistics
Race 10: Maiden Claiming $12,500, 3yo and up, Fillies and Mares, 5 ½ Furlongs
As much as I dislike endorsing chronic losers, it is hard to get past the 8, My Aunt Lilly, in today's finale. She's finished second in each of her last two races at Parx and Penn National, running figures of 68 and 64. Those figures tower over those of her competition. At the Penn last out, she broke slowly, was rushed up to the lead, and unsurprisingly flattened out. The race before that, she got too excited early and set an overly fast pace, only to flatten late. With a better start and a more reasonable pace, she can run even better than she's gone before, which would win easily.
The 3, For My Mom, was third in her lone career start last August, earning a 61. She gets a jockey upgrade to Luis Rivera, and has been working steadily getting ready. She figures to improve a few points from her two-year-old form. The 2, Way to the Bank, has shown early speed in her last few, but tired to finish third in her last two starts. She figures to battle My Aunt Lilly for the lead.
8- My Aunt Lilly
3- For My Mom
2- Way to the Bank