Shore Bets: Monmouth Park June 4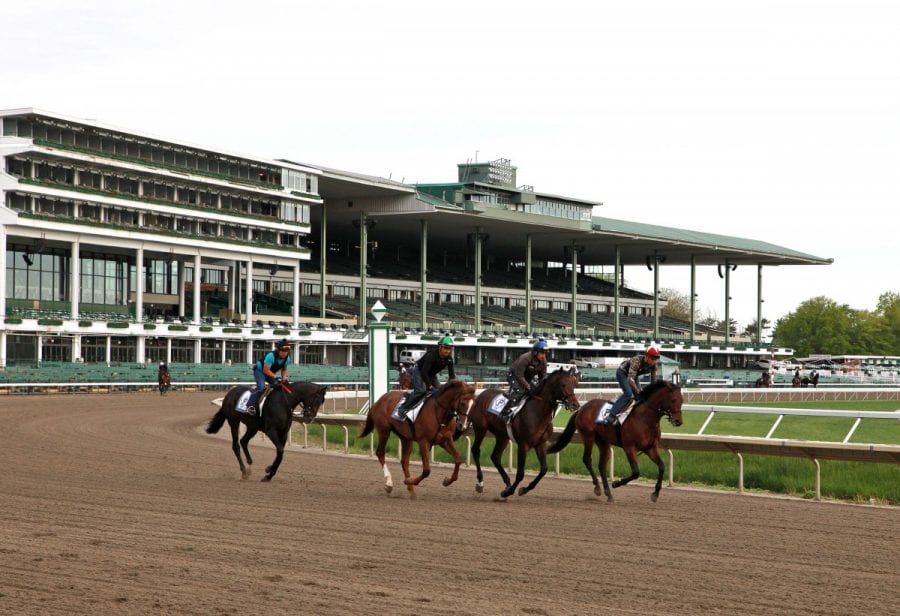 Photo by Bill Denver/Equiphoto.
We are pleased to welcome Shore Bets back for another season of Monmouth Park racing.
by John Piassek
It's another Saturday of racing on tap at Monmouth Park. Today's feature is the Crank it Up Stakes, which drew a field of eleven going 5 ½ furlongs on the grass.
Race 1: Maiden Claiming $12,500, 3yo and up, Fillies and Mares, NJ-bred, 6 Furlongs
We'll begin the action with a field of Jersey-bred maiden claimers going six furlongs. In a race like this, you have to dig deep, so I dug and I found the 5, Miss Modela. In her season debut, she finished a respectable second at this level, holding on for second after breaking through the gate before the race. That was her first race on the dirt since October, so with a race under her belt, she should improve in her third race off the layoff. And there's some reason for optimism on that front: trainer David Nunn is 11% on horses making their third start of the comeback, with a positive ROI.
The 2, Channel Surfing, was a lackluster sixth in her season debut, after showing promising form last year. She lost that last race by eighteen lengths, and there's no real reason to suggest that she'll rebound from that effort, outside of blind faith. Still, she's got the best average early pace and late pace in the field, so there' some glimmers of hope. The 1A, Ruthless T, was a complete non-factor two races back after her rider lost the irons. Last out, however, she finished second by only half a length against similar horses. She's cutting back to a six furlongs here, and may have to keep up with a faster-than-normal early pace.
5- Miss Modela
2- Channel Surfing
1A- Ruthless T
Race 2: Claiming $7,500 (n/w2L), 3yo and up, 6 Furlongs
Whatever you do, under any circumstances, do not bet the 1, Bully Proof. Don't use him in any multi-race sequences, don't bet him to win, just don't bet him, period. He's a huge sucker bet. He was running in n/w1x allowances last year, then got trounced for $25,000 last out, and now is entered for $7,500 second off the layoff. I'm not buying his stock at all. He has no chance.
I will go for the upset with the 4, Billypaysthebills. He was a decent third in his last race, versus similar in his second outing since a vacation. His brisnet figure in that race was a 72, representing an eleven-point improvement over his 2016 debut. Trainer Chuck Spina hits at 18% with horses running third off the layoff, and jockey Jose Ferrer is a decent 14% at the meet overall, guiding home some longshots at decent prices. This is a race where you absolutely have to take a stand against the heavy favorite, and Billypaysthebills is the perfect horse to do it.
The 3, Goose Bay, finished third against similar in his last race, in his first race off the layoff. He ran figures in the upper-60s last year, so he'll seek to run back to that level here. The 7, Naughty Delite, showed strong form last year here at Monmouth, running in the mid to low-70s consistently. He hasn't started since July, however, and trainer Manny Berrios is a dismal 0-for-45 with horses off that long of a layoff.
4- Billypaysthebills
3- Goose Bay
7- Naughty Delite
Race 3: Claiming $20,000 (n/w2L), 3yo and up, 1 1/16 Miles (Grass)
The first grass race of the day drew a full, contentious field of claimers. While it looks like kind of an easy cop-out to go with the Pletcher-Lopez horse, in this case, it's the easiest way to the winner. That horse here is the 6, Tybalt's Queen. Last time out, she was third at Gulfstream Park against similar runners, earning a figure of 77. In the two races before that, she earned figures of 78 and 77. Only one other horse in the race has run a 77 even once in 2016. Her chief weakness is her complete lack of anything even resembling early speed; her early pace figures are among the slowest in the race. If she can be kept closer to the early lead, she's going to be very difficult to catch.
The 8, Brockolini, will make her first start since December. Last fall at Belmont Park, she consistently ran figures in the upper-70s. Trainer Michael Pino is an insanely good 27% with horses off the long layoff, so there's a great chance that she'll be right back to her old ways here. If that's the case, she's going to be tough. The 9, Break Away, finished third last out at Aqueduct. She ran a 76 in that race, and earned up to an 82 earlier in the year at Gulfstream. Watch for her.
6- Tybalt's Queen
8- Brockolini
9- Break Away
Dirt:
2- Awesome Challenge
11- Optimistic Outcome
4- Candystand
Race 4: Claiming $12,500 (n/w3L), 3yo and up, 6 Furlongs
We'll return to the lawn for this field of six going a sprint distance. I'll take the 2, Jacopo. He was on a brutal pace last time out: the opening quarter was run in 21.3 seconds, leading to an incredible 101 early pace figure and a 105 middle pace number. Unsurprisingly, he tired out to finish fifth, nonetheless running a speed figure of 80. In the race before that, he cruised to a gate-to-wire win at Parx, earning a figure of 84. Those are by far the two best races anyone's run in their last two, and he's likely to get a much easier pace to run with today.
The 1, Megacosm, broke his maiden for $16,000 a few races back at Gulfstream, and finished a rather blah fifth last out, running two days after he worked three furlongs. He was claimed out of his last race by Pat McBurney, who hits at 16% first off the claim. The 5, Brother Chub, was disappointing last out, not being able to close off the fast pace set by Jacopo. He consistently ran in the mid-70s before that, so he will hope to rebound in this spot.
2- Jacopo
1- Megacosm
5- Brother Chub
Race 5: Allowance Optional Claiming (n/w2x), 3yo and up, 5 ½ Furlongs (Grass)
A competitive allowance field lines up here. Then again, maybe it's not too competitive: after all, there's a horse in here trained by Eddie Plesa and ridden by Paco Lopez. Plesa's hitting at a ridiculous five-for-ten this season, and when he teams up with Paco, they're nearly unbeatable. Their entrant here is the 4, Run for Logistics. He was fantastic running last year in New York, finishing either first or second in his last five grass races. In his last race prior to going on the shelf, he won going six furlongs on the grass at Belmont, earning a figure of 90. That's got a good chance of winning this race. He's had plenty of workouts coming in here, and with that trainer-jockey pair behind him, expect him to run well first off the bench.
The 3, Snowday, ran some excellent races last fall, earning a 94 and a 96 in his last two. His only problem is that he comes in second all the time: he's run second four times in a row, and has an overall career mark of 26-2-8-3. He turned in a bullet workout in preparation for his first outing since last November. If he can somehow find a way to snap his seconditis, he's going to be tough. The 8, Wild Wild Woo, led almost all the way around last out at Gulfstream before losing by ¾ of a length. He's consistently run in the upper-80s to low-90s.
4- Run for Logistics
3- Snowday
8- Wild Woo Who
Dirt:
6- Brothersofthetime
4- Run for Logistics
7- Chubble Maker
Race 6: Starter Optional Claiming $35,000, 3yo and up, 6 Furlongs
Don't let the obtuse conditions or the small field fool you: this is an excellent field of older sprinters. This race probably provides more value on the exacta and trifecta fronts, however, because the 4, Shaft of Light, looks fairly imposing on paper. For one, he's being trained by Jorge Navarro, who is the leading trainer at Monmouth and is causing many twitter pontificators to lose their minds. His big advantage is his early speed. Last out at Gulfstream, he went directly to the front, and drew off to win by eleven lengths, earning a figure of 99. Two races before that, he got to a clear early lead and won by nine lengths. He turned in a strong four-furlong drill on Wednesday, suggesting that he's in top form and is ready to go for this spot. Now, he had a clear lead two races ago and tired to third, so there is the possibility that he'll tire out again. But don't count on it too much.
Because people who bet Monmouth aren't fools, Shaft of Light doesn't figure to provide too much win value. Who to go with underneath is an interesting exercise, as below the Shaft, if you will, lies a bunch of evenly matched horses. The 6, Thunder Harbor, is an interesting prospect. He won two in a row at Tampa Bay Downs this winter, then finished fourth last out after getting away to a slow start. His figures when breaking cleanly were in the mid-90s, and possibly capable of toppling Shaft of Light. It all depends on how he breaks. The 1, Blue Y Gold, gets a big jockey upgrade from Pablo Fragoso to Paco Lopez, and ran a decent 91 when making his first start off the layoff last out. In the race before that, he ran a sterling 102.
4- Shaft of Light
6- Thunder Harbor
1- Blue Y Gold
Race 7: Maiden Claiming $35,000, 3yo and up, 1 1/16 Miles (Grass)
Today's fairly interesting late pick 5 sequence begins with these maiden claimers on the grass. I'll take the 9, Salt Mine, to begin the wager. He narrowly missed in each of his last two races, both of them at this level at Gulfstream. His figures have also been fantastic; he ran a 79 last out and an 85 two races ago. He gets a jockey upgrade to Paco Lopez, and he worked out well two weeks ago. All those factors together results in a winning formula.
The 3, Bronze Bull, ran an 83 in his grass debut last out at Laurel Park. He's dropping down from the maiden special weight level. This Jersey-bred will make his first start in his home state, and ships in for Cathal Lynch, who hits at 24% with shippers. The 10, Sanad, sports an unsightly 0-for-15 lifetime mark, and has been second or third in each of his last six races. He's the very definition of a sucker horse, but his last two figures (a 79 and an 85) keep him in the hunt for the underneath positions.
9- Salt Mine
3- Bronze Bull
10- Sanad
Dirt:
11- Fake Frontier
13- Tyrrhenian
7- Snowfly
Race 8: Allowance Optional Claiming (n/w1x), 3yo and up, 1 Mile
This race offers a rematch between the one-two finishers of a race on opening day: the 3, I'm Steppin' it Up, who finished second, and the 4, Gombey Dancer, who won. Gombey Dancer surprised few, winning at 4/5 odds, but I'm Steppin' it Up ran a huge race, setting fast opening fractions and holding on for the place spot. Gombey Dancer sat off that pace and got by, but not before I'm Steppin' it Up gave him a huge run for it in the stretch. Will anything change here?
I think so, because of the trainer change for Gombey Dancer. He'd been running for the powerhouse Jorge Navarro barn, finishing first or second in his five races for Navarro. He also earned a figure above a 90 in four out of those five races, earning a 94 last out. However, he was claimed out of that last race by Norman Follett, who until Friday had not entered a horse in seven years. Who knows how he'll run under Follett? I'm Steppin' it Up, meanwhile, ran a 93 in that last race, and a 94 three races ago. If you assume Gombey Dancer will regress here, I'm Steppin' it Up has a big figure edge over the rest. He'll also be much better value.
Another interesting contender is Todd Pletcher's horse, the 2, Eel. He broke his maiden last out by eleven emphatic lengths at Gulfstream, running a figure of 86 first out. That race was at seven furlongs, so he's only stretching out one extra furlong, and Pletcher is a strong 25% with horses routing for the first time. He's also been firing impressive four-furlong bullets at Saratoga to get ready for this race. If he improves second time out, he'll be tough.
3- I'm Steppin' It Up
4- Gombey Dancer
2- Eel
Race 9: Allowance (n/w2x), 3yo and up, NJ-bred, 6 Furlongs
It's the great migration of the Jersey-breds back to Monmouth here. Six out of the eight runners in here have not run since at least January. As such, I'll take one of the fresher horses in the bunch: the 8, Mello Groove. He won on opening day, closing from the off the pace (a fairly unusual feat in a sprint race) to defeat a field of n/w1x Jersey-bred horses. He ran a figure of 85 in that race, after earning an 89 in the race before that one. That last race has a similar profile as today's race: it featured a lot of horses coming off a layoff. Mello Groove was relatively fresh coming in (his last race prior to opening day was on January 9), and he won. I expect a repeat of that here.
The 3, Papadopalous, won at the Jersey-bred n/w1x level last summer, earning a figure of 88. He had a five-furlong bullet workout getting ready for this race, so he'll be in top shape to try and return to last year's form. The 2, Padre Graz, was well-beaten against open company in his first race off the bench last out, but still ran an 88. He takes a big step down in class here, and returns to a level that he finished second at twice last year.
8- Mello Groove
3- Papadopalous
2- Padre Graz
Race 10: Crank it Up Stakes, 3yo, Fillies, 5 ½ Furlongs (Grass)
A full field of three-year-old fillies lines up for today's featured race. If the 11, Brandy's Girl, can duplicate her last race, this one will be a blowout. She defeated an allowance field last out at Gulfstream, winning in gate-to-wire fashion by two lengths while earning a figure of 95. That's six points better than anyone in the field has earned. She's going to have a tough task here, breaking from the far outside post, but she's got by far the best early pace figures in the race, so even if she can't go at her maximum breakneck early tempo, she can still get to the front and win it.
The 1, Ramblin N Gamblin, is two-for-two sprinting on the grass lifetime, running a peak figure of 89. She has early speed and the inside post, both major tactical advantages. The 10, Tippling Ways, ran a solid 83 on debut at Laurel, and figures to rate just off the leaders and pounce on the turn.
11- Brandy's Girl
1- Ramblin N Gamblin
10- Tippling Ways
Dirt:
6- Giddy Up
1- Ramblin N Gamblin
5- April Gaze
Race 11: Maiden Special Weight, 3yo and up, 6 Furlongs
In his career debut last out, the 6, Definitely Tonight, made a decent showing of himself. He finished third, chasing front-running winner Ignorant Heist, while earning a solid figure of 76. That's consistent with what the best in here have been running, he's more than capable of improving off of that race, and it was earned recently, so we know that he's still in top running form. All that equals the nod as my top pick.
The 4, Shuffle Up, is a first-timer for Wayne Catalano, who's 19% with such horses. Paco also picks up the mount on this well-meant firster, who's been working well. He's a 9/5 favorite on the morning line; watch the board to see if there's action on him. If there is, watch out. The 7, Barney Mac, makes his return to the races after last running fourth in his debut at Penn National back in October. He ran a 75 in that race, so even a repeat of that race bodes well for future success.
6- Definitely Tonight
4- Shuffle Up
7- Barney Mac