For trainer Tom Clark, a life lived around horses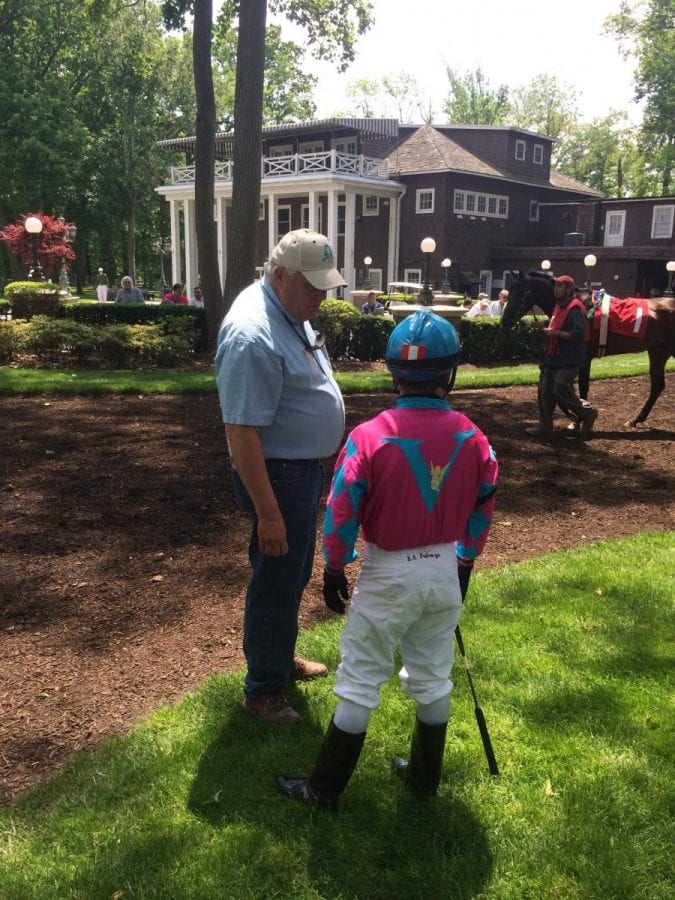 Tom Clark gives instructions. Photo courtesy of Delaware Park.
by Doug McCoy
When trainer Tom Clark says he grew up around horses he's not exaggerating. Clark says his father owned, trained, bought and sold horses of all breeds, and the younger Clark says his earliest memories are of living and working around stockyards and ranches in Arizona.
"I can't remember a time when I wasn't around horses," said the 56-year-old trainer, whose string is spending the spring and summer at Delaware Park.
Clark's father notched his name in equine history with a speedy paint horse named Painted Joe. According to facts gathered by the Paint Horse Journal, Painted Joe took on some of the most famous quarter horses of the era from 1942 through 1944, defeating quarter horse stars such as Clabber, Squaw H and Miss Banks. A celebrated match racer through the 1940s, Painted Joe twice met and defeated the Oklahoma-bred quarter horse legend Grey Badger II.
As Clark recalls, it was almost pre-ordained that his future would involve horses of one type or another. Realizing his best chance of making a living lay with thoroughbreds, he headed north to Idaho in 1978 and began racing at Boise.
"I was a young pup, still learning when it came to thoroughbreds, and there were other young guys doing the same thing," Clark said.  "Gary Stevens was just beginning to ride back then, and he was one of the gang at Boise."
Later Clark headed to the Pacific Northwest, racing in Oregon and Washington while he continued his education.  During that period his main clients were Abergwaun Farm and Grasshopper Stable.
"I worked for some top horsemen back then, guys like Don Robertson and Mike Chambers, [and] then in the mid-90s I began training on my own," Clark remembered.
Soon thereafter, in 1999, Clark, who is divorced, left the game for a decade or so to spend more time with his kids, son Thomas and daughters Shannon and Krystal.  When he decided to get back into the business, in 2010, he contacted Dennis and Wesley Ward. "I've been friends with Dennis for a long time and watched Wesley grow up," Clark says.
He worked for them in one capacity or another for several years then went back out on his own. He met old friend owner-breeder Vic Carlson at one of the sales, and Carlson sent Clark several young horses to develop. "Vic's one of my oldest and dearest friends and he's also been my main client for a number of years," the horseman added.
Carlson, who owns First National PTM, a company that sells and places ATM machines at locations through the Northwest, was also co-owner of Musket Man, who finished third in the 2009 Kentucky Derby. Musket Man's career at stud has been an odd one, as he had stints in Korea, New York and Florida before Carlson stepped in and brought him to Louisiana.
Clark says his owner believes Musket Man has more to offer as a sire than he has been able to display, and one of the first of Musket Man's offspring since moving to the Pelican State is a promising 2-year-old filly named Dancing Tinkerbell. Dancing Tinkerbell made her first start on May 23rd at Delaware Park in a 4 ½ furlong maiden special weight sprint and led to mid stretch before weakening to finish third.
"She's a speedy little filly and she should get a lot out of that first race," Clark said. "We've got 10 head here and most of them are young horses we hope will develop into solid runners.  Delaware Park is a good place to train, the backstretch is quiet and laid out nicely and horses seem to do well here. I've been racing here for five or six years and enjoy the surroundings. Hopefully you'll be hearing more about our youngsters as the meet goes on."