Vim won an allowance at Laurel Park on March 20. Photo by The Racing Biz.

From Staff Reports
YESTERDAY'S NEWS: WINNING

Jockey Trevor McCarthy continued his roll Saturday at Laurel Park, winning three times for the second consecutive day.
And he wasn't alone.  Horacio Karamanos also won three at Laurel, as did Jorge Vargas, Jr. at Parx Racing.
Karamanos took the day's biggest race, guiding Lady Sabelia to a hard-fought win over Disco Chick in the $75,000 Primonetta Stakes for older fillies and mares.

Karamanos also took race six, a $25,000 maiden claiming affair, with debut runner Proud to Say, and race two, with Great Smoke.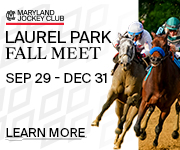 For McCarthy, the six-win weekend gave him a five-win advantage over Victor Carrasco in the jockey standings.  He guided 3-10 Pagan Power to a 12-length, maiden-breaking score in the first; Tequila Hero to a win in the fifth; and First Bid to triumph in the nightcap.
One win each for Karamanos and McCarthy was for trainer Jamie Ness.
Meanwhile, Vargas dominated the day at Parx Racing, taking three of the eight races contested.  His final win, aboard Lawyer Dave, came in the day's featured race, a second-level allowance.  Though Lawyer Dave had finished sixth or worse in his last three starts prior to Saturday, he proved much the best for trainer Marco Zulueta, winning by two lengths.
Vargas also won the sixth, aboard Duval, and the first, on Win Wish.
ALSO…

The market for $4,000 claimers was lively at Penn National Saturday evening.  The night's fourth race, a $4,000 claimer for fillies and mares going a mile on the dirt, saw four of the seven runners claimed.  That group included winner Lady Gracenote, who went to trainer Sandee Martin; runner-up Anita Marie, taken by Eduardo Rojas; show horse Just a Wildflower, who went to Tim Kreiser; and last-place finisher Built in a Day, claimed by Jeffrey Englehart.
Canaans Surprise was declared a non-starter in Saturday's first race at Charles Town.  The five-year-old, making just her second career start, appeared to be held in the gate and reared up before finally getting rolling.
LOOKING AHEAD: TODAY'S RACING

Parx Racing hosts a lengthy 11-race card today, 10 of which are claiming or maiden claiming races.
The featured 10th race, a first allowance for three-year-olds, has drawn an interesting group of seven set to go six furlongs.  Ramon Preciado trainee Atizapan gets the nod as the 2-1 morning line favorite and enters off a 12-length win in a $40,000 maiden claiming race over the strip.  But he's no sure thing: Cardio Cowboy (3-1), who won at first asking in December, found the going a little tough in the Grade 2 Swale but should appreciate the class relief here.  Discreet Lover (5-1) broke his maiden over the strip in August and then turned in a good third in the Hall of Fame Stakes before a couple of rough outings led to some time on the bench.  He'll make his first start since November.