From a Maryland Jockey Club release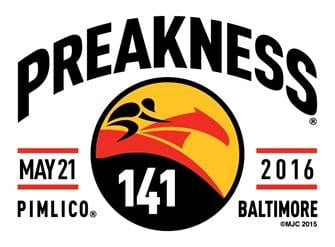 The Maryland Jockey Club announced today that ticket sales to the 141st Preakness Stakes Saturday, May 21, are up 10 percent over last year.
The Preakness Stakes, the middle jewel of racing's Triple Crown, is the highlight of Preakness Week at historic Pimlico Race Course. The week includes InfieldFest, which has become one of North America's most eclectic music festivals, and Black-Eyed Susan Day featuring the Ultimate Girls Day Out.
There are several events throughout Preakness Week including a new VIP experience at the Alibi Breakfast for $60 per person.
Seats remain for Preakness Day in Grandstand Upper Reserve and limited ticket amounts remain in the exclusive Grandstand Lower Boxes. InfieldFest General Admission tickets are $75 and MUG Club tickets are $95 through March 31. InfieldFest General Admission tickets go up to $85 and MUG Club tickets to $105 on April 1.
Tickets can be purchased by calling the Preakness ticket office (877-206-8042) or by logging onto http://www.ticketfly.com/org/1780.
The Maryland Jockey Club is also moving ahead with improvements for guests at Pimlico, which opens May 12.
A new LED, high-definition board – measuring 21-feet high and 32-feet wide – has been installed in the infield. Meanwhile, after suffering a loss in water pressure during Preakness Day last year due to a water main break, a main booster pump has been installed to prevent another loss in pressure. Pimlico will also have several new concessions and bar layouts and offerings will be reconfigured to accommodate guests in a timelier manner.
"We want to improve the customer experience during our time at Pimlico," said Sal Sinatra, President and General Manager of the Maryland Jockey Club. "The new LED board will be brighter and clearer and in high definition. The main booster pump will prevent a loss in water pressure like we experienced last year when there was a water main break off property."