by Frank Vespe
For the third time in recent weeks, a Maryland-based jockey will miss time after running afoul of the Maryland Racing Commission's drug rules.
Rider Eric Camacho has been suspended "until such time as he has been professionally evaluated" after a urine sample he provided to Commission investigators tested positive for the presence of marijuana, the stewards' ruling says.

In order to be reinstated, Camacho will need to prove he is currently clean by passing a drug test and have a professional counselor testify that he is clean and does not appear to need further treatment.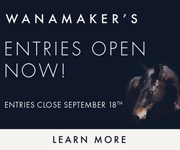 In mid-January, riders Xavier Perez and Nik Juarez each was suspended, the former after his sample tested positive for amphetamines and the latter after failing to submit a required urine sample.  Both have since been reinstated by the stewards and, after signing a waiver allowing track owner the Maryland Jockey Club (MJC) itself to collect and test urine samples from them, are riding again at tracks owned by the Stronach Group, which owns the MJC.
Camacho was fined by the stewards after failing to fulfill his February 1 riding obligation without notifying them or the Clerk of Scales.  Then, on February 5, the riders in the second race, in which Camacho had a mount, were ordered to provide post-race urine samples.  That is part of the Commission's ongoing efforts to implement a random testing program on its jockeys.
"The Commission wants all the jocks tested," explained administrative stewards Adam Campola, "and they're doing a race at a time."
Campola said that jockeys who test positive can get a split sample tested "if they choose to" but that Camacho did not do so.
Camacho, 32, has won 772 races from 4713 races in his career with purse earnings of $15,329,815.  He enjoyed his best year in 2005, when his mounts won 164 races and earned over $2.9 million, one of three years he won at least 100 races and one of seven in which his mounts earned at least $1 million.
In 2015 Camacho won just four times from 56 starts, and he has won on three of 13 starts so far in 2016.  He has won three graded stakes in his career, two aboard Bsharpsonata in 2008 and on Debt Ceiling in 2013.