From a Maryland Jockey Club release
Jockey Victor Carrasco spent much of Saturday afternoon in the winner's circle at Laurel Park after riding five winners on the 12-race program.
Carrasco, who earned the Eclipse Award for outstanding apprentice in 2013, won aboard Star Gazer ($4.40) in the fourth, Purple Friday ($13.80) in the fifth, Registrada ($4.60) in the seventh, Souperfast ($26.80) in the 10th and Seaside Schiller ($5.20) in the 11th.
"It's awesome to win five in a day…it's not easy to do that," Carrasco said. "When I was looking at the races yesterday I saw I had a few horses who had a good shot. It feels great."

Carrasco, a native of Puerto Rico, was leading rider earlier this year at Pimlico and ranked second in the Maryland standings last year with 126 victories.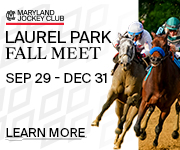 Jockey Nik Juarez also had a good day, winning three races aboard Newscast ($4) in the first, Steve ($7.20) in the second and Monkey's Medal ($23) in the ninth.
The 10-cent Rainbow 6 returned $11,571.89 Saturday. There will be a Super Hi 5 carryover on Sunday's first race of $854.