by Teresa Genaro
When Rodney Jenkins' Phlash Phelps got headed in the stretch of the Maryland Million Turf by veteran Roadhog, the trainer said to himself, having watched his horse get discouraged in previous races, "Let's see what he's made of."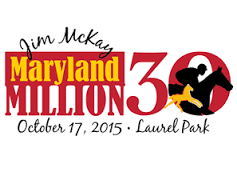 The four-year-old gelding had sat comfortably behind pace-setting longshot Jo Way Java before sprinting to the lead heading into the far turn, only to find himself in a duel with local favorite Roadhog running to his outside.
And while earlier in the horse's career such a challenge might have cowed Phlash Phelps, he answered back vehemently Saturday, jumping back into the bridle and coming back on Roadhog to win by three-quarters of a length.
It was his fourth win in a row and second consecutive stakes win, following a year of futility in which he failed to find the winner's circle in his first six races.
"All of a sudden he came around," said Jenkins. "He began to be much braver, even in his workouts."
Jenkins recalled a race last year in which he thought his horse had made a winning move, only to see him stop.
"I said, 'We're going to win,' but then he saw a hole and said, 'Oh, no, I can't do this,'" Jenkins recalled.
Encouraged by the horse's flashes of speed and talent, Jenkins kept on with him, thanks to the patience and support of owner Ellen Charles of Hillwood Stable. He nursed him through a series of popped splints. He put blinkers on, he took them off. He gelded the bay son of Great Notion.
"Finally I said, 'Let him be himself,'" Jenkins said. "He's a very smart horse."
Crediting the work of his exercise rider, groom, and assistant trainer, Jenkins said, "I can't mess with him much. He's a beautiful thing to watch. I watch horses run all day, and he runs just level, smooth—he's not working. He's just running."
"I think he's really game," said jockey Victor Carrasco. "Every time he gets a horse next to him, he gets angry, like he doesn't want to let the horse by him."
The win was Carrasco's first since returning from a broken hand, suffered at Delaware Park in August. He had ridden for Jenkins earlier on the card, finishing fourth, and all four of Phlash Phelps' victories have come with him in the saddle.
"He's one of the nicest young people I've ever met in my life," said Jenkins. "No matter what, he was going to ride my horse. It wasn't his fault he got hurt, and I knew he'd come through. I had to give him a horse to get back on his feet, and you'll see, he'll go right back up the ladder."
"They have plenty of confidence in me," said Carrasco of Jenkins and Charles. "They never give me any instructions. It feels awesome to be back in the winner's circle."
Phlash Phelps would typically get the winter off, though Jenkins is hesitant to stop on him just yet, given how well he's doing, and it's possible, should the right spot come up, that the horse will run again this year.
"I always had high hopes for him, and he's doing the best he's ever done," Jenkins observed. "He was leading me down a bad road there for a while."
Then he laughed. "Or maybe I was leading him down one."