The strategy for Taylor Hole and Admirals War Chest in Saturday's $150,000 Maryland Million Classic, for horses sired by Maryland stallions, was simplicity itself.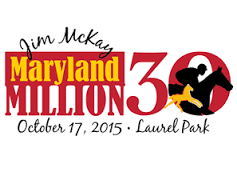 "I said to Taylor, just break and send him," said trainer Corby Caiazzo. "They're going to close on you, but if you get a big enough lead, maybe they won't catch you."
And that was exactly how it played out over a Laurel Park main track rated fast.
The four-year-old Maryland-bred son of Elusive Charlie zipped to the lead in the first jumps of the 1 1/8 mile racerace, widened rounding the turn for home, and then had just enough to hold off the late surge of Bullheaded Boy, a son of Bullsbay sent to Laurel Park by trainer Todd Pletcher.
It was, said breeder-owner Dr. Stephen Sinatra, a strategy dictated not by the exigencies of today's race but by generations upon generations of breeding.
"War Admiral, his great-great-great-great-great grandfather — War Admiral that raced against Seabiscuit – always took the lead," Sinatra said. "On the bottom side there's Ann Campbelle and Divine Wine, and that's a great cross with Elusive Quality [the sire of Elusive Charlie]."
Though just 9-2  in the wagering, Admirals War Chest entered the race with credentials as thin as any horse's here.  Only one horse, Fort Collins, had as few victories, and he finished eighth of nine.  And Admirals War Chest had the lowest earnings of any starter.
But Sinatra said he wasn't worried.
"I was expecting a win right from the beginning," he said.  "The last time at Penn National, he won by six, and he was feeling like King Kong."
Favored Talk Show Man seemed to be in a solid stalking position a few lengths behind the leader while three wide on the backstretch.  But when Admirals War Chest moved entering the far turn, Talk Show Man and rider Xavier Perez had no answers.
As Admirals War Chest guided the field into the stretch, it quickly became clear that the lone threat was Bullheaded Boy.
"Dr. Sinatra's wife Janet was saying, 'We're going to win it,'" Caiazzo said, joy and relief commingling on his face.  "And I said, 'The wire's not here yet.'"
Once Bullheaded Boy straightened away and switched leads, he came with a bold move.  A couple of jumps more would likely have been enough.  But he didn't have a couple of jumps more.
"I didn't think he [Bullheaded Boy] could get there," Sinatra averred after the race.
The margin was a diminishing neck, and it was more than 10 lengths farther back to show horse I'm Mr. Blue.  Talk Show Man, the 2.60-1 favorite, was fourth.
"I knew he could go a mile on the front end," said Caiazzo, "but the last little bit I was worried about."
It was the first career stakes win for both Admirals War Chest and his 43-year-old trainer.
Admirals War Chest has now won three of 12 career starts, and the $82,500 winner's share pushed his career earnings past the $165,000 mark.  He's won two straight now, and all three of his wins have been in gate-to-wire fashion.
Not Abroad, the 2012 Classic winner who recently returned to racing after a three-year break, finished ninth.