Most of the crowd came to celebrate Ben's Cat's record-breaking fourth victory in a Maryland Million race, in Saturday's $100,000 Sprint.
All but the savviest handicappers, however, went home disappointed.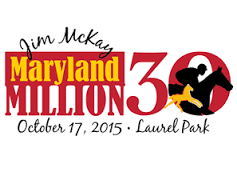 In a head-bobbing battle for the last eighth of a mile, Jack's in the Deck got his nose down on the wire to edge the nine-year-old fan favorite Ben's Cat.  It was two lengths back to defending champ D C Dancer in third.
Jack's in the Deck, a six-year-old Love of Money gelding, won for the fifth time and pushed his earnings past $300,000.
"It was very intense, you know," said Jack's in the Deck's rider, Forest Boyce.  "We kept passing each other."
Ben's Cat enjoyed a good trip.  Covered up on the inside just behind the leaders for a half-mile, jockey Julian Pimentel tipped him outside for the stretch drive, as Jack's in the Deck took over the lead after a half in 46 seconds flat.
Ben's Cat came up to that one's flank and appeared poised to go by, but Jack's in the Deck proved game.
"He really tries hard every time," said trainer Robin Graham.  "He ran his race."
Jack's in the Deck broke his maiden in the Grade 2 Futurity at Belmont back in 2011, but a variety of issues, including health troubles, had left him with a somewhat spotty record.  In fact, he didn't win a race between his 2011 win in the First State Dash and March of this year, when he scored a win over allowance foes at Laurel Park.
All of that set him up for a career-best effort today, as he navigated six furlongs in 1:10.74 to get the money.
[Ben's Cat] "has beat me so many times, so it feels good to on the other side," said Boyce.