by Doug McCoy
Saturday's 30th edition of the Maryland Million includes seven stakes for Maryland-sired horses, and while the card is the kind that makes horseplayers salivate, with full and high competitive fields, history tells us longshot players would do well to take a long look at the Maryland Million Ladies, a nine furlong turf test for fillies and mares. The Ladies has produced some stunning results in recent years including, Bear Access' stunning win at 66-to-1 in the 2014 edition of the fixture.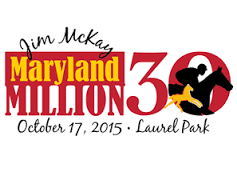 In fact, no favorite has won the race in the last decade, and the results often leave the winners' connections stunned and thrilled and horseplayers dumbfounded.  Meanwhile, three times in that period, all on turf rated less than firm, a seeming no-hoper has grabbed the early lead, controlled the pace through moderate fractions, and held her rivals safe, lighting up the toteboard in the process.
Bear Access, who set the Maryland Million record for high win payoff last year with a $134.20 return, was one of the lone speed runners in the field last fall.  Trainer Lawrence Murray told rider Horacio Karamanous to take his mount right to the front at the start of the nine-furlong route.
"I told Horacio there's not a lot of speed in the race and they may let you go the front and forget about you," Murray said after last year's shocker. And that's how it happened.  Karamanos nursed Bear Access along through a dawdling half of :50 and six furlongs in a very pedestrian 1:15 1/5. The soft pace left a fresh and willing leader in the lane, and Bear Access had more than enough left to turn back Devilish Love.
Howard Bender, owner of Bear Access, passed away earlier this month.  But the Bender colors will be carried by Maryland's Love, who is one of the choices of the $100,000 Maryland Million Lassie.
By contrast, Surf Light was a mere 16.80-1 for the 2005 running of the Ladies, which was notable for a couple of reasons.
Torrential rains hit the Maryland area that year, and on the morning of October 9 more than six and a half inches had fallen, flooding the Laurel parking lots and forcing the cancellation of racing and the rescheduling of the Million to the following Saturday.
One of those affected by the postponement was Surf Light. Surf Light was a filly who was part of one of the final crops Malibu Moon sired before he moved from Maryland to Kentucky.  Surf Light was owned by a partnership put together by Country Life Farm, who stood Malibu Moon.  Had Million Day been held as scheduled, there's no question the Ladies would have come off the turf and Surf Light would have scratched.
On the following Tuesday Joe Pons was watching a Yankees game, says his son Mike.  "He said something to my mom, closed his eyes and passed on," Pons says.  "He was 83 and had never spent a day in the hospital except when he was born."
Joe Pons's death was a shock to those close to him, and in the days leading up to the Million it was difficult to concentrate on matters like racing.  But Mike, who runs the Country Life operation with brother Josh, said they knew their father would have wanted them to go forward with plans to race Surf Light.
"We knew dad would have been wanted us to carry on," he says.  "The farm was his legacy, and we were determined to race her in his honor, if for no other reason."
But sentiment was just part of the reason Surf Light's connections felt they had a chance in the Ladies.
"2005 was the first year for Laurel's rebuilt dirt and turf courses, and that fall the new grass course had been playing to speed," Pons recalled.  "Flint Stites, who was training for us at the time, felt with a speed favoring course we had a chance.  Our filly loved to be on or close to the lead and when she got in front she'd start flicking that grey tail of hers and get brave. If it had been a week earlier and the course had been heavy or they moved to the dirt, we probably wouldn't have run, but during that week the course had dried out. As it turned out Surf Light bounced to the lead and she was able to hold on and win it all."
When Pons got to the winner's circle the infield video board lit up with a picture of Joe Pons.
As the friends and family gazed at the board the legendary Tommy Voss, who had saddled race favorite Rowdy, sauntered up to congratulate the winners, the ever-present cigarette dangling from his lips. He pointed to the board and told Mike Pons, "Your dad was riding two horses today, Surf Light and my filly — because my horse was all over the race track!"
Racing does have a tendency to circle back on itself.
My Sweet Nenana, the $117 winner of the 2010 Ladies, changed hands a couple of times at the end of her career via the claimbox.  Finally, after she'd stopped racing, she ended up with an old friend: James Steele, her breeder.  She has had two foals, Steele said, a filly by Rock Slide and a yearling colt by Orientate, and is currently back in foal to Rock Slide.
And though Tommy Voss passed away in the winter of 2014, he'll nevertheless be a presence on Saturday, when Swoop, a horse owned by his wife and trained by his daughter (who took over for him on his passing), goes to the post in, yes, the Ladies.
Swoop is 12-1 on the morning line, and if somewhere up in that place where you never lose a photo, Tommy Voss and Joe Pons are watching this year's Maryland Million Ladies, sharing jokes about that day full of surprises back in 2005, perhaps Swoop will find her way to the winner's circle in what has become Maryland Million day's inscrutable graveyard of favorites.