From a Maryland Jockey Club release
Track announcer Dave Rodman, the voice of Maryland racing and the Preakness Stakes, has the best view of racing at historic Pimlico.  Now he wants to share that view with the public.
Beginning Thursday, April 16 fans will be able to watch Rodman call a race from his announcer's booth high atop Old Hilltop while helping the Thoroughbred Aftercare Alliance.
For a $50 donation per person to TAA, up to four fans at a time can meet Dave and watch him call a race while taking in the view from his perch four stories above Pimlico.
All donations will benefit the Thoroughbred Aftercare Alliance, a nonprofit organization that serves as both the accrediting body for aftercare facilities that care for Thoroughbreds following the conclusion of their racing careers and a fundraising body to support these approved facilities.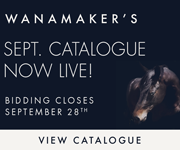 The popular Rodman has been the voice of Maryland racing since 1991 and will call his 25th Preakness Stakes on Saturday, May 16. Rodman, a native of New Orleans, began calling races at Jefferson Downs in 1981. He served as Louisiana Downs announcer from 1985-1991 before coming to Maryland. He's also called races at Gulfstream Park, Timonium, Colonial Downs, Oak Tree at Pleasanton, Fair Grounds, Arlington Park and Evangeline Downs.
"It's going to be a pleasure to share the best view of Pimlico with our wonderful fans while also raising awareness for the Thoroughbred Aftercare Alliance," Rodman said. "When you watch these incredible equine athletes each day you gain such a respect for their spirit, beauty and athleticism. It also makes you realize the need for aftercare facilities and the wonderful job the TAA does each and every day."
Stacie Clark, operations consultant for the TAA, said; "What a great experience for the racing fan to view a race from Dave Rodman's vantage point. Once again the Thoroughbred Aftercare Alliance is grateful for all that Maryland Jockey Club is doing for the TAA and its accredited organizations. It is experiences like this that unite the industry with our fans."
To watch Dave call a race, visit Pimlico's website or pick up a form at Pimlico's first-floor grandstand customer service kiosk.