From a Maryland Jockey Club release
Maryland owners, breeders, trainers, jockeys and track management and personnel picked up shovels, hammers and rakes Wednesday to help restore and rebuild Baltimore row houses while also raising more than $5,000 for Habitat for Humanity of the Chesapeake.
The houses, located on McCabe Avenue, will be sold to those meeting eligibility requirements. The properties were made available through the Vacants to Value program, which identifies distressed areas with a high concentration of abandoned properties.
Those lending a hand despite rainy and chilly conditions included jockeys Forest Boyce, Sheldon Russell, Victor Carrasco and Trevor McCarthy, director of racing Georganne Hale, David Richardson, Linda Gaudet, and Bobby Lillis of the Maryland Thoroughbred Horsemen's Association, track announcer Dave Rodman, trainer Lacey Gaudet, outrider Jodi Murphy, Christopher Campitelli of the gate crew, track photographer Jimmy McCue, Anne Frederick and Jordyn Egan of the Maryland Horse Breeders Association, and Carrie Everly, Gabby Gaudet, Dave Thomas, Stan Salter, Valerie Kounelis of the Maryland Jockey Club.

"It was great to see our friends and members throughout all facets of the Maryland racing industry come out to support the local Habitat for Humanity program," said Maryland Jockey Club racing analyst Gabby Gaudet. "I also really want to thank all of our donors. We were able to raise just under $5,000 for Habitat for Humanity of the Chesapeake. Big 'thank you' to the Maryland Thoroughbred Horsemen's Association, the Maryland Horse Breeders Association, Maryland Horse Radio, and everyone else who donated their time and/or money. It was a very successful day."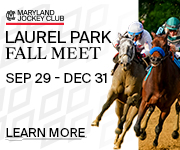 Director of Racing Georganne Hale said; "The Maryland Jockey Club has a long history of giving back to the local community. We will continue working with the local community and the racing industry by volunteering and through donations, outreach programs, and community initiatives."