Here's a tale of two tickets in today's Jackpot Pick 5 at Laurel Park.
First, the GQ special, Gary Quill's wager:
Race 4: 3, 4, 6, 7
Race 5: 1, 2, 4
Race 6: 1, 3, 7
Race 7: 2, 6
Race 8: 5, 6, 7
And then the Vespe ticket, which has plenty of — but not complete — overlap:
Race 4: 4, 5, 6, 7
Race 5: 1, 2, 4
Race 6: 1, 2, 6
Race 7: 2, 5
Race 8: 2, 5, 6, 7
ANALYSIS
Race 4 is a $5,000 conditioned claimer going seven furlongs, and all seven runners have some holes in 'em (which is why they're in a conditioned nickel race).  Favored #4 Fibber and Molly (3-5) is on both tickets, but in truth, she's a beatable fave, having lost at this level four straight times.  Both tickets include #6 Pure Dreams and #7 Wildcat Honey, who appear likely contenders here.  The Vespe ticket includes #5 Pure Anticipation, who defeated similar at Timonium back in August but is winless, mostly against better than this.  The Quill card includes #3 Baby Butterscotch, a somewhat interesting longshot play who just missed against the favorite here in December.

Race 5 is another nickel claimer, this time for horses that have never won two races and going 5 1/2 furlongs.  All three tickets include #1 Little Kitten, #2 Full of Spice, and #4 Middletown Gal.  All three are logical contenders — longest odds are just 5-1, on Little Kitten, in a race in which another horse with short odds, #4 Synergist (5-2), has won just once in 36 career starts.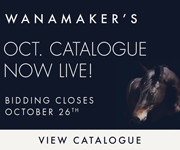 Race 6 is a maiden special weight test for three-year-olds going one mile.  Both tickets have #1 Squeegee (6-1), a Dane Kobiskie trainee making his second start off a respectable debut effort, beaten four lengths by Slick William, recently fourth in the Private Terms.  The Quill ticket includes #3 Magnum Opus (4-5) and #4 M J's Warrior (20-1).  The former, a Tony Dutrow runner, has run four times in MSW company, including third and fourth in sprints at Laurel; the latter, trained by James Lawrence, makes his second start off a rough debut outing.  The Vespe ticket includes #2 Flying Again (10-1), a nicely bred Stronach Stable runner who ran terribly in his debut, on the Gulfstream grass; and #6 Stonebriar (10-1), a runner who's run well enough to win at this level more than once but enters off a rough race.
Race 7, the day's feature, is a second-level allowance going 5 1/2 furlongs; after scratches there are just five.  Both tix have #2 Ground Control (6-1), another Dutrow runner who won his first tow starts, about a year ago, and was recently second against similar at Parx Racing.  The Quill card also includes #6 Rolling Yona (5-2), who enters off four consecutive defeats, but competitive defeats, against similar.  The Vespe ticket has #5 Oliver Zip (7-2), whose best is certainly good enough here — but who has just one bad race since last April.
Race 8 is another conditioned nickel claimer, and both tickets include #5 Pledge of Truth (3-1), #6 Majestic Number (5-2), and #7 Flavor (6-1).  The Vespe ticket threw in vulnerable favorite #2 Cay to Pomeroy (8-5).
Good luck!
[liveblog]