Nutshell: Jockey Trevor McCarthy — out since December — made his return to Maryland racing a winning one today at Laurel Park.
by Frank Vespe
Trevor McCarthy was all smiles after today's ninth race at Laurel Park, and why not?
For the first time in 2015, the 20-year-old jockey had piloted a horse home first when he guided Golden Glint to a just-in-time neck victory in the second-level allowance test at 1 1/16 miles.

"It feels good, you know," McCarthy said.  "It's definitely exciting. a little relief.  He's a nice horse."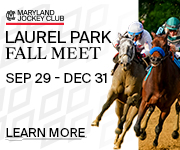 McCarthy was sidelined on December 20 with a broken wrist.  While out with the injury, he also served days for a pair of riding infractions. He rode three at Gulfstream on Thursday before returning to his Maryland base.
To some extent, it had been a day to test his patience.  Two of his scheduled five mounts were scratched, including 3-1 Tiago's Honour.  And his two prior to Golden Glint, including favored Schivarelli in the sixth, had failed to find the wire first.
"I was a little bummed out, you know," McCarthy said after securing his win.  "But I just said, it's going to come when it's going to come, the win."
So it did, though not without anxious moments.
Golden Glint was fifth early, and leaving the furlong grounds, he appeared to be running in place, third and three lengths behind leader River Rush.
But, steered outside, Golden Glint closed stoutly and collared River Rush late to win by a neck.  It was a race whose outcome was in doubt until the very last jumps.
"I think right when we hit the wire, I knew I had it," said McCarthy.  "He just dropped his nose in front, which was cool."
In fact, it was more than cool.
"It's a big relief, and I'm very excited and very thankful for [trainer] Jose [Corrales] and the horse, and the gallop people doing a great job," McCarthy said.
Golden Glint has now won three of eight starts, and the victory pushed his career earnings $100,000.
McCarthy has four more mounts on Sunday, for four different trainers.
LAUREL NOTES: Jockey Sheldon Russell, who won his 1,000th career race last weekend, rode four winners on Laurel Park's 10-race program Saturday afternoon.
Russell rode the early double aboard Middletown Gal ($2.80) in the first and Dragon Attack ($12.40) in the second. He won the fourth race aboard Easy Comparison ($7.20) and the sixth with Big Guy Ian ($6.20).