Nutshell: Injured jockey Trevor McCarthy made his return to riding with three mounts yesterday at Gulfstream. He'll ride five at Laurel on Saturday.
From a Maryland Jockey Club release
Jockey Trevor McCarthy, Maryland's leading rider in 2014, made his return to the irons with three mounts on Thursday's card at Gulfstream Park while eying a Saturday return to Laurel.
It was the first race action for the 20-year-old Delaware native since breaking his right wrist in a Dec. 20 spill at Laurel Park.
"It feels good. It was a little weird, the first one, because I hadn't done it in three months," said McCarthy, who had mounts in the fourth, fifth and 11th races Thursday. "But, it felt good. My legs are good and my wrist is good, so everything is great from that part. All we can do now is be hopeful."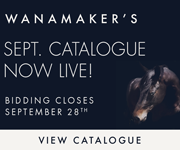 McCarthy's first mount, Wizards Clip for trainer Jason Servis, finished fifth.  His best finish on the day came in the fifth race, when he piloted trainer Mike Trombetta's Little Mary Ellen to a third-place finish.
After taking some time to visit family in Florida and New York, McCarthy began galloping horses for Fair Hills, Md.-based trainer Graham Motion Feb. 27 at Palm Meadows, Gulfstream's satellite training facility in Palm Beach County.
"There's nothing like riding races," he said. "You can do as much running and biking and exercising as you want to do, but when it comes to getting fit the only way you're going to get really, really fit is to ride a lot."
The son of ex-jockey Mike McCarthy, who won 2,907 races from 1982-2002, is named in six of 12 races at Gulfstream on Friday. He'll be back at Laurel on Saturday, where he has mounts in five of 10 races.
"I'm looking forward to it a lot," McCarthy said. "Hopefully, I can do some catching up. We'll just play it by ear. I'm going to ride at Laurel and then I'll be going to Monmouth this summer and be back and forth between Monmouth and Delaware."
McCarthy was hurt after swerving to avoid a fallen horse while both were galloping out after a race. McCarthy earned all three riding titles in Maryland last year and was sixth among leading riders in North America with 263 victories and 19th in purse earnings at the time of his injury.
"It's a big deal for me, and my family (to be leading rider)," he said. "It gives you a lot of confidence and it makes you want to work harder and do better."
On Saturday, when he returns to Laurel, McCarthy is scheduled to have mounts in five of the day's 10 races.