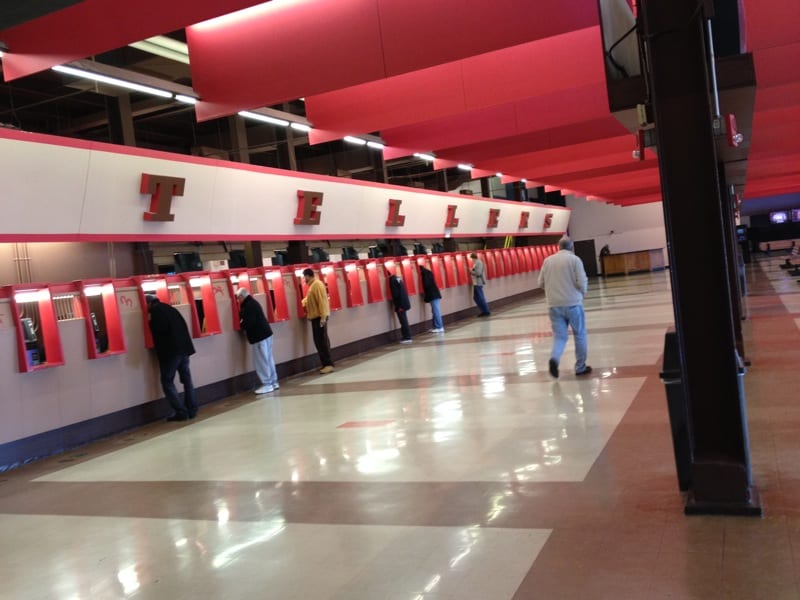 Nutshell: The MidAtlantic Cooperative-Monarch Content Management dispute — now in its fourth month with the end still uncertain — has horseplayers exasperated.
by Linda Dougherty
Despite optimism voiced by officials in early February that the dispute between Monarch Content Management, which controls the rights to Stronach Group and other simulcast signals, and the MidAtlantic Cooperative, a purchasing collective of 22 thoroughbred and standardbred tracks (including nearly all in Pennsylvania as well as Delaware Park), would soon be resolved, the standoff continues.
The dispute, primarily over rate increases for Monarch signals, began in early December when Monarch pulled those signals after negotiations for a new agreement with MidAtlantic broke down.
Three months later, horseplayers in the region have not been able to wager on the most popular racetracks in the winter, including Santa Anita, Gulfstream Park, and Tampa Bay Downs, all of which present Triple Crown preps. Laurel Park's signal is also among the Monarch tracks unavailable to MidAtlantic members.
Other Monarch signals include Golden Gate, Los Alamitos, Meadowlands, Portland Meadows, and Monmouth Park.
The situation, predictably, has not made horseplayers happy.
"What a disgrace… you already have lost between 30-35% of your fan base…to hold the great horseplayers of this country hostage," complained one commenter on The Racing Biz.
Another was even more blunt.  "What a group of morons," he wrote.  "Killing the goose that lays the golden egg."
Neither Phil O'Hara, the executive director of the MidAtlantic Cooperative, nor Scott Daruty, president of Monarch, would comment this week on what progress has been made towards a resolution, other than to indicate that negotiations were sensitive and ongoing.
Tracks in the MidAtlantic Cooperative have been stung by the loss of revenue, O'Hara has said. Many of them, including Parx Racing and Penn National, have also been affected by a slew of live card cancellations due to inclement weather.
The MidAtlantic Cooperative is comprised of Parx Racing, Penn National, Freehold Raceway, Delaware Park, Charles Town, Colonial Downs, Pocono Downs, Harrah's Philadelphia, Dover Downs, Harrington Raceway, Ocean Downs, Suffolk Downs, Rockingham Park, Rosecroft, Sam Houston, Thistledown, Mahoning Valley Race Course, Dayton Raceway, Northfield Park, Retama Park, Belterra Park and Plainridge Race Course.
Monarch has said both publicly and in an email from a Monarch official to an observer obtained by The Racing Biz that it had offered several times to extend the current terms of its simulcast agreement with the MidAtlantic Cooperative while negotiations continue to avoid disruption, but that the MidAtlantic Cooperative refused to accept any extension, and "voluntarily" turned off the signal.
The industry's simulcast model has generally allowed the bet-taker — in this case, MidAtlantic — to retain the lion's share of the takeout.  While that perhaps made sense in the early days of simulcasting — when most bet-takers were bricks-and-mortar racetracks — Monarch argues that in the brave new world of betting on Thoroughbreds at non-Thoroughbred tracks, off-track facilities unconnected to racetracks, and online advance deposit wagering platforms, that model must be modified.
As one example, a Thoroughbred Owners of California study indicated that in that state, the track and the purse account each took approximately eight percent of each dollar wagered on-track — but just five percent of that wagered off-track.
That's a model that Monarch condemns as "not sustainable" unless tracks begin to recapture a larger share of the dollars wagered off-track.
"This is particularly true," Monarch argues, "when several of the MidAtlantic members no longer even conduct live racing."
New Hampshire's Rockingham Park has not conducted a live Thoroughbred meet in over a decade and hasn't had live racing of any sort since 2010.  Colonial Downs, another MidAtlantic member embroiled in a dispute with its horsemen, did not hold a Thoroughbred meet in 2014.  Suffolk Downs ran in 2014, but its future is uncertain.  And, while all of the Monarch properties are Thoroughbred tracks, several of those in the Cooperative that do conduct live racing are standardbred facilities.
Monarch says that under its proposals the MidAtlantic tracks would retain "over two-thirds of the simulcast revenue generated by Monarch tracks."
For its part, MidAtlantic has thus far rejected both of Monarch's primary contentions.
In a rebuttal press release put out a few days after Monarch's December statement, the MidAtlantic Cooperative made clear that it was not interested in differential pricing for its track and non-track members.  It stated that its members are equal partners "and shall, by agreement, receive equal treatment with regard to price increases in any agreement negotiated by the Cooperative."
Moreover, the Cooperative rejected the premise that its non-track members contributed to a so-called unsustainable model.  "Many of MidAtlantic's non-thoroughbred members pay millions of dollars by statute or contract to thoroughbred purse funds and breeding programs in their respective jurisdictions," the Cooperative said, "and a large percentage of revenues generated from simulcasting goes to purse and breeders funds for horsemen at all MidAtlantic member tracks."
In the meantime, horseplayers continue to wait — albeit less patiently — for the restoration of Monarch signals to their local simulcast venues. As one frustrated fan posted to the Parx Racing Facebook page:
"Really need to fix the track dispute… Nothing to bet with all the cancellations really sucks…. I get $$ makes everything tough, but cater to the customer. We all want Gulfstream and Santa Anita it's the best winter tracks… A few weeks we understand, but this is ridiculous now!"