From a Maryland Jockey Club release
Hillwood Stable LLC's Golden Years made a mockery of the $100,000 Marylander Stakes for 2-year olds, tracking the frontrunner until given the signal to go, then powering away to an impressive 7-1/4 length score.
Victor Carrasco was at the controls for trainer Rodney Jenkins as the son of Not For Love completed the seven furlong distance in 1:24.82 over the slopping going. Sizzling Quatorze rallied to take second. The pacesetter, Hear The Chatter, checked in third.
Golden Years was winning his second stakes in his last three starts. He won the Maryland Million Nursery in October, then finished fourth in the James F. Lewis III Stakes a month later.

"Mr. Jenkins told me just to make sure he broke well today," said Carrasco. "This horse has been training like a monster since his last race. He got out of the gate really good today and I knew the seven horse (Hear The Chatter) was the horse to beat, so I just stayed close to him, kept my horse out of trouble. He just carried me up to the other horse. At the top of the lane I looked back and didn't see anyone coming close. I tapped my horse one time, he changed leads and said 'let's go'. I think when his races get longer he will even get better."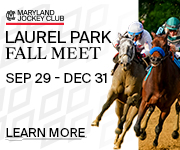 "I was very impressed with him," said Jenkins. "We fell in love with this horse first time. He wants to go somewhere. Right now we'll rest him until January, keep him here and give him a break. The last time, when he got beat, I wasn't disappointed. The horse threw his head up but it still was respectable. What I loved about today is he showed he's going to stretch out good."
This afternoon Golden Years rewarded his backers with a $2.80 win payoff.